London Food Link, part of the food and farming charity Sustain, has launched a crowdfunding campaign, inviting people to be part of the future of the voice for good food for London.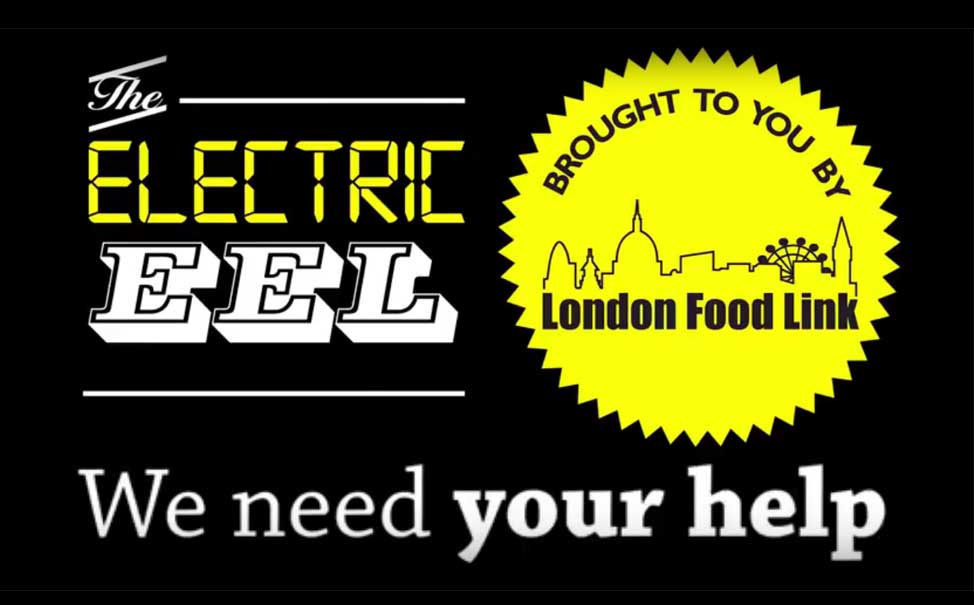 Since 2002, London Food Link (LFL) has championed the best of the capital's good food projects and enterprises.
Now LFL is working to raise £5,000 to continue supporting them in making a positive impact on our city and give people the chance to use their talents and create something they feel genuinely passionate about.
People like Hazel, the founder of Fruit Magpie and recipient of an Urban Food Award for saving surplus fruit from trees in north London gardens by turning it into fruit cheese. Heather explains: "the support I received has helped me expand my sales, connect with other businesses and increase the amount of surplus fruit I use. The growth in business has meant that I have been able to take on a local unemployed person to help me during fruit season."
People have until 14 July to pledge between £5 and £500 at crowdfunder.co.uk/the-jellied-eel
#electrifyeel
What will the crowd be funding?
A key element of the plan is to build a new online platform to publish and share unique good food features and stories that LFL supporters can feed into, creating better opportunities for small projects and producers to promote their work.
Funds raised will also go towards:
An interactive online map of the producers and purveyors of good food in the capital, making it easier for people to connect and find, the best of London's local larder
Taking The Jellied Eel into the future, making it simpler to produce and distribute, while keeping it free from unethical advertisers
Creating a training programme to support and mentor projects and enterprises with a positive social and environmental impact at heart. The initiative will include running Urban Food Fortnight, regular networking events, and a brand new training scheme
And in return?
London Food Link is blessed with many good food friends, so in return for support, crowdfunders have the opportunity to claim a feast of delicious rewards, including:
The 'Not Afternoon Tea' experience at OXO Tower Restaurant, Bar and Brasserie
A Khaadraas Club dinner at Café Spice Namaste
Spirit of Gin tour and tasting for two at East London Liquor Company
A unique Gringa Dairy tour for four people
Bespoke food business photo shoot from Scrumptious Photography
…plus an invitation to an exclusive party, fantastic London food bags, maps and tea towels and loads of training on growing, preserving, baking and more…
There's no time for people to delay getting online to snap up a reward, safe in the knowledge that they will be really doing something to support the voice of good food in London!
Potential funders can find more information at www.londonfoodlink.org
ENDS
Press contacts: For more information, please contact Suzy East or Chris Young: suzy [at] sustainweb.org or chris [at] sustainweb.org
Notes to editors
London Food Link's past and present work includes: Nurturing the Capital Growth network, running Urban Food Fortnight, being an Urban Food Awards founding partner, spawning Sustainable Fish Cities, helping to define good food standards for the London 2012 Games, looking Beyond the Food Bank with the London Food Poverty Project, and helping to establish – then sitting on – the London Food Board. Not to mention publishing The Jellied Eel magazine and hosting frequent events to connect and celebrate the people who grow, make, cook, save and enjoy good food in the capital.
What people have said about London Food Link
"London Food Link changed my life! You were the first organisation I contacted when Sid and I launched Grub Club three years ago." Olivia Sibony, co-founder of Grub Club
"Hiver would have happened if not for the fantastic work of London Food Link and the introduction to the local honey on my doorstep." Hannah Rhodes, founder of Hiver Beer
Support our work
Your donation will help support community food initiatives and enterprises to thrive as part of a more sustainable food system.