A new report is being developed by Professor Tim Lang for the National Prepared Commission to establish the need for food supply being considered within resilience planning in the UK. He is launching a survey to gather civil society input.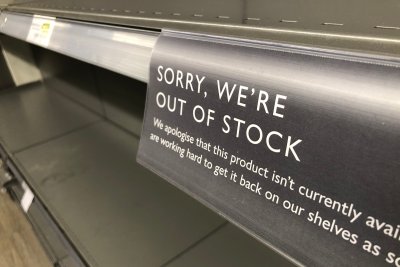 Out of Stock sign in a supermarket shelf.. Copyright: Kauka Jarvi shutterstock
Professor Tim Lang is working on a report for a new independent body, the National Preparedness Commission, about how to build civil society's role in food resilience, what good practice exists, and what risks lie ahead as well as those already here.
Tim Lang commented on the background to this work:
"In Covid, how many civil society organisations were in contact with their local Resilience Forum? I ask this question because, if ever these Forums should have had a visible and high local profile, the Covid years were it. Yet few people seem either to know of them or have links.


"The word resilience is sometimes loosely used but basically means the capacity and preparedness to bounce back after shock. We all know that shocks are already present in agri-food but more and worse might come. My concern is for the people's interest; that's us, you, your area, civil society. How to ensure people are prepared and fed in crises."
Professor Lang is looking for your input to help clarify what the UK ought to do to strengthen its capacity and resilience to respond. Please fill in this questionnaire.
HM Government has a formal position on resilience. In December 2022, it published a new Framework that commits to a "whole of society" approach, but food barely features. Nor did it feature in an earlier House of Lords report on extreme risks and disruptions.
Support our charity
Donate to enhance the health and welfare of people, animals and the planet.