Severe obesity amongst 10-11 year olds now at all time high, says Public Health England
As the latest data from Public Health England's National Child Measurement Programme show obesity levels amongst 10-11 year olds at an all-time high, it's critical to move quickly to adopt new measures in Government Childhood Obesity Plan Chapter 2 and go beyond these, says Children's Food Campaign.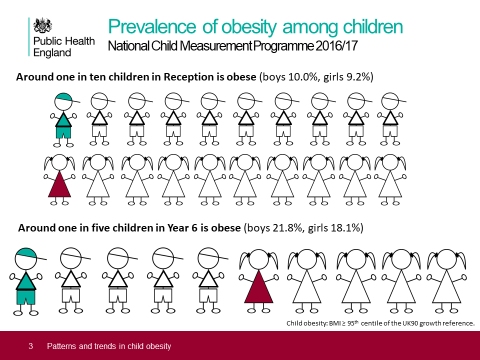 The latest trend analysis from Public Health England (PHE), based on the latest data from the National Childhood Measurement Programme show that by the time they leave school, more than one in five (21.8%) of 11 year old boys and almost the same level of girls (18.1%) are obese, the highest levels recorded since the start of the National Childhood Measurement Programme in 2006/7.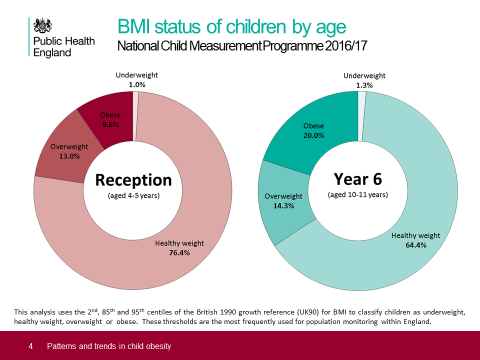 The prevalence of childhood obesity doubles during primary school years, and the figures also show that worrying trends in health inequality are still increasing, as children living with higher levels of deprivation are also much more likely to be obese or overweight.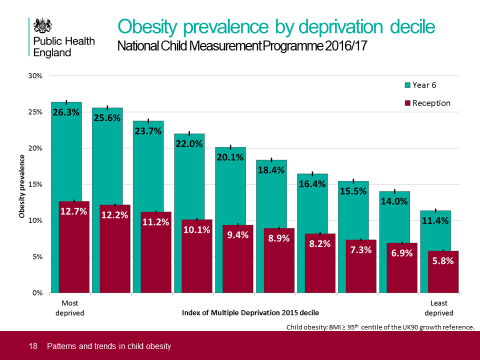 Speaking to their latest trend analysis, PHE's chief nutritionist Alison Tedstone said "The rise in severe obesity and widening health inequalities highlight why bold measures are needed to tackle this threat to our children's health."
Responding to the latest findings, Children's Food Campaign Co-ordinator Barbara Crowther says,
"The latest figures show just how much we are letting our children down, allowing an unhealthy food culture to persist in which junk food and snacking are no longer just treats but often a daily norm. It's shocking to see that levels of obesity double from age 5 to age 11, showing just how important those primary school years are. The relentless bombardment of kids with junk food advertising not just on TV, but online, in games and apps, with child-friendly cartoon characters emblazoned on so many unhealthy foods, and in-your-face promotions on multipacks of snacks and confectionery everywhere we go, all make it so much harder for parents and schools to champion a healthy eating culture for children. These latest findings show just how critical it is for the Government now to step in and take a hard line on reversing these trends, and adopting policies that make healthy food the easy, affordable choice."
The Government recently released Chapter Two of its Childhood Obesity Plan, outlining a range of new proposals to curb junk food advertising, price and in-store promotions of products high in fat, sugar and salt (HFSS) targeting children. Consultations are due to launch at the end of summer on issues such as a 9pm watershed for unhealthy food product advertising, and a potential ban on promoting HFSS products with price promotions and displays in store entrances, ends of aisles and checkouts. Measures to increase physical activity, update School Food Standards and implement a Healthy Schools Ratings System have been carried forward from the original Childhood Obesity Plan launched in August 2016, but without any proposed deadlines for implementation and without closing loopholes exempting many academies and free schools. Measures to extend further actions to secondary schools, address the use of child-friendly characters on junk food, or limit junk food sponsorship in sports were all omitted from the latest plans.
For more information:
Read Children's Food Campaign briefing on the Government Childhood Obesity Plan Chapter Two.
See Public Health England's full presentation "Trends in children's body mass index between 2006/07 and 2016/17" for more details of the latest analysis.
Graphs in this article are taken from Public Health England's slide presentation "Patterns and Trends in Childhood Obesity", February 2018, based on data from the National Child Measurement Programme 2016/17.
---
24/07/2018
Children's Food Campaign
SHARE
---
Children's Food Campaign: Better food and food teaching for children in schools, and protection of children from junk food marketing are the aims of Sustain's high-profile Children's Food Campaign. We also want clear food labelling that can be understood by everyone, including children.