A day to delight in doughy diversity
Celebrate the UK beyond the white sliced sandwich loaf.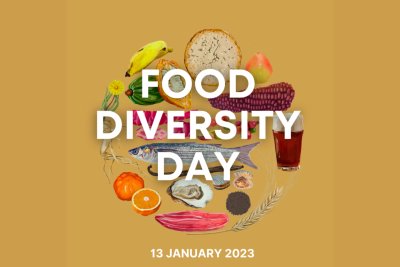 . Copyright: Food Diversity Day
Friday 13 January 2023 has been named the first Food Diversity Day. This citizen food project has been created to raise greater awareness of the incredible diversity of foods available in the UK, and how food diversity is essential to our health and the health of our planet. It is intended as "a day in which we can place food diversity under the spotlight and onto people's plates."
Perhaps consider this a warm up for Real Bread Week (18-26 February).
Get involved
Farmers, millers and Real Bread bakers (as well as cooks, chefs, eatery owners etc.) can get involved by highlighting a bread, non-commodity crop, dish or recipe that adds to this diversity. Perhaps this is due to its local/regional heritage or its significance in a culture with roots elsewhere that has made its home in the UK.
On social media, tag #FoodDiversityDay and @eating2extinct (Insta) or @Eating2Extinct1 (Twitter). If it's #RealBread you're posting, please also tag #RealBreadCampaign and @RealBreadCampaign (Insta and Facebook) or @RealBread (Twitter).
Find out more at www.fooddiversityday.com
Already on the menu
The day of free, online sessions include Real Bread Campaign supporter Kim Bell (UK Grain Lab, Small Food Bakery) joins Wing Mon Cheung (Cereal Bakery) and Fintan Keenan (Quartz Mølle, Denmark) for a chat with Sheila Dillon (BBC Food Programme).
Bread, Baking and the Diversity of Grains
Friday 13 January, 10-11am GMT
Wheat is the globe's third largest commodity. Almost all the varieties grown are hybrids, dependent on pesticides and artificial fertilisersbred, mainly bred for yield and ease of harvesting, milling and high-speed baking in vast integrated systems. Nutritional value, taste, baking quality, soil health and CO2 emissions are not usually part of the equation.
Can a new understanding of grain diversity change all that? There's growing evidence that it can. Three people in the wheat and Real Bread business cast light on a changing wheat world.
Other panellists during the day include Josiah Meldrum and Nick Saltmarsh of Campaign supporter Hodmedod's; writer Carolyn Steel (who advocated banning the Chorleywood Process on an edition of the BBC Food Programme); chef Neil Forbes (Café St. Honoré) who hosted our BATCH Edinburgh event in 2019; and heritage cereal researcher and grower, John Letts.
Background
Food Diversity Day is spearheaded by award-winning BBC Food Programme presenter/producer Dan Saladino, author of the book, Eating to Extinction: The World's Rarest Foods and Why We Need to Save Them.
Dan is inviting us all to participate in saving our food diversity by celebrating and learning about neglected (and even endangered) foods, as well as discovering and enjoying foods with a deep connection to the places where we live.
What we're fighting for 2023
Support our charity
Your donation will help support the spread of baking skills and access to real bread.