Children take food poverty challenge to Westminster with new report
Nine young food ambassadors aged 10-20 years old have travelled to Westminster to share their experiences of food insecurity with the House of Lords and civil society experts, as part of the Children's Future Food Inquiry, in a new report.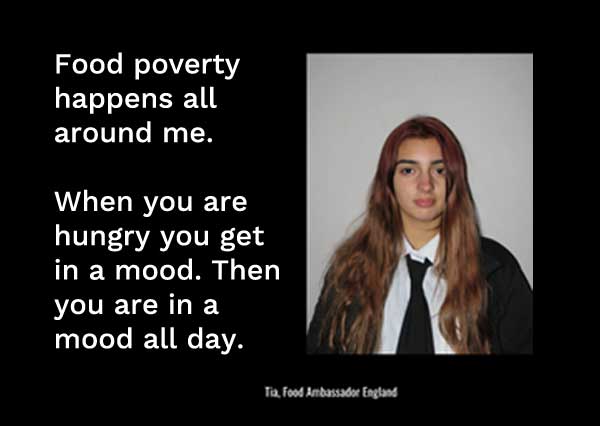 An estimated 4.1 million UK children live in poverty, and the Children's Future Food Inquiry has set out to document the reality of food insecurity for children and explore new solutions.
The report What Young People Say About Food, being launched in Parliament on 17 January, contains insights from over 300 young people to explore the affect of food insecurity and children's own ideas for what can be done.
"I didn't realise I was experiencing food poverty. To me not having enough food is my normal."

Corey McPartland, 15-years-old
New data also reveals that a quarter of children who do not receive free school meals end up skipping lunch altogether because they cannot afford it.
The Parliamentary Inquiry into Children's Future Food has the support of a cross party group of 14 parliamentarians and two All Party Parliamentary Groups. It also has the support of the Children's Commissioners in all four UK nations. It is led by Sustain's member the Food Foundation, with independent experts, Leeds Beckett University and four other organisations: Fixers, Children in Scotland, Children in Wales and Children in Northern Ireland.
---
For more information:
---
17/01/2019
Children's Food Campaign
SHARE
---
Children's Food Campaign: Better food and food teaching for children in schools, and protection of children from junk food marketing are the aims of Sustain's high-profile Children's Food Campaign. We also want clear food labelling that can be understood by everyone, including children.