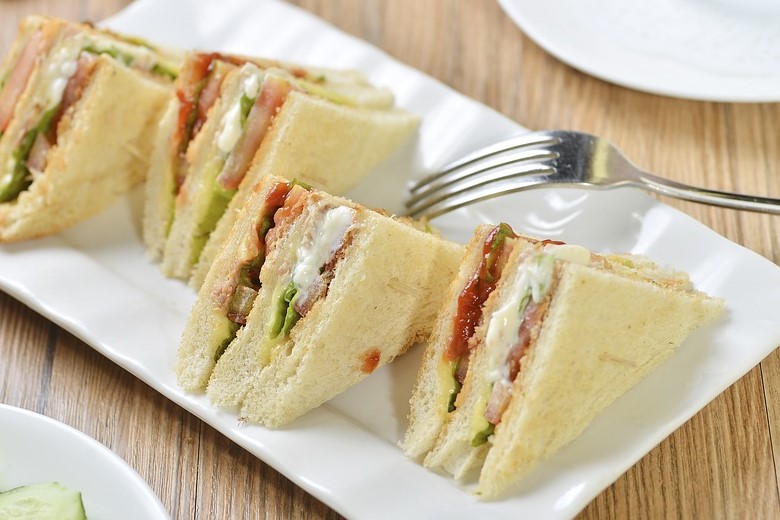 The team considered the whole life-cycle (from production of ingredients through to waste management) of sandwiches with 40 different fillings, 'focusing on most popular consumer choices in the UK', and for each estimated the impact of a homemade sandwich and its industrial equivalent.
The findings of the study, published in Sustainable Production and Consumption in late December 2017, included:
The fillings that contributed most to a sandwich's carbon footprint were those containing pork (bacon, ham or sausages), cheese or prawns.The estimated impact from ready-made sandwiches ranges from 739g CO2 equivalent for egg and cress, to 1441g CO2 eq. for the worst offender, an 'all-day breakfast' of bacon, sausage and egg.
The carbon footprint of a homemade ham and cheese sandwich (which the study states is the most popular) varies from 399–843g CO2 eq.The average impact from the homemade option is around two times lower than the impact from the ready-made equivalent with the same ingredients.
The greatest contributor to the carbon footprint of both types of sandwich is the agricultural production of ingredients.
For ready-made sandwiches, the preparation and retail stages are also significant.
The Independent reported that agricultural production and processing of ingredients accounted 'for around 37% to 67% of CO2 equivalent for ready-made sandwiches. Packaging material contributed 8.5% of CO2 equivalent and transporting and refrigerating adding a further 4%.'
The researchers then considered various options for improvement, including changes in the cultivation of ingredients, recipe changes, reduction of food waste, alternative packaging and different waste management options. Their findings suggest that:
Reductions in the carbon footprint of up to 50% are possible for ready-made sandwiches.
The greatest improvement opportunities lie in reducing post-consumer waste. The authors noted, however, that 'these are most difficult to realise as they involve changing consumer behaviour.'
The study also explored how the information on the carbon footprint could be combined with nutritional data to assist consumers in making more informed food choices. As The Guardian noted, it: 'recommends reducing or omitting certain ingredients that have a higher carbon footprint, like lettuce, tomato, cheese and meat. Reducing ingredients such as cheese and meat would also reduce the amount of calories eaten, contributing towards healthier lifestyles.'
Quoted by The New Scientist, report co-author Adisa Azapagic said 'people shouldn't ditch sandwiches, as eating them probably has less impact than a full restaurant meal. "You must take the results in context, and this was looking at sandwiches simply to create awareness of their potential impact."'
Using bread, instead of an industrial loaf, to assemble a homemade sandwich was not one of the variables considered by the researchers.