Scottish Real Bread Festival details announced
Full line up revealed.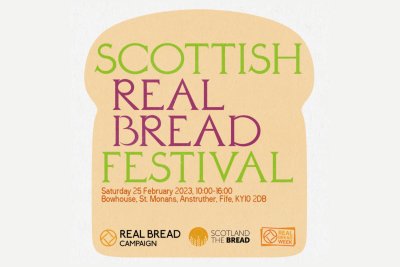 . Credit:
The first ever Scottish Real Bread Festival will be held at Bowhouse in St Monans, Fife, on Saturday 25 February 2023, organised by award-winning local charity Scotland The Bread.
Rounding off Real Bread Week, this new festival is a celebration of all things Real Bread. Running from 10am to 4pm, the day is packed with activities for all the family, from Real Breadheads wanting to discuss grain biodiversity, to little ones who can have a blast threshing and milling grain at The Big Thrash.
The event includes workshops, talks, hands-on activity and the award ceremony of the Scottish Bread Championship. The day will see a variety of Real Bread and other artisanal food stalls for visitors to browse, grain art workshops including cyanotype photography and straw weaving, as well as songs and stories celebrating a living bread culture.
Update: See photos from the event.
A feast of a festival
The Festival will see the launch of The People's Bread concept: a call to action and demonstration of the easiest way to make the healthiest Real Bread for everyone. There will be tastings, and free sourdough starter and recipes to take away.
Festival visitors are also invited to the premiere of Celebrating Scottish Grain, Flour and Bread, a new short film that highlights the skilled craft of Scotland's artisan bakers and the flour they use. It also features Scotland's two key integrated growing and milling innovators: Scotland The Bread in St Monans and Mungoswells in East Lothian.
An Honest Crust
The keynote speech comes from Real Bread Campaign co-ordinator Chris Young, providing a timely opportunity to hear from someone who recently generated headlines again for some of the key challenges facing the rise of Real Bread. Young's forensic response to the so-called UK Baking Industry Code of Practice for the Labelling of Sourdough Bread and Rolls described it as a 'cheats charter' and a 'sourfaux code'.
This will lead into a session entitled Working for an Honest Crust. The panel will help to put the struggle for a healthier grain economy in Scotland in the context of widespread confusion over what does and doesn't actually go into the industrial baked products found in most people's bread bins. The conversation will also consider the important question: how do we ensure that delicious, nutritious Real Bread is available to everyone?
The other panellists bringing valuable perspectives to the issues of both national and personal food security in a culture dominated by ultra-processed offerings, aggressively marketed with scant regard for public health, are:
Professor Lindsay Jaacks is UKRI Future Leaders Fellow and Chancellor's Fellow in the Global Academy of Agriculture and Food Systems at Edinburgh University. Her research broadly aims to advance understanding of the nexus between agriculture, nutrition, and health. She has collaborated with Scotland The Bread in developing a 'Number Nourished' (people, species, good jobs) metric of wheat output as a way of challenging the failure of commodity markets to address the key crises of climate breakdown, nature loss and public health. Prof Jaacks will shortly launch a Scottish Grain Security Action Plan aligned with the Scottish Dietary Goals (on which little progress has been made in over 25 years).
Neel Paul is Group Creative Director at Amar Chitra Katha, India's foremost storytelling publisher specialising in comic books for children. Neel is a recent arrival in Edinburgh who has encountered, in the process of adapting his familial Bengali foodways to Scottish conditions, the paradoxes of globalised trade in basic commodities including bread flour. He will be sharing thoughts on how Scotland The Bread's The People's Bread project might learn from the lived experience of New Scots in confronting a food 'system' based on low price and convenience, where misleading marketing so often frustrates community truth-telling.
Professor Wendy Russell teaches at the School of Medicine, Medical Sciences and Nutrition at the Rowett Institute, University of Aberdeen, investigating the complex relationship between diet and human health and addressing some of the challenges faced by the Scottish Food and Drink Industry in providing affordable, acceptable and nutritious food using sustainable methods. Wendy's field of vision ranges from molecules to monocultures as she teases out the essential evidence on which a fair and healthy diet for all Scots might be founded.
The Scottish Real Bread Festival is free to attend, though donations to Scotland The Bread's work are encouraged. More information can be found on the event page.
See also
Support our charity
Your donation will help support the spread of baking skills and access to real bread.