Lords committee finds 'little evidence' of fish discard ban being followed
Parliament's EU Energy and Environment Sub-Committee recommends fishing quota reallocation, CCTV on vessels and investment in more selective gear.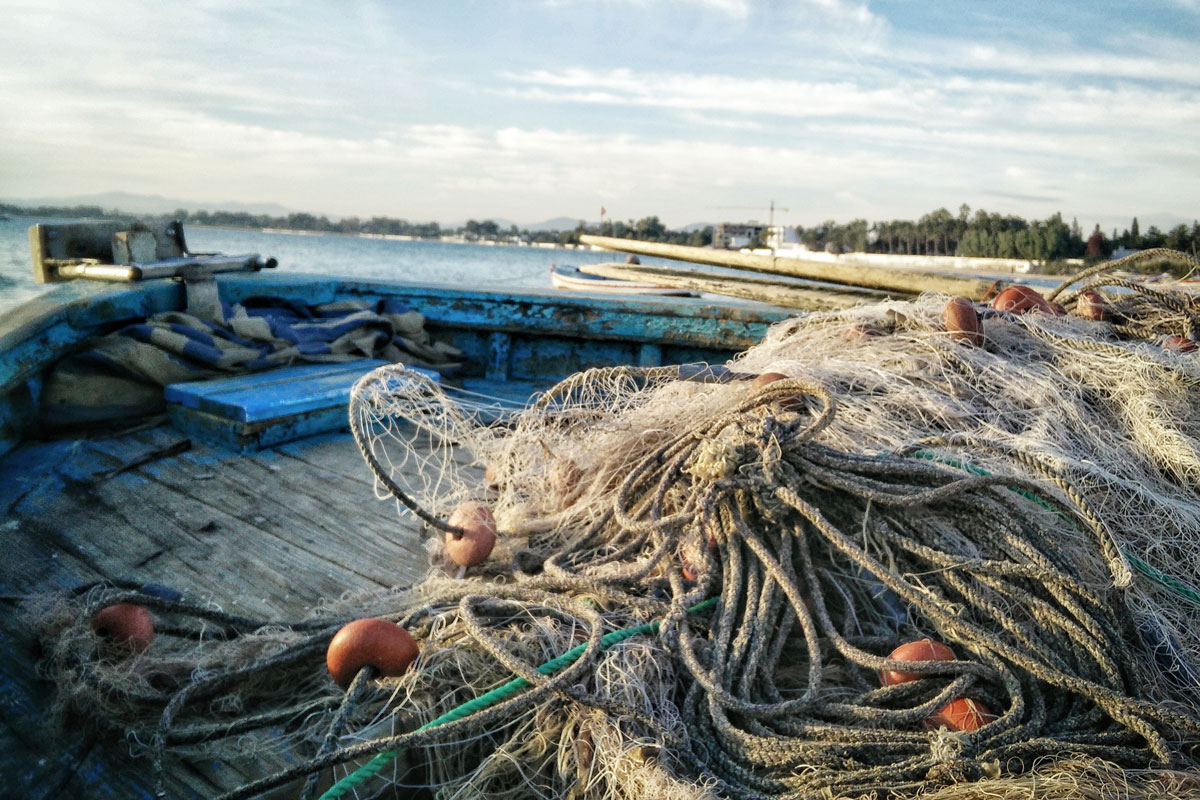 Fishing net. Photo credit: Pexels
The Committee examined the issue in November and December 2018, and say they found little evidence of the landing obligation being followed to date. The landing obligation requires fishing boats to bring ashore all fish they catch, and not to discard non-target species overboard.
The recommendations of the committee echo those of Sustain, Greener UK, conservation organisations, many fishermen, and a cross-bench committee of MPs. It recommends that the Government should introduce a new system of allocating the UK's share of fishing quota to make the system fairer, boost jobs and reduce discarding.
The sub-committee also recommends investment in data collection; particularly CCTV on board boats to monitor catches. This echoes Sustain's concerns that data deficiency is letting the UK fishing industry down – without proper data, fishermen can't prove that their catch is sustainably caught, and this means they are missing out on getting the best market for their catches.
Lord John Krebs told BBC Radio 4's Farming Today programme why he thinks the Government's efforts so far are not working:
"The fishermen aren't ready to comply, the enforcement agency doesn't have the capacity to enforce it, and the Government has shown little or no leadership in helping the law to come effectively into force. Having had four years to phase it in, here we are, already a month and a half into the full implementation of the discard ban, and probably, as we speak, many fishermen are not complying with the law."

"I think it is difficult, there are technical measures that fishermen could take, using more selective nets, they could be given real-time information about where particular fish stocks are so they could avoid the ones that they are not allowed to catch, and there could be a better system for trading quotas of fish, so the fishermen who had run out of quota for one species in a mixed fishery, could buy some quota from somewhere else. On the enforcement side, CCTV on board is the gold-standard way of enforcing but the Government is not prepared to mandate that, unless other countries do the same because they say that it will put our fishermen at a disadvantage."
Responding to a question about whether that means that the Fish Fight campaign, led by Hugh Fearnley-Whittingstall (which Sustain supported) was fundamentally a waste of time, he said:
"I don't think so, I think the law still stands. What we need to see now is an acceleration in terms of the fishermen changing their culture and behaviour; in terms of the Government showing some leadership, perhaps subsidising the installation of CCTV cameras on the big boats that catch most of the fish from the UK fleet; and a beefing up of the resources for the enforcement agency It's not too late, but it is disappointing that we have started so badly at the beginning of the year."
Responding to a comment that in many cases, fishermen feel they don't have a choice about discarding, if they are to try and make a living, Lord Krebs said:
"That is exactly right, because in a mixed fishery, where you have a quota for each species, you may use up your quota for one species part way through the year, and then as a consequence have to stop fishing for everything. So, even the fisheries minister acknowledged that some fishermen may be forced to stop going out to sea half way through the year."

"And that's bad news - if you are running a business, you don't want to be told you've got to stop doing business part way through the year but there are technical solutions that can help to mitigate this, in combination with a system of re-allocation of quota to help fishermen who have run out of quota."
When asked if it is time to 'try something else', Lord Krebs backed the continuation of the ban, saying:
"I think it's something we should stick with, and we should change our approach to it, for two reasons, one is that it is part of the picture of sustainable fishing, and secondly it will give scientists more accurate information about what fish are actually being taken out of the ocean."
Defra submitted a statement to Farming Today backing the Government's action, saying: "The Government is committed to sustainable fishing and ending discards and aware of the challenges for the industry. The Fisheries Bill will introduce powers to create schemes that help the industry comply."
Please sign up to Sustain's Sustainable Fish newsletter to stay in the loop on our work on Brexit and the Fishing Bill.
Support our campaign
Donate now to help us to protect marine environments and fishing livelihoods.