Researchers from Leeds University show that Grainger Market is a thriving hub for independent local businesses, and a vital resource to the community as an accessible and affordable source of fresh food.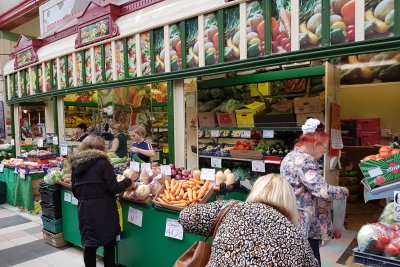 Traditional market. Credit: Myfanwy Taylor
Research carried out by Markets4People at the University of Leeds has shown that traditional retail markets, like Grainger Market in Newcastle, are a crucial source of affordable food, especially for elderly, vulnerable and low-income communities. They are also an important social space.
Traditional retail markets are often overlooked in studies on urban food deserts (areas where access to affordable but good quality food is limited), but these researchers see huge potential in them.
Grainger Market has a footfall of around 120,000 people per week. Many of these market users rely on the Market for the majority of their shopping, and 97% agree that the Market provides access to affordable, quality fresh food. The majority of people who go to Grainger Market use public transport, with 15% on foot and just 10% travelling by car.
Their research shows that these markets have loyal, local customer bases – and that their local communities can be particularly dependent on them when access to affordable food is otherwise limited. 70% of people using Grainger Market go at least once a week, with nearly two thirds having been loyal customers for over 20 years. Half of the market users come from neighbourhoods counted amongst the 30% most deprived areas in England and Wales.
A local Councillor says:

"The Market now has people from lots of different communities and I think it's a great place to actually bring people together, and for people to start to get to know each other and share each other's cultures in quite a relaxed way. And we often spend quite a lot of time and effort trying to bring communities together and we actually have something that does that quite naturally."
Grainger Market is about to receive £9 million of investment from the Government's Levelling Up Fund and match funding from the Council. The Markets4People researchers celebrate this as an opportunity to support and accessible and affordable resource in the community, but want the Council to carefully assess the impact any investment plans may have on the elderly and low-income users of the market. They recommend setting up a Market Forum linking up across the Council and with community groups, and putting Grainger Market at the centre of a community-led Newcastle Recovery Plan.
Sara Gonzalez, who was on the research team, says:

"Traditional markets are often seen as a thing of the past, however our vision is that these markets are the future of our town and high streets. They bring together sustainable shopping, inclusive and welcoming spaces, benefits for the local economy and affordable fresh food."
Support our charity
Donate to enhance the health and welfare of people, animals and the planet.