The final report on the Government's voluntary Sugar Reduction programme is out, but it's not altogether sweet news. The Children's Food Campaign responds.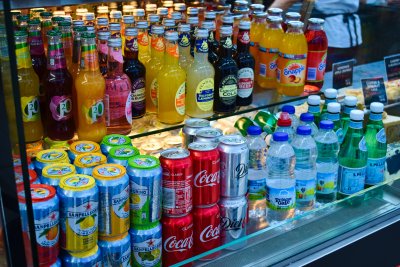 Soft drinks. Credit: David Cardinez / Shutterstock
After almost a year since it was originally scheduled, the Office for Health Improvement and Disparities has finally published data on its voluntary Sugar Reduction programme.
Responding to the publication of the report, Children's Food Campaign Co-ordinator Barbara Crowther says:
"We are pleased to see this final report, as it provides hugely important insight on how the industry is performing on sugar reduction.

"It clearly shows that industry is capable of reducing sugar levels, but that the pace of change under a voluntary scheme is far too slow and uneven – just 3.5% overall against a target of 20%. It also had no markedly different impact on lower socio-economic groups whose health is hit hardest by poor diets with high sugar levels.

"By contrast, the introduction of the mandatory Soft Drinks Industry Levy led to an overall reduction of 46% in sugar levels, while not affecting the bottom line of the companies. They were able to sell low and no sugar options instead, and there was a fall in in household consumption of sugar across all socio-economic groups, and most clearly for those on lowest incomes.

"A voluntary programme is clearly not sufficient to shift the dial on sugar consumption – we need mandatory programmes alongside other regulatory measures on marketing and promotion to deliver the change we need."
Key headlines from the government report Sugar Reduction: Industry Progress 2015-2020 include:
Overall there has been a reduction of just 3.5% in sales weighted average sugar levels per 100g, against the original target of 20%.
Most progress in sugar reduction under the voluntary programme has been achieved with breakfast cereals (14.9%), yoghurts and fromage frais (13.5%) and ice creams, lollies and sorbets (7.2%).
There has been some degree of sugar reduction in every category, demonstrating that reformulation is technically possible. However, some product categories have hardly shifted including chocolate (0.9%), puddings (2.3%), sweet confectionery (2.8%), biscuits (3.1%), cakes (3.2%) and morning goods eg. pastries (4.9%).
By contrast, the level of sugar in soft drinks has reduced by 46% under the Soft Drinks Industry Levy, showing it is still pushing progress beyond the 44% reduction seen in 2019. The data shows this has led to a reduction of household consumption across all socio-economic groups but most markedly in lower-income households, who are also most at risk of low nutritional intakes and diet-related illnesses.
There has also been greater progress in milk-based sugary drinks (24% for pre packed milk drinks, 34% for powders, syrups and pods), where manufacturers had been warned the Soft Drinks Levy would apply to them in future, unless they hit the sugar reduction target.
Overall retail sales and therefore sugar volumes have increased by 7.1% over the period of the programme, in the case of confectionery by 26.9%. Whilst the report attributes some of this to increased purchases, stockpiling and at-home treats during lockdown in 2020 (the final year of data collection), this increase in volume sales of sugar was already being reported pre-pandemic in 2019.
The report provides further evidence that without clear mandatory regulation and financial incentives, progress towards healthier food and drink will be difficult to achieve across the industry. The Children's Food Campaign and its partners are calling on government to build on the success of the Soft Drinks Industry Levy, and apply further duties to food and drink that is high in sugar, salt and/or saturated fat. We are also calling for revenues collected to bolster investment in children's health, in the same way that the SDIL has supported new funding for primary school PE premiums, national school breakfast and holiday activity and food programmes.
Coverage for this story
What we're fighting for 2023
Support our campaign
Your donation will help us champion children's rights, parent power and government action to improve the food environment children grow up in.