Sugar Awareness Week 2022 falls in the week the Chancellor (and former Health Secretary) Jeremy Hunt presents his new fiscal statement. Here are 5 reasons why he should celebrate the economic and health contribution of the Soft Drinks Industry Levy.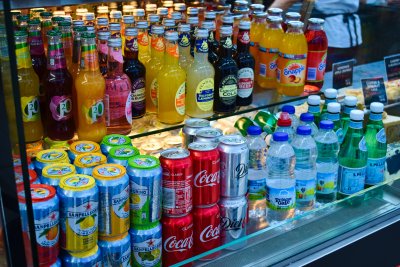 Soft drinks. Credit: David Cardinez / Shutterstock
There's no doubt that the current Government has a mammoth task to try to manage the rocketing prices of food and energy, and the impact this is having for millions of families and for business. The current crisis demands responses, and it is important that any policy decisions are based on sound evidence of the potential impact.
As a former Health Secretary, the new Chancellor of the Exchequer Jeremy Hunt will be acutely aware of the vital need to invest in prevention of disease and ill health, which in turn supports a healthy and productive economy.
Whilst his predecessor threatened to axe the Soft Drinks Industry Levy as an unnecessary piece of industry 'red-tape', both Treasury and Health ministers now have access to a significant body of evidence that demonstrates how it is working for health and our economy. This includes a series of independent academic studies led by the University of Cambridge, as well as an internal Government review (never published) of the Soft Drinks Industry Levy led by the current Chief Medical Officer for England, Professor Chris Whitty.
Based on the evidence that is in the public domain, here are five key reasons the Chancellor should champion the Soft Drinks Industry Levy and consider where and how further smart regulation like it could incentivise a healthier food industry. In short:
So let's delve a little more into each of these reasons, and the evidence and arguments behind them.

Quite simply, the Soft Drinks Industry Levy is working in shifting healthier manufacture, sale and consumption of drinks. Prior to its introduction, soft drinks were the single biggest contributor of sugar to children's diets, increasing the risk of unhealthy weight, diet-related diseases, and dental caries from a young age.
For any incoming Health Secretary, the fact that in an average class of 30 children, around 12 are now living with obesity or overweight, should be a matter of concern. Children from the most disadvantaged backgrounds are twice as likely to be at risk from diet-related illnesses than those from more affluent communities. Traditional 'educational' approaches about healthy eating were failing to cut through. The economic cost of The Soft Drinks Industry Levy had an immediate and dramatic impact on sugar reduction within the first year of announcement, as companies accelerated action in order to lower or escape from paying duties. It was so immediately effective that the Treasury department responsible won an impact award for it. Tackling obesity is a key part of any future economic planning - OECD estimates that costs of treatment can lead to higher taxes across developed countries, potentially raising UK taxes by £500 per person per year, compared to a population with an average healthier weight.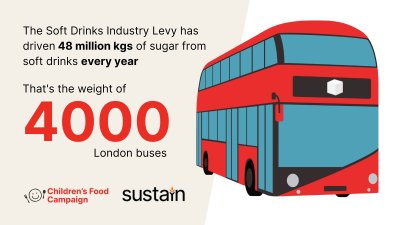 Since 2015, the Soft Drinks Industry Levy has succeeded in removing a whopping 48,000 tonnes of sugar per year from soft drinks, according to the Government's own sugar reduction data. By Children's Food Campaign calculations, that's the weight of 4,000 double decker London buses. Every year. Independent academic research has shown that household consumption has fallen by an average 30g per week, or 12.5g of sugar per person. Sugar reduction has been most marked amongst lower income households, precisely the same groups carrying the highest risk of diet-related disease, who have shifted to low and no-sugar drinks as companies increased their healthier ranges, and reduced focus on higher sugar drinks.
In its recent response to the National Food Strategy, the Government pointed to the SDIL saying:
"This fiscal incentive has been hugely successful, with industry reducing the total amount of sugar in the drinks within the Levy's scope by around 44%"
and also acknowledged that
"government has a role in making targeted regulatory interventions to support change."
Whilst no single intervention is capable of reducing obesity rates on its own, academic modelling currently taking place (not yet published) suggests that the current Levy could be associated with a net monetary benefit of anything from £3.88 billion to £20.8 billion for the health sector. That's a pretty decent return for a Treasury thinking to the future economy. Whilst November 2022 may not be the right moment to announce new fiscal measures for healthy food, there should be an accelerated effort now to explore what these might look like for future budget moments.
The Soft Drinks Industry Levy has raised over a billion pounds in revenues since it was implemented in April 2018 and has been forecast to raise another £1.5bn by 2026-27, according to the Office for Budget Responsibility. The Government promised that
"every penny of England's share of the spending raised by the levy will go towards children's health".
Whilst not tightly hypothecated, the Treasury has incorporated these revenues into budgeting processes for the Department for Education, which has launched the National School Breakfast Programme feeding 350,000 children in over 2,400 schools. It enabled a doubling of the Sports and PE premium for every one of primary school – vital money as the nation recovers from a pandemic and schools balance tight budgets. Most recently, Government ministers have highlighted the £200m investment in the Holiday Activities and Food Programme now running nationwide to support children to access healthy food and activity during school holidays, as another example of investment in children's health made possible as a result of having greater revenues into the Department for Education from the sugary drinks levy.
The Soft Drinks Industry Levy is an example of how fiscal revenues can be used to advance children's access to healthy food. The National Food Strategy recommendation for a Salt and Sugar Reformulation Tax suggested up to £3 billion a year in additional revenues could be generated by a wider food industry approach - sums that could be applied to health and education budgets with an eye to reducing food insecurity and healthier eating for millions of children.
Dire warnings prior to its introduction that Soft Drinks Industry Levy would hamper business have proven entirely unfounded. In fact, the industry has continued to enjoy sales growth even during the pandemic and early cost-of-living crisis, up another 5.6% to reach £3.39 billion turnover in 2021. Independent analysis shows that the introduction of the Levy had no negative long term effects for soft drinks companies, either in terms of stock market performance or domestic turnover.
Companies responded to the SDIL with innovation: by 2020, over two thirds of drinks were coming from low and no-sugar drinks sales, according to the British Soft Drinks Association. The Levy created an acceleration effect for healthy reformulation programmes, which mean the soft drinks industry now leads the entire food and drink industry in the pace of sugar reduction. In just one example, Ribena Suntory has removed over 25,000 tonnes of sugar from its drinks, and has also invested £13 million in reformulation since 2016, with the result that all their core range (Lucozade, Ribena and Orangina) are now non-HFSS and exempt from the levy. Following reports that Liz Truss and Kwasi Kwarteng were considering axing the Soft Drinks Industry levy, leading figures within the soft drinks industry warned against this course of action, including Roger White, the Chief Executive of AG Barr, which manufactures Irn-Bru, who said:
"I would be surprised and disappointed if the government back-tracked on what is a very laudable policy."
The SDIL is an example of a progressive business levy, where those making the healthiest products pay the least, whilst those companies continuing to flog excessive levels of sugar, and doing the most damage to the nation's health have to pay the penalty. Whilst the Levy remains in place, companies are financially incentivised to build their product innovation and development around lower sugar products - at a time that every business has an eye to reducing supply chain costs, this incentive is important.
Overwhelmingly, people want healthier food to be more affordable and available than less healthy food. Tesco's website reports that 86% of their customers want to eat more healthily and 77% want their supermarket to help them get there. The Soft Drinks Industry Levy is supported by 7 in 10 adults across the UK, and this has not wavered since it was implemented. The British Soft Drinks Association, which originally lobbied intensively against the introduction of the Levy recognises it has "a role to play in tackling obesity", and the progress of the sector in reformulation of drinks to reduce sugar levels.
Rumours that the former Government leaders might be considering scrapping the SDIL and other obesity measures were roundly criticised. 27 former health ministers, including the current Chancellor, Lord Bethell and recent former Public Health Minister Maggie Throup MP, warned that this course of action would actually hurt the economy, arguing instead that improving health measures offers "a huge opportunity to grow the economy" by boosting the workforce and reducing welfare payments associated with diet-related diseases and NHS costs.
A coalition of over 70 health and medical organisations also wrote to Liz Truss expressing extreme concern and appealing to Government to reconsider any backtracking on obesity policy, given the effects on NHS workforces and budgets. And major shareholders in the Investor Coalition in UK Food, including companies such as Rathbone Greenbank Investments, also urged the Government not to backtrack on obesity, saying,
"Investors see any move to scale back on the UK government's ambition in this area as coming with significant economic and social costs. Using the cost of living crisis as a reason for rolling back the obesity strategy is misguided and short-term in nature as the inaction will ultimately hit the poorest in society hardest."
With the new Prime Minister and Chancellor striking a very different and more sombre tone the need to keep generating tax revenues in a fair way, we are hopeful that the immediate threat to SDIL may have receded. As a former Health Secretary and former chair of the Health and Social Care Committee, the current Chancellor may instead wish to champion an industry levy approach that has delivered on its promise to turbocharge food reformulation and invest more on children's health. It may even be time to consider some adjustments to keep the levy working - it has never been uprated since its introduction, nor has the threshold ever been reviewed to bring it into line with the Nutrient Profiling Model being applied to food advertising and promotions. The latter measure alone could trigger an additional £50 million per year in revenues - which could then triple the reach of the National School Breakfast Programme, for example.
Beyond this the Soft Drinks Industry Levy is providing a useful model for learning what works when fiscal incentives are aligned with health outcomes. Working together with the Obesity Health Alliance, the Food Foundation, Impact on Urban Health, Sustain is exploring the potential for further fiscal levers in support of healthier food and drink, and what impact these might have in future, and what the public would support. One model might expand an SDIL-type approach to additional targetted product categories with low nutritional but high fat, sugar and/or salt values (such as confectionery, biscuits, cakes and ultra-processed snacks). We're also working with London School of Hygiene and Tropical Medicine to quantify the longer term health impacts of Henry Dimbleby's National Food Strategy recommendation to apply upstream industry levies on salt and sugar on a per gram basis. The current Treasury select committee chair Anthony Browne has argued for VAT reform, with only the unhealthiest food and drink being charged.
As we enter Sugar Awareness Week 2022, there is still no sign of the Government's final report on the voluntary Sugar Reduction Programme, which should have been published a year ago. We expect it will be grim reading if and when it is finally revealed, given the previous report indicated a paltry 2% sugar reduction for products covered only by the voluntary programme. Meanwhile the SDIL continues to offer not just a successful incentive that is working now, but also a really useful model for how we might build more financial incentives for doing business in a healthier way in the future. And for the new Chancellor, that is something worth championing.
Barbara joined Sustain in 2018 and manages the Children's Food Campaign, which champions children's rights, parent power and government action to improve the food environment children grow up in. This includes campaigning for tighter regulations of junk food marketing to children, better school food and reducing children's consumption of sugary or unhealthy food.
Barbara Crowther
Campaign Coordinator
Children's Food Campaign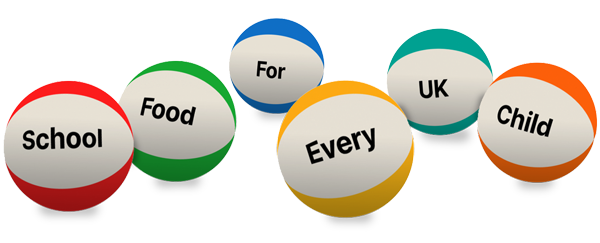 Ask your MP to end the school food postcode lottery now
Support our campaign
Your donation will help us champion children's rights, parent power and government action to improve the food environment children grow up in.