Following an open letter signed by 108 local and national food and health leaders, as well as public e-actions backed by hundreds of individuals, Secretary of State for Education Gavin Williamson responds.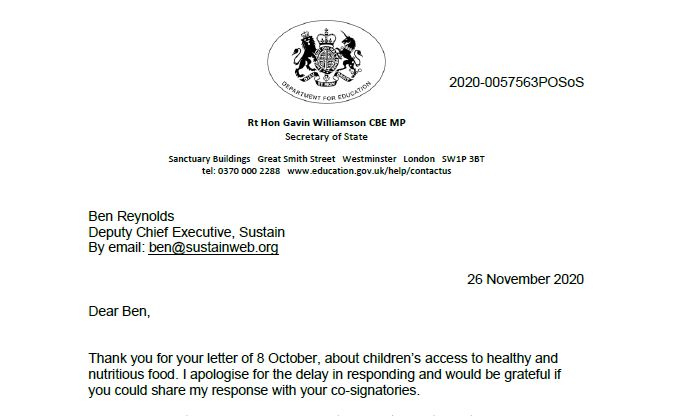 Image credit Vera Zakharov, Sustain
On the same day as the Government Spending Review on 26 November, Sustain has received an official response from the Rt. Hon. Gavin Williamson, Secretary of State for Education. You can read his response in full here.
The Education Secretary responded to each of the five calls in our Open Letter on investing in children's health via the Government Spending Review, signed by 108 signatories including Directors of Public Health, Food Partnerships and national food and health organisations. Our calls were further supported by hundreds of individuals writing to their local MPS on these issues. You can read our open letter and policy calls here.
Mr. Williamson reiterated the already confirmed policies on increasing the value of Healthy Start Vouchers to £4.25, expanding the Holiday Activities and Food Programme across England in 2021, up to and including Christmas holidays, as well as the £170 million Covid Winter Grant Scheme to support vulnerable communities through to the end of March 2021. But his reply did not contain much more detail on investing the entirety of Sugary Drinks Tax income in children's health, nor expanding eligibility of Free School Meals, Healthy Start nor the School Fruit and Veg Scheme. Sustain and our alliance will press on with work around these issues.
You can also read Sustain's response to the Government Spending Review here.
Support our campaign
Your donation will help us champion children's rights, parent power and government action to improve the food environment children grow up in.