Sugary food and drinks made up a whopping 43% of all promotions in store entrances, aisle ends and checkouts, according to a new report from the Obesity Health Alliance, as the government prepares to consult on new restrictions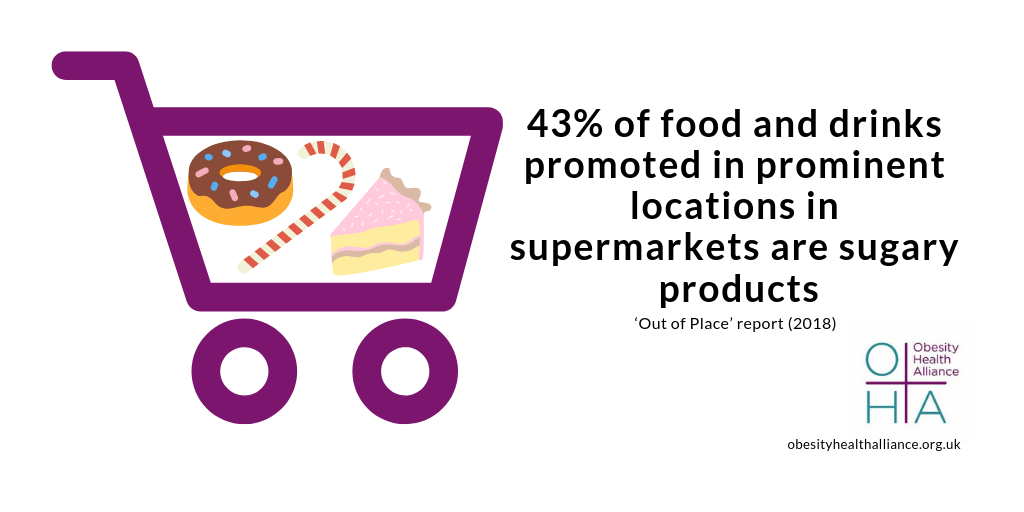 Obesity Health Alliance
Research conducted by the Obesity Health Alliance at five major UK supermarkets - Asda, Tesco, Sainsbury's, Morrisons and Aldi - shows how families continue to be bombarded by promotions for sugary food and drinks that are listed by Public Health England amongst the major contributors to childhood obesity.
It's clear that voluntary supermarket pledges not to promote junk food at checkouts are failing in three of the five supermarkets, with Asda the worst offender as researchers found nearly 3 in 4 products at tills were very high in sugar. Only Sainsbury's and Tesco had junk free checkouts.
The government's Department of Health and Social Care is set to open consultations this week on in-store promotions of foods high in fat, salt or sugar (known as HFSS products), looking at both price and location issues. As well as store entrances and checkouts, health and children's campaigners will be asking government to consider banning HFSS products from the increasing numbers of free standing display units around stores and at the ends of aisles, after finding 79% - equivalent to 4 in 5 products - of the products on promotion on these stands were sugary foods. The government consultations, which are included in Chapter Two of the Childhood Obesity Plan are expected to include promotions both by location and by price, such as cheap deals on multi-buy and larger size products which encourage families to purchase ever greater volumes of less healthy products.
For more information:
Read the Obesity Health Alliance's full press release here
Download the OHA's new report: Out of Place here
Read the Government's Chapter Two Childhood Obesity Plan here
Support our campaign
Your donation will help us champion children's rights, parent power and government action to improve the food environment children grow up in.