'Lack of forward planning' highlighted as key concern in food responses during Covid-19
New research has been published by researchers from Sheffield University mapping and monitoring responses to the risk of rising food insecurity during the Covid-19 crisis across the UK, autumn 2020 to summer 2021.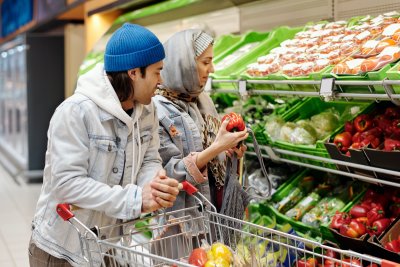 shopping in a supermarket. Credit: Jack Sparrow / Pexels.com
Over the autumn and winter of 2020 to 2021, the Covid-19 pandemic continued to affect people's lives through school closures, requirements to self-isolate, guidance to not leave home if clinically extremely vulnerable, the closure of hospitality venues and other public spaces, and home working.
This presented many people with challenges in accessing sufficient food, both as a result of lack of money and due to restrictions on physical access to food. In response, governments and third-sector organisations provided funding and programmes to improve people's access to food.
The new and thorough research maps and monitors:
School food: interventions to provide replacements for free school meals (and statutory breakfast provision in Wales) for eligible children during school closures or need to self-isolate.
Emergency income: New and adapted emergency grant schemes to address income shocks and shortages arising from the economic impacts of the pandemic whether in the short term (i.e. due to a self-isolating requirement) or longer term (i.e. insufficient ability to make ends meet due to loss or reduction in work).
Emergency food: interventions by government to support food charities over the pandemic and the actions food charities took over this period.
Shielding: interventions to support people who were clinically extremely vulnerable during periods of shielding, or guidance to limit time away from home.
Among the conclusions from the report, the following comments on lack of forward planning feel highly relevant as lessons to be learned for crisis events such as extreme weather, increasing household food insecurity, and the rising cost of living:
"There appeared to be a lack of forward planning regarding the potential for school closures and last-minute decision making related to replacement of free school meals in England when schools were once again shut in January 2021. This observation raises questions about what resilience planning will be put in place going forward. Future school closures are likely inevitable, whether arising from other outbreaks or extreme climate events. There is a need for straightforward and easily implementable interventions to replace free school meals in these cases. As was evident in the research, cash replacements offer many benefits with regard to food choices and the scale and speed with which they can be transferred to recipients."
"The lack of forward planning for emergency finance schemes also was evident in the research. Whilst responsive funding in the face of increased demand for emergency finance assistance is important, to be able to use funds effectively and efficiently, systems for distributing the funds through grants already need to be in place. We heard that it was inefficient for local authorities to devise and implement new schemes when they didn't know if the scheme would be funded into the future. In this way, the Scottish Welfare Fund and Welsh Emergency Assistance Payments are exemplars, as both were able to widen eligibility criteria and support more recipients over the pandemic as extra funds from respective devolved governments were made available."
"The lack of forward planning for local welfare assistance in England not only affects the provision of emergency finance in local authorities but also the provision of free school meal replacements during school holidays. In Scotland, Wales and Northern Ireland, there was ring-fenced funding for free school meal replacement vouchers going forward from 2021 announced; in England, local authorities could use the late-announced local welfare assistance funds to provide replacements. This means there is no guarantee that children and their families will be provided with free school meal replacements during the holidays going forward."
This report maps and monitors key national level interventions targeted towards food insecurity during the Covid-19 pandemic over the autumn of 2020 through to spring/summer 2021. It follows on from the previous reports which covered the period March to August 2020. These reports are available on the project webpage: http://speri.dept.shef.ac.uk/food-vulnerability-during-covid-19
Citation: Loopstra, R., Gordon, K., Okell, A., Hill, J. and Lambie-Mumford, H. (2022) 'Mapping and monitoring responses to the risk of rising food insecurity during the COVID-19 crisis across the UK. Autumn 2020 to Summer 2021', published August 2022, available online http://speri.dept.shef.ac.uk/food-vulnerabilityduring-covid-19
Support our work
Your donation will help communities identify ways to alleviate food poverty and increase access to healthy food.