New research shows that Transport for London's healthier food advertising policy, which Sustain helped to write and implement, could be having a positive effect on prevention of obesity and diet-related diseases for almost 100,000 Londoners, especially those living in more deprived areas.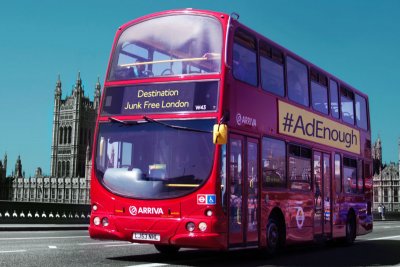 Destination Junk Free London bus. Credit: Sustain Sustain
The restrictions of unhealthy food advertising across the Transport for London network were found by independent academic researchers to have brought wide-ranging health benefits for Londoners. The policy is likely to have had the biggest health impacts on people from more deprived areas leading to reductions in London's health inequalities. The researchers estimated that the reduced calorie intake associated with the policy could lead to 94,867 fewer cases of obesity, 2,857 cases of diabetes prevented or delayed and 1,915 fewer cases of cardiovascular disease. In turn, the lower incidence of these diet-related illnesses could then save the NHS £218 million over the lifetime of the current population. It is thought that reductions in obesity, diabetes and cardiovascular disease could be higher than reported as the study does not account for decreases to childhood obesity which are expected to have occurred.
The study was led by researchers from the University of Sheffield's School of Health and Related Research (ScHARR), in collaboration with the London School of Hygiene and Tropical Medicine (LSHTM). Earlier this year, the policy evaluation research revealed that the policy has contributed to a 1000 calorie decrease in energy from unhealthy purchases in Londoners' weekly shopping. Drawing on this data, academics were able to asses the impact of the policy on people's health and the health service.
Sustain advised the Mayor of London's team on the writing and implementation of the Healthier Food Advertising Policy and has subsequently supported six local authorities to bring in their own policies: Barnsley, Bristol, Greenwich, Haringey, Merton and Southwark. More than 90 local authorities have contacted Sustain for support with their own Healthier Food Advertising Policies and Sustain continues to collaborate with them to progress policy implementation.
Fran Bernhardt, Coordinator of Sustain's Children's Food Campaign said:
"This research shows what can happen when the powerful advertising machine turns the spotlight towards healthier food and drink. Transport for London is leading the way, showing how healthier advertising regulations can lead to healthier lives and better places for our children to grow up in. Over 90 councils have approached Sustain for support to bring in their own advertising restrictions, and this evidence helps build the case for this approach across the whole nation."
Dr Chloe Thomas, First Author of the study from the University of Sheffield's School of Health and Related Research (ScHARR) said:
We all know how persuasive and powerful advertising can be in influencing what we buy - especially the food we eat. Our study has shown what an important tool advertising restrictions can be in order to help people lead healthier lives without costing them more money. We hope that demonstrating the policy's significant benefits in preventing obesity and the diseases exacerbated by obesity, will lead to it being rolled out on a national scale, something that could save lives and NHS money.
Dr Penny Breeze, Lead Investigator of the study from the University of Sheffield's School of Health and Related Research (ScHARR) added:
There have been very few studies that have looked at the health and economic impact of out of home advertising restrictions. We are delighted to show that there are many benefits to the policy, and hope that the policy continues to be rolled out outside of London.
Professor Steve Cummins, London School of Hygiene and Tropical Medicine said:
This work shows the potential health impacts and cost savings of the Mayor of London's 'Junk Food Ad Restriction' based on our evaluation earlier this year, published in PLoS Medicine, which found that the policy reduced average household purchases of energy by 1000 calories per week. With more than 80 local authorities across the UK now considering the implementation of similar policies, this study provides further evidence of the effectiveness of advertising restrictions to help support decision-makers. In light of the government's current delay in implementing obesity prevention policies outlined in the recent 2022 Health & Care Act, this is a policy that local authorities can deliver now without the need for national regulation in an effort to tackle obesity on a national scale.
The Mayor of London, Sadiq Khan said:
Advertising undoubtedly plays a significant role in promoting and encouraging the consumption of less healthy foods. With child obesity putting the lives of young Londoners at risk it simply isn't right that children and families across the capital are regularly inundated with adverts for foods that do not support their health – that's why I was clear that tough action was needed. This study, which builds on research from earlier this year, demonstrates yet again that the ground-breaking restrictions we introduced could not only influence behaviour and ultimately save lives but could directly save our NHS hundreds of millions of pounds. I am determined to continue this work to improve the health of Londoners, alleviating some of the burden on our overstretched health service and building a better London for everyone.
Support our campaign
Your donation will help us champion children's rights, parent power and government action to improve the food environment children grow up in.