Microbakery handbook 25% discount sale
£££s sliced off THE guide to starting and expanding your business.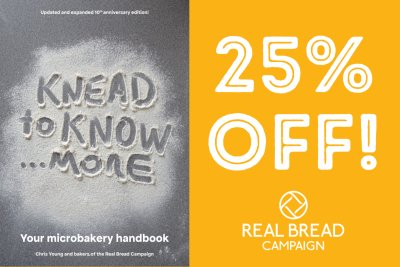 Time to get doughing. Credit: www.realbreadcampaign.org
Knead to Know…more is the essential guide to turning your baking hobby into a microbakery, growing that business and even taking it to the high street.
This offer has ended but the book is still available and we reckon it'll pay for itself in the money your Real Bread business will make and save.
The deal applies whether you get the book on its own, at the same time as joining the Campaign, or when you bundle it in with a Campaign supporter gift subscription for someone else.
This offer was only available on orders made at www.realbreadcampaign.org between 10am on Friday 21 April and 10am on Friday 28 April 2023 for UK deliveries.
What people have said about the book
"Do you want to turn your baking hobby into a microbusiness? Because if you do, you should get this book." Prue Leith
"The most practical book for anyone thinking of starting a bakery enterprise." Emma Parkin, Emma's Bread
"I like the practical advice on different aspects of starting up and owning a microbakery. It's the microbaker's bible, I say!" Ilgin Beaton, Just Sourdough
"Super-practical. Full of sage advice and heart-warming values about good bread. Wholeheartedly recommended." Chris Cundill, Rosa's Bakery
"The book is very helpful, fantastic!" Jay Matic, Manila Artisan Breads
Outside the UK or want an ebook?
We have a publisher lined up to make the book more widely available after we have shifted the first print run – which is one of the reasons we're offering this UK discount now.
Notes
For each book, £3.50 will be added as a contribution to postage, packing and admin.
The 25% discount can't be backdated to older orders and doesn't apply to the trade rate.
If you're outside the UK but can supply a UK delivery address, we can post it there.
Support our charity
Your donation will help support the spread of baking skills and access to real bread.