Convenience stores can now help Covid-19 volunteers shop for food for housebound people
Neighbourhood shops can now accept payments remotely to enable volunteers to do grocery shopping for housebound people during Covid-19.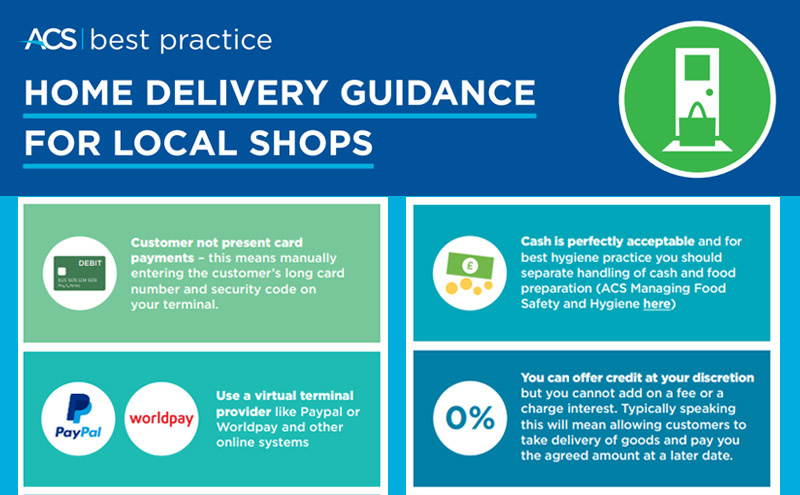 To assist vulnerable people who have money for food but can't get out to shop, the Association of Convenience Stores (ACS) has issued guidance to 33,500 convenience stores across the UK, who can now handle "card not present" payments to enable volunteers to go food shopping on behalf of people stuck at home.
This can be offered as an option, alongside mainstream supermarket volunteer shopper distance payment schemes. to Local Resilience Forum hub helpline enquirers struggling with accessing food, if they have the money to be able to buy food, but may need a volunteer to pick up shopping for them.
ACS chief executive James Lowman said:
"We have seen how convenience retailers have quickly adapted to ensure that they can continue to serve their communities through a range of measures including offering grocery delivery services, introducing social distancing measures and dedicated shopping times for vulnerable customers and NHS workers.

"Our new guidance will enable local shops to continue to support their local communities, including those who are shopping on behalf of vulnerable friends, family and neighbours."
The guidance on card not present payments links to ACS' established guide to offering home delivery services. This has also been updated to include new assured advice from ACS' partners Surrey & Bucks Trading Standards, which covers how to display pricing, and issues around premium pricing and delivery charges.
Useful guidance for local shops is available to download here: https://www.acs.org.uk/advice/covid-19-coronavirus
Published 22 Apr 2020
Coronavirus Food Alert: Sustain's work on food resilience in the COVID-19 coronavirus pandemic.We are helping secure food for vulnerable people and supporting local emergency responses.
Support our charity
Donate to enhance the health and welfare of people, animals and the planet.