Sharp rise in food bank use as cost of living outstrips benefits, reports Trussell Trust
The number of three day food supplies given out in the UK rose 13% from 2017-2018, more than double the growth from the previous period. Sustain urges more action 'beyond the food bank' in response.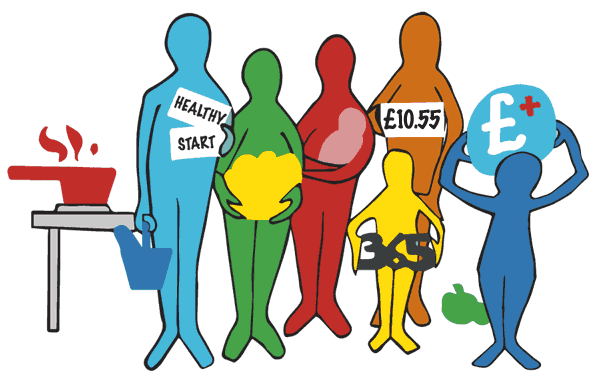 Trussell Trust has announced its annual end of year figures from their network of over 425 food banks around the UK, which provided 1,332,952 three day food supplies between 1st April 2017 and 31st March 2018. This was a 13% increase in the number of parcels given out compared to the year previous, and more than double the rate of growth (6%) from the year before. Moreover, their analysis shows that 'Low income – benefits, not earning' is the most common, and fastest growing, reason for people being referred to a food bank.

Ben Reynolds, Deputy CEO from Sustain said: "This report paints a bleak picture of the reality that many people face every day. The cost of living is increasing and our benefits system is not keeping up, leaving thousands unable to feed themselves and their families. It is simply not right that our system is failing to support those most vulnerable, such as families with children and disabled people, leaving them deprived of life's most basic necessities in times of need. We agree with the Trussell Trust that we must take action 'beyond the food bank"

The new evidence from the Trussell Trust demonstrates how the rollout of Universal Credit is keeping people locked into cycles of poverty through delayed payments that cause debt accumulation, harm to physical and mental health, and housing issues.

Emma Revie, Chief Executive of The Trussell Trust said "This is completely unacceptable. We need to move towards a UK where no one needs a foodbank's help, not a country where charity provision is the only defence from utter destitution."

Working in coalition with the End Hunger UK campaign, Sustain is calling on the Government to take significant action to address the issues pinpointed in Trussell Trust's report in order to create a truly robust and supportive benefits system that lifts people out of poverty. We want to see solutions to food poverty that target its root causes rather than relying on charities to fill the holes in the inadequate welfare safety net.

Read more about Sustain's work on food poverty, including the London Food Poverty Campaign, Food Power national network of alliances and Right to Food project.

---
24/04/2018
Food Power
SHARE
---
Food Power: Food Power is an exciting new programme working with local communities across the UK to strengthen their ability to reduce food poverty.