As the government looks to update its child obesity strategy, the Children's Food Campaign and Sustain have joined forces with Jamie Oliver, in a new #AdEnough campaign to curb junk food marketing, featuring selfies with covered eyes - the only effective ad-blocker children currently have.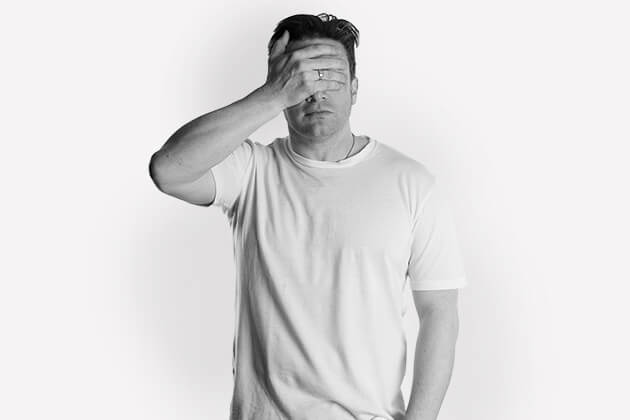 Credit Jamie Oliver Foundation
The Government's Childhood Obesity Plan is almost two years old, and whilst there has been positive progress in relation to the recent launch of a Sugary Drinks Tax, and new rules on non-broadcast marketing of high fat, salt and sugar (HFSS) products, pressure is now building towards a much-signposted 'Chapter 2', with the aim of closing some of the many loopholes and gaps in the original version.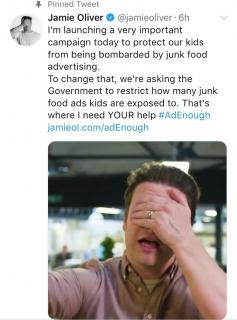 Today (16 April), Jamie Oliver is ratcheting up the pressure by launching his own new manifesto for the government, along with an #AdEnough social media campaign, calling for immediate action to address the amount of junk food advertising which still constantly bombard children, from pizza and fizzy drinks during Saturday night TV shows, to billboards and sports sponsorship, and putting an end to kids' favourite cartoon, TV and film characters from constantly being used to market confectionery, cakes, biscuits and unhealthy fast food.
The campaign invites the public to add their support to the campaign by posting selfies on social media, with their eyes covered to symbolise the only effective ad-blocker currently available to children, using the hashtag #AdEnough.
For more information:
Read what parents said when the Government's Childhood Obesity Plan was launched.
Read the Children's Food Campaign's One Year On assessment of the Childhood Obesity Plan.
Read our recent blog on junk food's relationship with children's cartoon, film and TV characters What Would Beatrix Potter Do?
Jamie Oliver's 11 point Manifesto in Full:
Ban TV ads for food and drinks that are high in salt, fat or sugar before the 9pm watershed. Restrict advertising on social media, billboards, bus stops and sports stadiums as well as outside schools. Ban the use of cartoon characters and celebrities to promote these foods. Ban cheap promotions that encourage people to buy them.
Expand the sugar tax to cover more products.
Set compulsory targets for sugar and calorie reduction in food and drink.
Ban the sale of energy drinks to anyone under 16, requiring ID.
After Brexit, bring in new, clearer colour-coded pack labels so no food high in salt, fat or sugar can be sold as a healthy alternative.
Enforce proper food standards for all school meals, across the age range, monitored by Ofsted.
Compulsory training for GPs on aspects of nutrition, with patients weighed at every visit.
More support for national programmes to measure and weigh children.
Improve catering in public buildings so there are healthy options, particularly for shift workers and NHS staff.
New powers for local authorities to limit hot food takeaways near schools.
New Government target to halve childhood obesity by 2030.
Taken from interview with Jamie Oliver in the Daily Mail, 16 April 2018.
Support our campaign
Your donation will help us champion children's rights, parent power and government action to improve the food environment children grow up in.