General Election 2017: Our policy for better hospital food
The General Election on 8 June 2017 is our opportunity to get legal standards for hospital food on the political agenda and in the manifesto of the next UK government.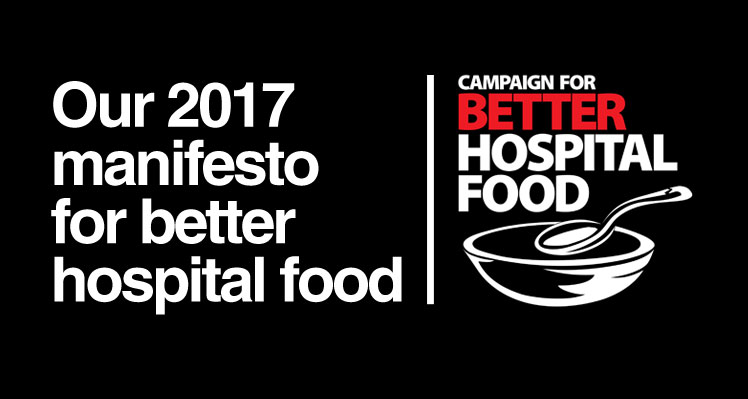 We ask the next government of the UK to introduce legal standards for hospital food.
The Campaign for Better Hospital food is calling for legal standards for hospital food, like the food standards that already exist in schools, to protect patients from bargain basement meals.
The standard of food in schools and in prisons is protected by legal minimum standards and we ask that the same is granted to hospital food by the next UK government. According to figures released by the Department of Health, almost half of hospitals in England do not meet even basic hospital food standards - and we think patients and the hardworking NHS staff that treat them, deserve better.
The Campaign for Better Hospital Food, and co-signatories, ask for the following changes to policy:
Hospital food standards should be set down in law, on the same legal basis as school food standards, to ensure hospitals must mandatorily meet minimum standards for the food served to patients, staff and visitors. These standards should be independently monitored and enforced.
To actively improve patient food quality this hospital food standards legislation should include menu requirements and minimum standards for ingredients to promote fresh, healthy and appetising cooking, higher animal welfare, and ethical and sustainable ingredients.
To actively improve the retail environment and foodservice outlets in hospitals, this hospital food standards legislation should include and make mandatory; the NHS England CQUIN 2017-2019 Indicator 1b: Healthy food for NHS staff, visitors and patients1, as well as the SC19 Food Standards2 and the five hospital food standards in the NHS Standard Contract.
In addition, the hospital food standards legislation should include minimum legal standards on the food sold in vending machines on hospital premises akin to the Healthy Living Award Plus, already mandatory in Scotland.
At the moment, flimsy hospital food rules exist in the NHS Standard Contract for hospitals; these are advisory and unenforced. As a result almost half of hospitals do not meet these standards. NHS England has introduced targets to reduce the sale and promotion of sugary drinks and foods high in fat, salt and sugar. However, these targets are both voluntary, with no legal penalty for retailers for failing to meet these standards, and temporary, at present extending only until March 2019.
The principles for better hospital food standards set out in this letter were supported by the following people and organisations in our April 2017 report: 'Taking the Pulse of Hospital Food; A Survey of NHS Hospitals using London as a Test Case':
Rosie Boycott, Chair of the London Food Board
Baroness Cumberlege, Conservative peer, advocate for better hospital food
Prue Leith CBE, new Bake-Off presenter, long-term supporter of the Better Hospital Food campaign
Jenny Rosborough, Campaign Manager, Action on Sugar
Katharine Jenner, CEO, Blood Pressure UK
Professor Graham MacGregor, Chairman, CASH
Dr Michael Dixon, Chair of the NHS Alliance, College of Medicine
Emma Slawinski, Director of Campaigns, Compassion in World Farming
Professor Simon Capewell, Vice President for Health Policy, Faculty of Public Health
Robin Hinks, Research and Policy Officer, Food Foundation
Victoria Williams, Director, Food Matters
Jo Ralling, Director, Sugar Smart Campaign and UK Partnerships, Jamie Oliver Food Foundation
Lizzie Kenyon, Director – Centre for Social Innovation, Keep Britain Tidy
Dr David McCoy, Director, Medact
Dr Nigel Carter OBE BDS LDS(RCS), CEO, Oral Health Foundation
Shane Holland MIoEE FCMI FRSA, Executive Chairman, Slow Food
Jo Lewis, Strategy and Policy Director, Soil Association Food For Life
Kath Dalmeny, CEO, Sustain
Ruth Westcott, Coordinator, Sustainable Fish Cities
Sue Ashmore, Programme Director, Unicef UK, Baby Friendly Initiative
Christina McAnea, Head of Health, UNISON
Caroline Moye, Head of World Cancer Research Fund UK, World Cancer Research Fund
Sustain annual conference - 8 December

Book now
Published 8 May 2017
Better Hospital Food: The campaign represents a coalition of organisations calling on the Westminster government to introduce mandatory nutritional, environmental and ethical standards for food served to patients in NHS hospitals in England.
Event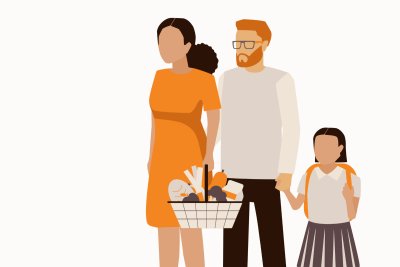 Sustain annual conference - 8 December
Support our charity
Donate to enhance the health and welfare of people, animals and the planet.