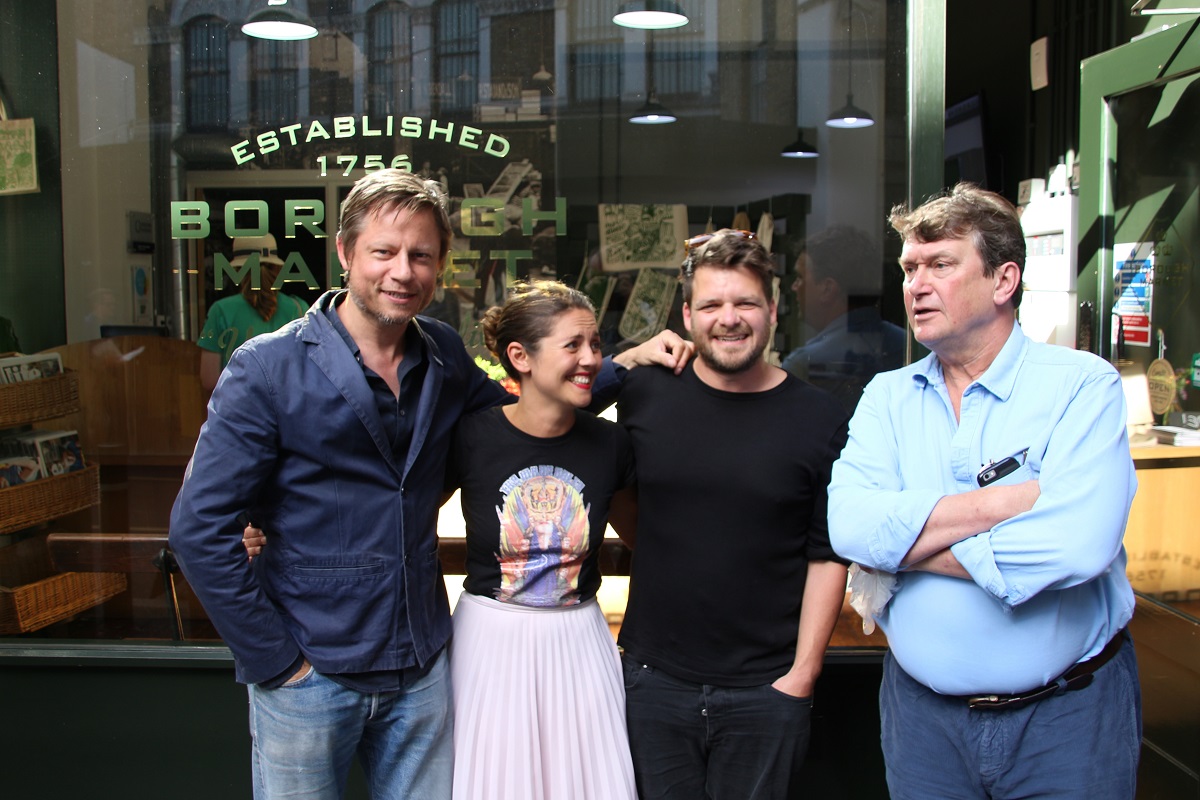 The judges by Chris Young / realbreadcampaign.org CC-BY-SA 4.0
In May 2016, an open invitation was extended to the capital's small, good food and drink makers, growers, retailers and heroes to enter. The list was then served up to Londoners, 3400 of whom voted for their favourites, creating a shortlist of finalists in 11 categories. The winners were then chosen by a panel including London-based chefs Tom Hunt, Rowley Leigh and Oliver Rowe and food writer Olia Hercules.
The winners
The following winners were announced on 21 September during Urban Food Fortnight at a special event at Borough Market, opened by the Mayor of London, Sadiq Khan:
The finalists
Voting ended on 8 July, by which time 3440 people had voted. The top three (ie finalists) in each category were:
Produce
Beautiful Brew
Honey Pale Ale (Pearly Queen Beer Company)
Toast Ale (Toast Ale)
Queen of Diamonds IPA (Wild Card Brewery)
Heavenly Honey
Bermondsey Street Bees
Bee Naturals
Bee Collective
London Leaves
Spitalfields City Farm
Cultivate London
GrowUp Urban Farms
Londoners' Loaf – plain
Chase Sourdough (Holtwhites Bakery Limited)
The Brick House Miche (Brick House)
Sixteen Hour Sourdough (Hen Corner)
Londoners Loaf – special
Cinnamon Swirl (Hen Corner)
Chocolate Sourdough Loaf (Brick House)
Walnut Bread (Ma Baker)
Proper Preserves
Fruit Cheese (Fruit Magpie)
Rooty Fruity Jam (OrganicLea)
Apple & Chilli Jelly (Hen Corner)
People
Best Retailer
The Food Assembly
Brockley Market
Field to Fork Organics Cooperative
Capital Growth's Growing Enterprise
Growing Communities
Forty Hall Community Vineyard
Berrymede Junior School
Most Inspiring Producer
Forty Hall Community Vineyard
Bee Naturals
Bee Collective
Roots to Work
Cafe from Crisis LDN
Growing Communities
OrganicLea Farm Start
Sustainable Street Food
Brixton People's Kitchen
Gourmet Goat
CLAW
The judges
We're delighted that the winners in the produce categories have been decided by the following London-based judges:
Olia Hercules is a chef, food writer and author of Mamushka: Recipes From Ukraine & Beyond, the debut book prize winner at this year's Fortnum & Mason Food and Drink Awards.
Tom Hunt is an acclaimed eco-chef, and author of The Natural Cook. He founded the Forgotten Feast, a campaign working on projects throughout the UK, to revive our cooking heritage and help reduce food waste and Poco an award winning restaurant in Bristol and now in London. He is also a regular contributor to London Food Link's Jellied Eel magazine.
Rowley Leigh's culinary CV includes Le Gavroche, before launching his own Kensington Place with Nick Smallwood in 1987, followed twenty years later Le Cafe Anglais. Throughout this time and still today he has been a prize-winning national newspaper food journalist and cookbook author.
Oliver Rowe is a chef, author and stylist whose work focuses on seasonal food. He has just published his first book, Food for All Seasons. He food journey to date takes in a stint at Moro and running his own ultra-local restaurant Konstam at The Prince Albert, which featured on BBC2's The Urban Chef. He now works on a variety of food projects, including a monthly seasonal supper club at the London Cooking Project in Battersea.
Winners in the people categories were decided by a panel drawn from the teams of the Urban Food Awards partners.
Judging
See photos from the produce categories judging.
Prizes
The main benefit for entrants is the opportunity to generate free publicity by using social media, local media, customers and friends to champion your bid for London-wide glory.
Finalists also receive a pair of tickets to the invitation-only Urban Food Feast and winning enterprises will be featured in The Jellied Eel magazine, read by 50,000 Londoners.
Everyone who votes will enter a draw to win a pair of tickets to the awards do.
Categories
Run by the Mayor of London, London Food Link and Borough Market, the Urban Food Awards the Urban Food Awards celebrate London's fantastic food scene. In addition to great taste, they throw the spotlight on the good food practices and people behind the products.
The categories are:
Produce: Londoners' Loaf, Heavenly Honey, Beautiful Brew, London Leaves and Proper Preserves
People: Roots to Work, Capital Growth's Growing Enterprise, Best Retailer, Sustainable Street Food, Most Inspiring Producer.
Entry guidelines
Entry was open to producers / doers from 10 May to 6 June.
To be eligible in the produce categories, entrants' food/drink must be available to buy, and is grown or produced in a London borough by an enterprise with 50 employees or fewer, and...
Produce categories
Londoners' Loaf: plain: must be Real Bread, ie made without any artificial additives or processing aids. It must be made with flour (any kind), water and salt and leavened with either a sourdough starter or bakers' yeast.
Londoners' Loaf: special: must be Real Bread, ie made without any artificial additives or processing aids. It must be made with flour (any kind), water and salt and leavened with either a sourdough starter or bakers' yeast, and have one or more extra natural ingredients - eg butter, oil, cheese, seeds, nuts, butter, seaweed, vegetables, fruit, beer...
Heavenly Honey: Collected from hives in London boroughs, not just blended/packaged here
Beautiful Brew: Open to all types/styles of beer or ale
London Leaves: This is for growers that sell their own mixed salads, rather than eateries or retailers that don't actually grow them
Proper Preserves: Jam, chutney or other preserve made in London without artificial additives of any kind from fruit or veg grown in London or from surplus produce. Salt, vinegar, sugar and spices can come from elsewhere.
People categories
Roots to Work: celebrating organisations helping people learn the ropes of the food trade, by running training in growing, making or selling
Capital Growth's Growing Enterprise: entrepreneurs generating income from and for their community food gardens
Best Retailer: open to shops, stalls, box schemes, local markets and online outlets leading the way in offering a marketplace for small batch London producers
Sustainable Street Food: We're looking for more than just dude food from a nice van. Must clearly demonstrate ethical/sustainable practices – see below. We encourage you to read The Good Food Guide for Festival and Street-food Caterers.
Most Inspiring Producer: the person or team behind growing/making and selling great food or drink of any sort in London in a way that sets a good food benchmark for others
What the judges are looking for
When entering, people were advised to make clear the ways in which they:
operate in a demonstrably sustainable/ethical way - eg vegan, certified organic, all/mainly London-grown, certified sustainable fish, pay London Living Wage, operate as a worker-owned cooperative, certified higher welfare meat, reduce surplus and prevent food waste, social enterprise etc. Read Sustain's good food guidelines to find out more.
offer social benefits and contribute to your local economy
work to reduce the negative, or increase the positive, health impact of what you make
While we waleys like to see passion come through, we encouraged entrants to avoid hyperbole and marketing speak and make sure they back up claims (eg sustainably sourced, local, ethical etc.) as outlined above.
What happens when
10 May: Entries open
31 May: Entries close. Entrants may be contacted to check they meet the criteria
8 June – noon on 8 July: The public vote
After 11 July: Entrants advised whether or not they have been shortlisted for final judging
August/September: Final judging
September: Feature on finalists in Jellied Eel issue 52
21 September: Winners announced at invitation-only Urban Food Feast at Borough Market
January 2017: Feature celebrating the winners in Jellied Eel issue 53
Note
Winners will be chosen from eligible, participating entries based on a combination of public votes and the views of the judging panel.
The judges' decisions are final and neither they or the Urban Foods Awards partners will enter into correspondence about them.
Past UFA winners
2015
Beautiful Brew: Strange Brew Pale Ale by Clarkshaws Brewing Company
Best Banger: Daz's by Green & Fortune Cafe
The Big Smoke's Big Cheese: Napier by Wildes Cheese
Heavenly Honey: Postcode Honey by Barnes & Webb
London Leaves: Hackney Salad by Growing Communities
The Londoners' Loaf: Danish Sourdough 100% Organic Rye Bread by SNAPS + RYE
Capital Growth's Growing Enterprise: Nat Mady, Hackney Herbal
New Shoots Food Guru: Dee Laverty, Broadwaters Inclusive Learning Community
Food Hero: Jack Clarke and Theresa Douthwright, SoleShare
London Markets Initiative Krys Zasada Memorial Award: Borough Market
2014
Best Producer: Organiclea
Best Retailer: Brockley and Wapping Markets
Best Eatery: Stepney City Farm Café
Best Educator: Made in Hackney
The People's Choice Award: Crisis Skylight Café
Capital Growth Enterprise: Growing Kultur
Capital Growth Enterprising School Garden: Nightingale Primary School, Hackney
Good Food For London Best Borough: London Borough of Islington
London Markets Initiative Krys Zasada Memorial Award: Kingston Ancient Market
UFA partners
The Urban Food Awards 2016 are run by the Mayor of London, London Food Link and Borough Market.
If you have any queries about entries and voting, please email londonfoodlink [at] sustainweb.org, though please note that sometime we're only able to check and respond to messages once in a week.
Share
Get updates
London Food Link: This is the umbrella for all of Sustain's initiatives in London. Our work includes helping to influence local government policy, hands-on food growing training, running sessions for public sector caterers, creating guidance for independent eateries and food producers, public awareness campaigns, and joining the dots between people around specific food issues. The LFL supporter network is open to everyone who grows, produces, teaches, peddles, promotes and simply enjoys good food in the capital.
Support our work
Your donation will help support community food initiatives and enterprises to thrive as part of a more sustainable food system.