Procurement Across London Catering Group
Procurement Across London (PAL) was founded 40 years ago, then known as the London Contracts Supply Group. The group was formed by like-minded procurement managers in London with the purpose of improving the image and role of procurement and working collaboratively to achieve best value for joint contracts awarded. Over recent years, with the support of Sustain, the Mayor of London and Greater London Authority, this has also been used significantly in catering contracts to improve the ethical and environmental standard of food provided by participating councils, as well as to help councils meet criteria for Food for Life Served Here, Sustainable Fish Cities and Good Farm Animal Welfare Awards, among others – successes reflected in other chapters in this report.
All joint tenders are carried out in accordance with the lead council's Contract Procedure Rules and relevant legislation to ensure compliant contracts are awarded. There are no upfront fees for using the contracts, but a contribution is made to the lead council to cover the overheads of awarding and managing each contract (typically 0.5% of the contract cost).
Contracts are advertised on the group website and the tender process includes an evaluation of the suitability of all prospective suppliers. For catering contracts this includes health and safety, business continuity, food hygiene and HACCP procedures, among others.
The London Borough of Havering is the PAL lead borough for all catering requirements. They work closely with external bodies, including the Soil Association and Compassion in World Farming, to actively promote the aims and objectives of these organisations and ensure that these are included in all contracts awarded where relevant. To this end, PAL are assisting councils to achieve higher welfare standards through purchasing produce such as RSPCA Assured, organic meat, Fairtrade produce and ensuring that fish purchased is not on the Marine Conservation Society's fish to avoid list, all at best value. They also ensure all goods comply in full with the Government Buying Standards for food and catering services.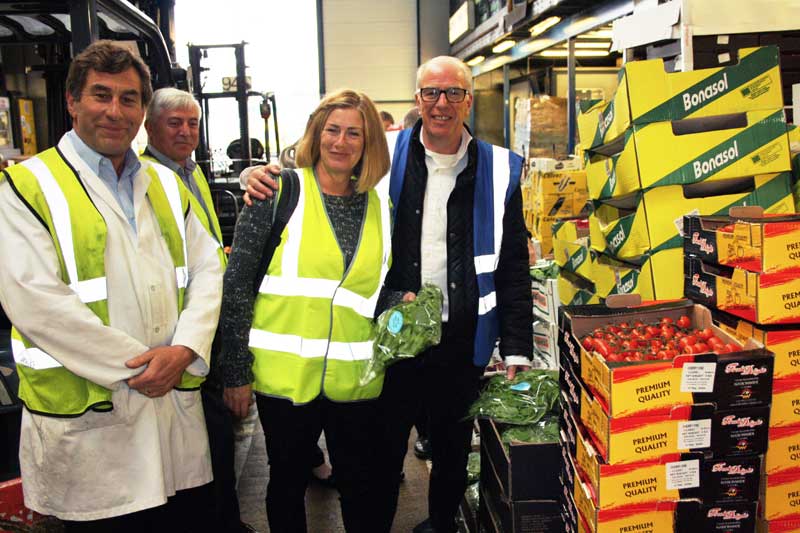 Procurement Acroos London members visit Prescott Thomas (fruit and veg supplier) at New Spitalfields Market. People: Chris Hutchington; James Hughes, Catering Contracts Supplier Manager, Procurement Across London; Tracey Parnwell, Projects & Purchasing Officer, GSS Plus / GSS Ltd; and Peter Thomas, Managing Director, Prescott Thomas.
Benefits of membership
Members meet bi-monthly to share good practice, market knowledge, new ideas, menu solutions and operating procedures. The meetings ensure the on-going quality of the services and products provided to the respective councils and all councils share a primary objective to achieve standards of service and procure produce for school meals at a minimum of the Bronze level in Food for Life Served Here. PAL members are encouraged to participate in the tender process and influence the specification to ensure that local requirements are delivered.
Frameworks have been awarded for the following commodities and services:
Supply of groceries – dry, chilled and frozen goods
Supply of catering disposables
Supply of fresh fruit and vegetables
Supply of fresh meat
Supply of light catering equipment
Maintenance of kitchen equipment including gas/electrical, cleaning of ducting, refrigeration
The use of these frameworks reduces overhead costs to each participating council and supports common standards across all councils, reducing direct costs to both councils and suppliers.
All contract management and compliance reporting is handled by the London Borough of Havering and all members are kept fully briefed. Havering regularly benchmarks the contracts against market prices to ensure that best value is achieved.
PAL has been widely recognised for many years as a highly effective vehicle within London for awarding best value, legally compliant framework contracts, and at a time of great financial challenge it provides an opportunity to produce a high standard of food and catering services at an affordable price.
PAL members typically achieve savings of 10 to 20% when benchmarked against competitors.
Working together to deliver better results and better value
During summer 2016, PAL members worked collaboratively to streamline purchasing and deliver better value to all stakeholders. As chair, the London Borough of Havering led on analysing previous purchasing and future school food standards requirements to help the group compile suitable tenders.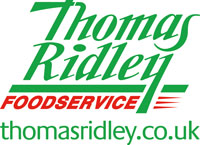 Members also agreed that there was an opportunity to reduce the number of vehicles visiting schools. PAL members are committed to reducing their carbon footprint and having a positive effect on London's Clean Air Strategy, which coordinated food deliveries in lower-carbon vehicles can help to achieve. Thomas Ridley Foodservice won the contract after a competitive tendering process supported by procurement team One Source and backed by the YPO framework, ensuring full compliance.
"Thomas Ridley Foodservice provides a total foodservice solution for all of PAL. We recognise that the activities of the food distribution sector could have an impact on the environment in terms of emissions and any waste produced, so we seek to minimise this as far as is reasonably practicable. Our multi-temperature vehicles help to keep food miles to a minimum by being able to deliver all fresh, ambient and frozen goods in one delivery drop. We aim to divert the maximum amount of waste from landfill as possible by offering boroughs our free recycling service where we collect cardboard and used cooking oil to recycle and reuse."

"By understanding the bespoke needs of the education sector, we work closely with suppliers to reduce the salt and sugar content in school compliant food and we are committed to encouraging and promoting the benefits of a balanced diet for children and young people. Sustainability is an important aspect of our business and following our recent MSC certification we have a wide range of MSC products available, and these come with full traceability. We only supply MSC certified products to PAL, offering them peace of mind when purchasing from us."
Justin Godfrey, Executive Director, and the Thomas Ridley Foodservice team
Current members
All contracts awarded on behalf of PAL are available to all London councils. There is an active group of catering managers from local authorities (seven London boroughs and Thurrock Unitary Authority) who are committed to working together to achieve the group aims and targets. These are the London Boroughs of Barking & Dagenham; Enfield; Greenwich; Havering; Newham; Tower Hamlets and Waltham Forest.
Contact

James Hughes
Catering Contracts Supplier Manager, Procurement Across London
London Borough of Havering
james.hughes@havering.gov.uk
---
SHARE