TRiFOCAL London: Transforming City Food Habits for Life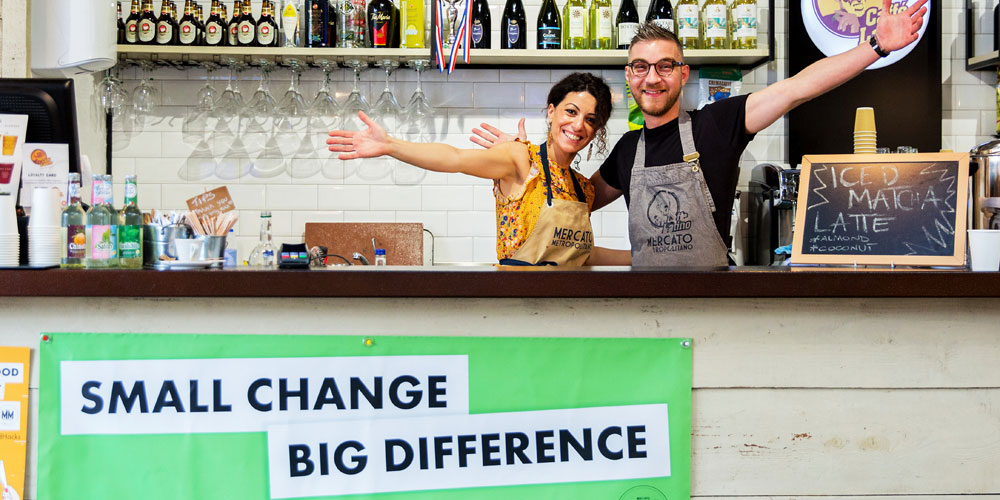 Londoners waste around 910,000 tonnes of food each year and, if everyone in the city went meat-free one day a week, it could reduce harmful greenhouse gases by more than 450,000 tonnes a year. These eye-opening figures demonstrate the mighty hurdle that the TRiFOCAL London project is currently working to address. TRiFOCAL is an innovative initiative which addresses three key areas – healthy sustainable eating, preventing household food waste and recycling inedible food waste.
TRiFOCAL is a €3.2 million three-year project funded by the LIFE programme of the European Union. It is delivered by project partners WRAP, the London Waste and Recycling Board (LWARB) and Groundwork London. The project started in 2016 and pilot delivery in London runs until March 2019, with learnings shared with eight European cities as part of its replication programme. TRiFOCAL focuses on four audiences: householders, businesses, communities and schools.
Small changes make a big difference
TRiFOCAL launched its citizen campaign 'Small Change, Big Difference' in September 2017. It provides unique, engaging activities across London, covering advertising, events, social media and online information, and legacy content.
Throughout the project we're working with eight boroughs – Bexley, Hackney, Hounslow, Islington, Lambeth, Merton, Sutton and Tower Hamlets – to deliver localised campaigns over three months to test which messages reach residents and are understood.
In 2017 the team worked with Hackney, Lambeth and Merton to communicate with residents and a target audience of 18-34-year olds. Activities included food-based workshops, dining events, competitions and online campaigns to encourage residents to change a few simple things in their daily lives in order to eat healthier and reduce food waste.
A test and learn approach
Following our first wave of activities in autumn 2017, we reviewed what worked through focus groups with residents from each of the three boroughs. Based on their feedback, the 'Small Change, Big Difference' campaign was refreshed to resonate further with the target audience.
The findings also informed the second wave in Tower Hamlets and Bexley: these boroughs held their own 'Small Change, Big Difference' events and challenged residents to share tips, advice and recipes for reducing food waste and eating healthily as a way of creating engaging online information and booklets.
Wave two was launched with a London-wide event 'Sustainable Food Fest' at Mercato Metropolitano, where celebrity chef Cyrus Todiwala and Celebrity MasterChef winner Angellica Bell demonstrated the variety of meals that could be made from the top 10 wasted ingredients in the UK. We've also worked with key social media influencers to create unique videos and online content to encourage young adults across London to use their food caddies.
Your business is food
The business work stream focuses on three main groups – large employers, food safety professionals and the hospitality and food service sector – to influence behaviour change in businesses, staff (including outside of work) and customers. TRiFOCAL helps businesses to understand existing food habits on site, record change and establish networks of champions and ambassadors to highlight positive changes.
Key to this work is the 'Your Business is Food; don't throw it away' suite of free practical guidance and tracking tools that show potential savings. It's simple – reducing the amount of food that hospitality or food service businesses throw away can boost their bottom line. Food safety professionals have received training on this so that they can share the message with local businesses in their networks.
TRiFOCAL has also created a guide for large employers, making it easy for businesses to engage their employees in the 'Small Change Big Difference' campaign. Tools, templates and messages are provided so that organisations can design a campaign bespoke to their needs.
The staff engagement pack is available on the TRiFOCAL resource bank for any businesses that wish to run a staff campaign, available at resources.trifocal.eu.com.
Laying the ground work
In addition to engaging with households, TRiFOCAL is also working with community groups and schools. Workshops for community groups in the TRiFOCAL boroughs enable learning through interactive activities such as growing and cooking. Participants are encouraged to discuss the key topics and share ideas and tips which can be implemented in daily life.
Bite-sized training sessions cover the broad aspects of the campaign and focus more on implementing behaviour change actions.
To date, participants have found learning simple hacks to save money and use food more creatively both useful and inspirational, and feel motivated to make some small changes in their daily lives.
The TRiFOCAL schools team is working with 24 primary schools in the TRiFOCAL boroughs, using a whole school approach. A curriculum-based programme has been developed including a series of lessons, a food waste audit and campaign days to engage pupils and the wider school community in the key messages of the campaign. Learning has been shared via film, case studies and web links between London and EU schools.
As we move into wave three delivery in Hounslow, Islington and Sutton, we will be expanding the programme to pilot a parent programme and an integrated model working with kitchen staff and catering companies.
Get involved
There are many ways that you can support TRiFOCAL:
Follow 'Small Change, Big Difference' on social media and share content
Check the 'Small Change, Big Difference' website for upcoming events that you can attend
Encourage local businesses in your area to download the FREE staff engagement pack from the TRiFOCAL resource bank and run their own campaigns
We are looking to roll the campaign out across the UK after March 2019 so get in touch if you would like to extend 'Small Change Big Difference' to your area
---
SHARE