Photo credit: Andreas
Communities all over the world are waking up to the urgent need for action on the twin crises of climate change and precipitous loss of nature. Over 800 cities and jurisdictions around the globe have now declared a 'climate emergency', over 80 of which are in the UK, including many in the UK's Sustainable Food Cities Network.
Cities have a pivotal role in averting climate change and restoring nature. By 2050, 80 per cent of the world's food will be eaten in cities. Large urban populations buy, eat and throw away a colossal amount of food. Their money, consumption patterns and waste help determine – to a very large extent – climate and nature impact on land and at sea.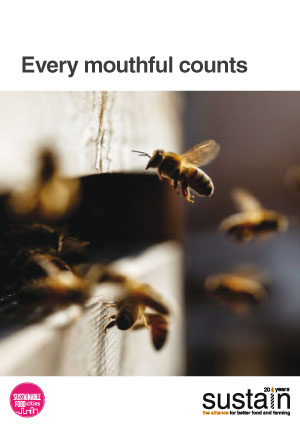 Read the briefing Every Mouthful Counts: The role of food in city-based responses to climate and nature emergency. It sets out how, by adopting healthy and sustainable food policies, cities can very substantially reduce their carbon footprint and help farmers, fishers and land managers to restore nature.
In 2019, Sustain is also working with the Greater London Authority and London Food Board (on which Sustain and our London Food Link programme are represented) to examine how best we can support the 33 London boroughs to use food as a solution for climate change and restoration of nature. This work is in development and is likely to include a refresh of the Good Food for London league table and good food maps, tracking progress on significant action to improve healthy and sustainable food in the capital.
In October 2019, London was one of 14 large cities internationally to sign up to sustainable food policies to address the global climate emergency, as part of its membership of the C40 Cities climate network. Read the press release and declaration here.
Local councils have a significant role the diets of their citizens and the food system in their area and beyond. Our dedicated page sets out how councils can integrate food in their climate and nature emergency action plans, including our quick guide of top actions for councils on food.
Get in touch if you'd like to find out more: climate@sustainweb.org
Share
Get updates
Climate change and nature: Sustain has taken a keen interest in the rapidly accumulating evidence about the effect of food and farming on climate change and nature, as scientific evidence emerges that our food system is a very significant contributor to greenhouse gas emissions and biodiversity loss.