We must not let Brexit cause a food crisis for people most in need
Food for children, hospital patients, charities and low-income households is seriously at risk from no deal Brexit. We must take action to secure food resilience for the people who need it most, argues Kath Dalmeny, chief executive of Sustain.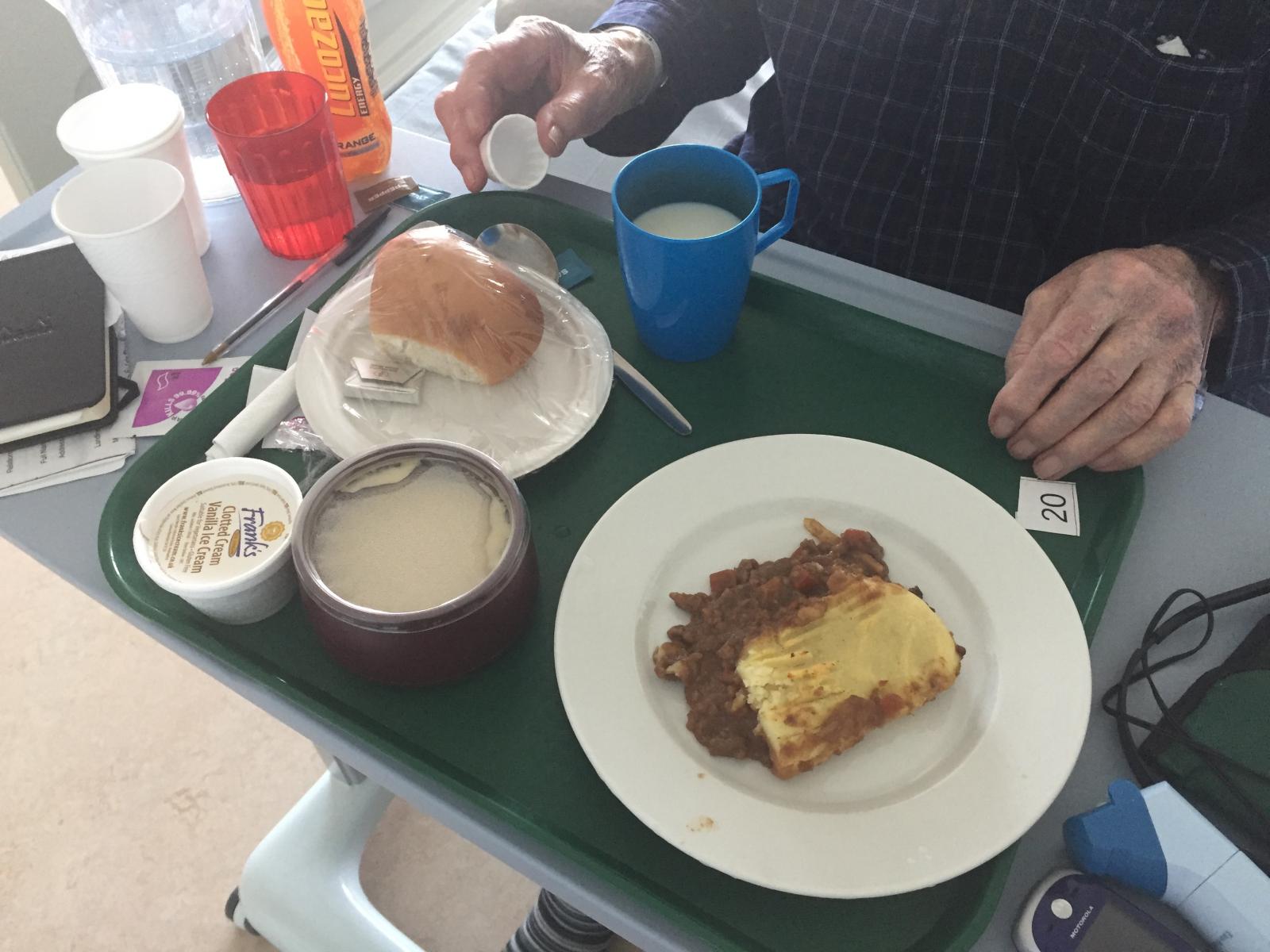 Food served to a hospital patient. Credit: Kath Dalmeny
Download the six-page Sustain Brexit Briefing here.
Over recent months, Sustain has participated in meetings and conversations with people directly involved in large-scale food supply; public sector institutions; food trade associations; providers of food to charities and emergency food aid; and local authority groups discussing what they can do to mitigate the impact on food supply of a 'no deal' Brexit. A no deal Brexit means the UK would leave the European Union (EU) immediately on 29 March 2019, with no agreements in place for what the relationship would be like in future.
To be clear, the Sustain alliance is opposed to a no deal Brexit, due to the severe implications for food standards and continuity of supply, farming, fishing, food businesses, jobs, animal welfare, antibiotics stewardship and the environment. However, a no deal Brexit is a possibility, so we must be prepared.
This briefing sets aside Brexit politics, and raises the simple question: In the event of a no deal Brexit, how can we ensure that the people most in need can weather the food disruption and food price rises that may ensue, and avoid falling into food crisis and hunger?
We urge the Government to make detailed plans to help the people most vulnerable to food disruption, namely:
Children, hospital patients and people in care, fed by public sector institutions
Vulnerable people being fed by charitable groups
People in crisis who are being referred to food banks, and those experiencing household food insecurity due to low income
The actions we recommend are as follows, and more detail is given in our briefing (link above). These actions would facilitate work at regional and local level. Government must:
Allocate powers and responsibilities
Communicate openly about the food challenges ahead
Make money available
Curb food price increases
Triage and target the food supply for those most in need
Guarantee food safety and provenance
Protect food standards
Establish ways to distribute money and information
Freeze other everyday costs
It is also vital to consider that short-term actions taken now must not inadvertently damage the farmers, fishers, food businesses, environment and food standards that we all rely on for our sustenance. Whilst this briefing focuses on people most in need, we urge policy-makers not to make over-hasty decisions (for example, when intervening to lower food prices) that might damage the long-term prospects for a healthy and sustainable food system (for example, by expecting farmers and food companies to shoulder the burden of those lower food prices, potentially putting many out of business).
Our food system is arguably one of the areas that will be most affected by a no deal Brexit – indeed by several variations of Brexit: deal or no deal. We observe that many of the considerations raised in this briefing should actually be forefront in everyday public policy, not just during time of crisis. Perhaps Brexit will remind us of what we so often take for granted: We should be able to know confidently where our food is coming from – that it is affordable, nutritious, safe, of high standard, that the people and animals who provide our food have been able to live well, and that farming and fishing is enhancing rather than damaging the natural environment. And all of us should expect to be able to feel secure and confident in our food supply – either because we can afford to buy or grow it, or because the people looking after us can keep on providing our food reliably. Unfortunately, such household food security is not currently enjoyed by millions of our fellow citizens, even before we enter a period of disruption.
We will undoubtedly return to these important themes in the months ahead. For now, let us deal level-headedly with lessening the impact of a possible imminent food crisis associated with a no deal Brexit.
Published 18 Feb 2019
Good Trade Campaign: Campaigning for good trade that benefits people and the planet at home and overseas.
Kath is Chief Executive of Sustain: The alliance for better food and farming, since 2016 leading the alliance's response to Brexit and its profound implications for healthy and sustainable food, farming and fishing and developing the Campaign for a Better Food Britain. During the Covid-19 coronavirus pandemic in 2020, Kath has been the alliance lead on Food and Vulnerability, serving on numerous liaison and coordination groups to support the emergency food response at local and national level. She was instrumental with the Good Law Project and Doughty Street Chambers in launching a judicial review of the government's approach to children's holiday hunger during Covid-19.
Kath Dalmeny
Chief Executive
Support our charity
Donate to enhance the health and welfare of people, animals and the planet.