As the hotly anticipated zero-waste restaurant finally lands in London, Francesca Nicol explores the excitement around Silo's 'pre-industrial food system'.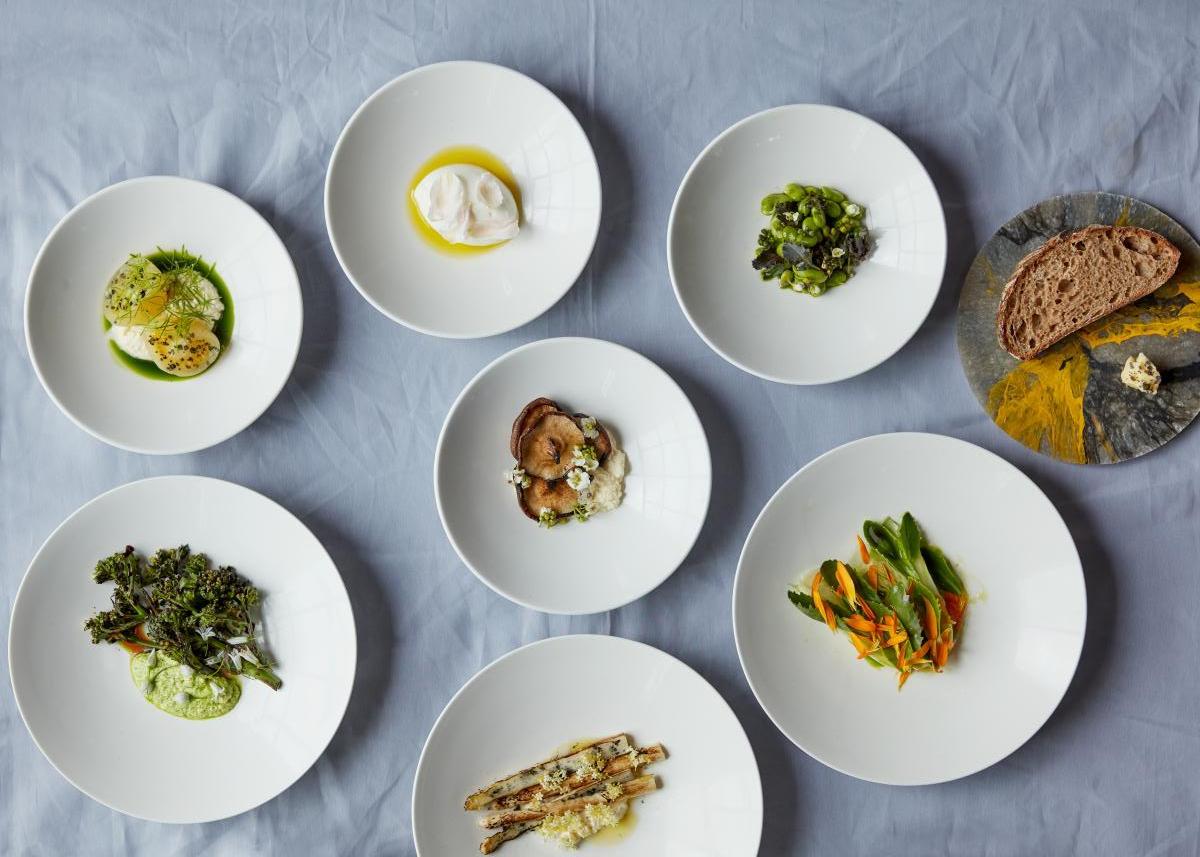 A Silo food spread. Photo: Matt Russell.
This review first featured in the Jellied Eel Print Mag in Feburary 2020. SILO is now reoppening post-lockdown as a wine bar and food experience: SILO X Wine Bar. Open Thursday - Sunday, more info bellow.
---
London's sustainable food scene has been eagerly awaiting the arrival of Silo's now-iconic 'pre-industrial food system' since they announced plans to open here early last year. After several successful years in Brighton, honing a better-than-zero-waste enterprise that still manages to be flavour-forward, owner/head chef Doug McMaster moved the entire operation to East London's, appropriately industrial, White Building in Hackney Wick.
Silo's welcome seems to have been very warm indeed – the space is still full when we arrive very late on a Thursday evening. As London's appreciation for ingredient sourcing and zero-waste practices continues to spread, Doug tells us how he's having to 'explain himself' much less these days.
To Doug and his team, a pre-industrial food system means much more than using locally grown vegetables and not having a bin. It means total industry innovation, executed with respect for the environment, for 'the way our food is generated', and for our own bodies. It means whole foods, minimal food miles, minimal processing and a staggering attention to detail that extends from the food to the décor.
Functional beauty
This progressively pre-industrial food system is brought forward with inventively resourceful finishing touches and final products. The low lit former-factory is occupied by sleek table tops and serving dishes made from recycled single-use plastics, processed to look like marble, the coat cupboard is made using joinery, eliminating the need for nails and glue, and seat cushions are made from waste wool. The menu is a paperless projection on the wall, updated in real-time as dishes evolve through the night's ingredients. Broken mugs are made usable, and more beautiful, through kintsugi (the Japanese repair method that uses lacquer coloured with gold). Every item in the building is satisfying to hold and look at, and Doug is able to tell us the provenance of each one—not least the food and ingredients. Perhaps the most interesting inclusion is their grain mill (also the inspiration for their logo) which they use to freshly mill grains, including einkorn from Duchess Grains – used in the 'Siloaf' bread.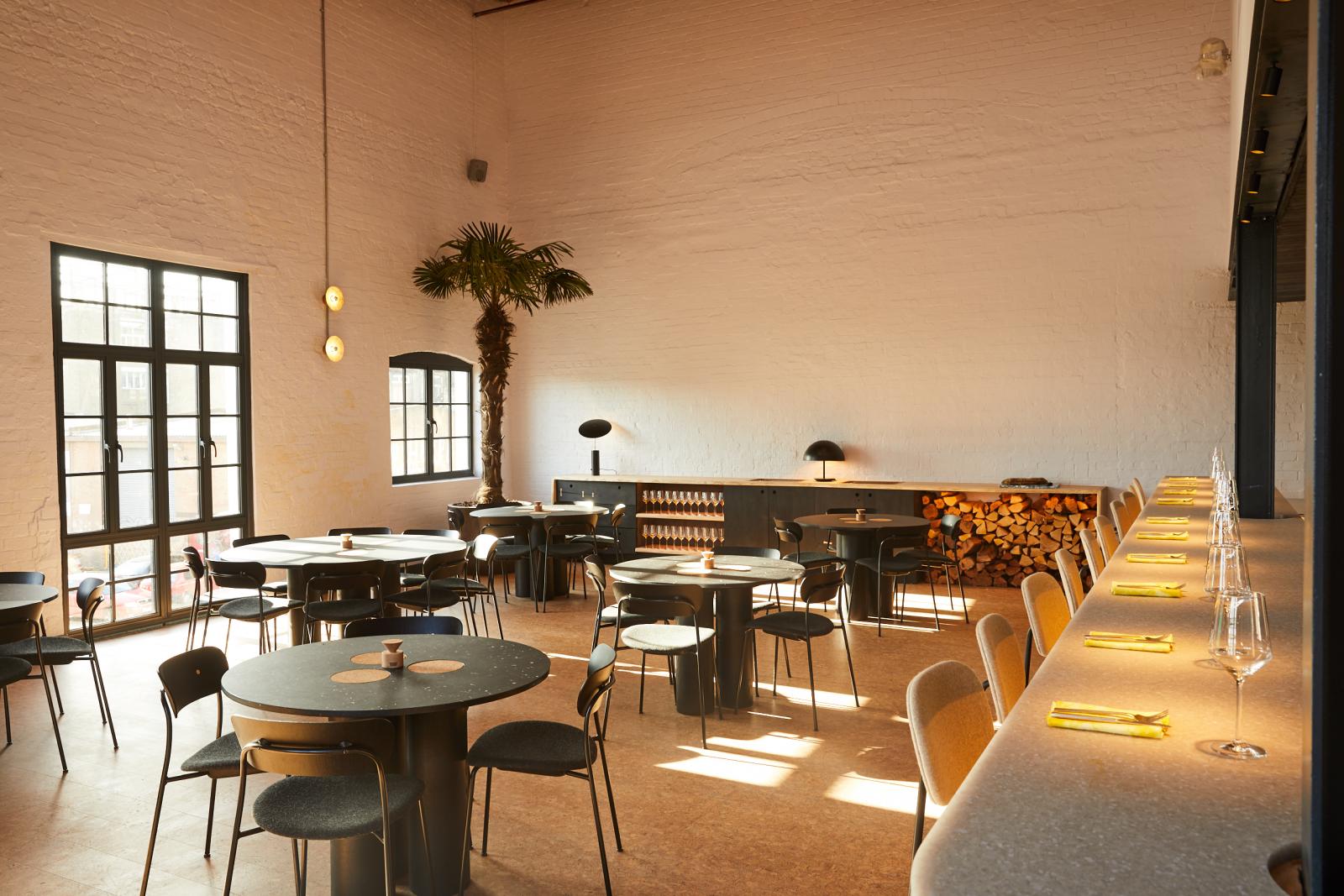 Silo in Hackney Wick. Photo: Claire Lewington
Coupled with the casual yet refined ambience in the quiet chatter against low, unobtrusively relaxed soul-infused hip hop, tucked well above street level, you're given the impression of being in some prosperous city of the future, where our environmental crisis has been solved and everything is beautiful.
The staff, dressed in uniformly dark colours, add to the atmosphere – welcoming and conversational, I'm thankful that they're down to earth even when discussing the intricacies of ingredients, which could easily open an air of pretentiousness.
Nose to Tail
And what of the food? Frankly I'm so impressed by all of this sustainable scene setting that I'd have been satisfied with a sad salad, but the food is by no means the afterthought.
Having only opened a matter of weeks ago, Silo is still limiting itself to a perfected tasting menu while refining their full menu to London's liking. While we watch Doug finely plate up in the open kitchen area we're told that the dishes are intended to be 'playful on your palate,' and I think that's a perfect description. Plate after plate of smoky, umami, fermented combinations are brought to our table. There's a savory, tangy, 'fermented potato emulsion' topped with slow-roasted kale, with tiny but mind-blowing drops of a curious sourdough miso sauce and treacle made from slow cooked vegetable offcuts, and a hemp crème fraîche topped with jerusalem artichokes, roasted so slowly that they melt as soon as they reach your mouth. One chef, a former vegan supper club creator, tells us how the vegan 'alternatives' are no longer alternatives but delicious enough to become default. And delicious they are. That's not to say there's no meat or dairy—it's just included 'when there's reason to.'
Cradle to Cradle
The spirit of experimentation reigns within the restrictions — an imperfect elderflower cordial has become an elderflower vinegar brushed on vegetables to soften them and add acidity to the dish. It's emphasised that the thinking here is 'not cradle to grave, but cradle to cradle,' with thought given to wider lifecycles and impacts, and innovative uses for ingredients. Many of the vegetables are sourced from Flourish Produce, who grow regeneratively with the help of horses and any minute amount left unusable is thrown into Silo's aerobic digester, so rarely needed that it's shared with the local community. They even take leftover parmesan rinds from Crate Brewery's pizzeria next door to make rich, depthful sauces. There's no end to the details in every choice at Silo, and it goes beyond zero-waste into impressive negative waste — a model we can all learn from.
We finish with a desert of pumpkin ice cream, fig leaf oil, and something called seabuckthorn snow, which is kind of a naturally sweet and tropical slushie that I haven't been able to stop thinking about, coupled with a delightful chat about where to source seabuckthorn in the UK (you'll have to ask their foragers).
The whole evening was an experience, albeit a slightly pricey one, with the 6 (small) course tasting menu costing £50 plus drinks — but we left with full bellies and a free conscience, and far beyond this, were given an exciting look into a hopeful post-crisis pre-industrial food future.
---
"With a shift towards more of a laid back wine bar, as opposed to the tasting menu experience Silo was renowned for, Silo x Wine Bar will offer small plates and snacks including 'Siloaf' & aged butter; Koji quavers & dip and a Soy egg with lava salt. Also available are more substantial dishes such as Grilled Cuttlefish kebab with umami dipping sauce; Green pea Naan with roasted tomato dip; Grilled flatbread with smoked aubergine and Silo's smoked pork bun. SILO restaurant will look to reopen towards the end of the year"
Want some good food near you? Check out our latest Around Town.
Published 12 Aug 2020
London Food Link: London Food Link brings together community food enterprises and projects that are working to make good food accessible to everyone in London to help create a healthy, sustainable and ethical food system for all.
Support our work
Your donation will help support community food initiatives and enterprises to thrive as part of a more sustainable food system.