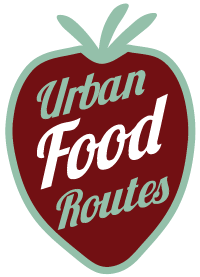 It's time to enter your small food or drink enterprise in London's first ever…
Urban Food Awards
We and the rest of the folks behind the Urban Food Routes initiative are inviting our fellow citizens of this fair capital to help crown London's best good food small enterprises!
See also
---
How to enter
Click on the button below to nominate your small food enterprise in one of these four categories:
Best Urban Food…
Producer (sponsored by Seeds of Change)
Retailer
Eatery
Educator
…and when we say food, we mean drink as well, but it was getting to be a bit of a mouthful.
To find out more and enter, click here
Entries close at midnight on Sunday 31 August.
PS the public vote opens in September. In the meantime, if you don't run a small food enterprise but do know one you reckon should win, please give 'em a nudge and encourage them to enter.
What next?
We'll publish the list of eligible entrants at the start of Urban Food Fortnight (12-28 September) and invite your fellow Londoners to vote for their favourites.
Enterprises that get the most votes in each category will be shortlisted for Urban Food Routes' panel of expert judges.
Finalists will be contacted in early November and winners will be announced in December at a shindig at Whole Foods Market in Kensington and celebrated in a feature in The Guardian and the February-April issue of The 'Eel magazine.
Prizes
In addition to the glory of being crowned London's best, winning enterprises will be featured in both The Guardian and this 'umble magazine, and walk away with a hamper of Seeds of Change organic goodies.
Everyone voting for a winning enterprise will be entered into a draw to win a Seeds of Change organic hamper and a year's subscription to The Jellied Eel.
Rules
To be eligible, yours must be an enterprise with 50 employees or fewer that is both London based and operates in at least one London borough.
If appropriate, you can enter more than one category (eg you run a retail bakery café that offers baking classes you could enter all four categories)
The judges' decisions are final.
There are no alternative prizes.
Other awards
Urban Food Awards being decided by expert judging panels alone will be:
Capital Growth Enterprise Award
Krys Zasada Markets Award
Good Food Borough Awards
About Urban Food Routes
Urban Food Routes is a unique initiative funded by the Mayor of London and Seeds of Change. It is providing funding and expert advice to a variety of small food enterprises in London to help them thrive and benefit people in their local communities. The support is coordinated by Plunkett Foundation, with help from Growing Communities and London Food Link.
Find out more at www.urbanfoodroutes.org.uk