Junk Free Checkouts!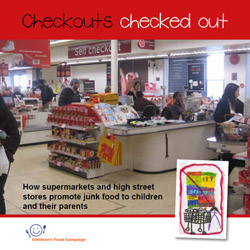 Angry at how unhealthy snacks and treats continue to be placed to tempt you and your children at the supermarket checkout and queuing areas? We've joined forces with the British Dietetic Association to help you challenge supermarkets to get the junk off the checkouts once and for all.
Ways you can get involved:
Stop companies marketing junk food to children online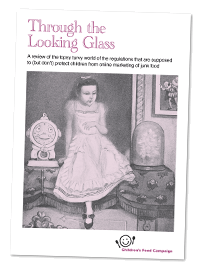 A new report released by the Children's Food Campaign examines the topsy turvy world of the regulations that are supposed to (but don't) protect children from online marketing of junk food. The Through the Looking Glass report finds that, two years on from extending the non-broadcast advertising rules to cover websites and social media, the Advertising Standards Authority (ASA) is struggling to get to grips with its new role and is failing.
Save our School Food Standards

Academies do not have to apply the standards which safeguard school food. There is a real danger of poor quality food creeping back on the menu and junk-food vending machines edging their way back onto school grounds. Help us put pressure on the Government to ensure every child has access to nutritious food at school. The government is now reviewing school food and everything is on the table … including the future of the standards.
Securing cooking's central place on the curriculum


Good news: the new National Curriculum, published in September, places cooking and food education in a prominent position in the Design and Technology syllabus, and makes it a compulsory subject for all 7-14 year olds to study. This is an issue we've been campaigning on, as part of a broad coalition, for some time. Earlier this year we encouraged people to submit responses to the Department for Education's consultation on the curriculum, to show support for – and suggest ways of strengthening – what would be a great stride forward in equipping young people with the knowledge and skills to make healthier food choices.
Launch of new consistent food labelling scheme

We welcome the launch of the new consistent and authoritative front-of-pack traffic light labelling scheme. We want to see all food companies adopt the new labelling scheme, and will continue to put public pressure on those that have so far refused to sign up.

About the campaign
The Children's Food Campaign wants to improve young people's health and well-being through:
Good food and real food education in every school
Protecting children from junk food marketing
Clear food labelling that everyone, including children, can understand
We believe that these ideas will help to solve the current crisis in children's diets. Find out more