Sustain Annual Conference 2020
09/12/2020 14:00 16:30
How can good food and farming lead an economic recovery? Join us and representatives from across the food and farming sector for the Sustain Annual Conference 2020 #Sustain2020.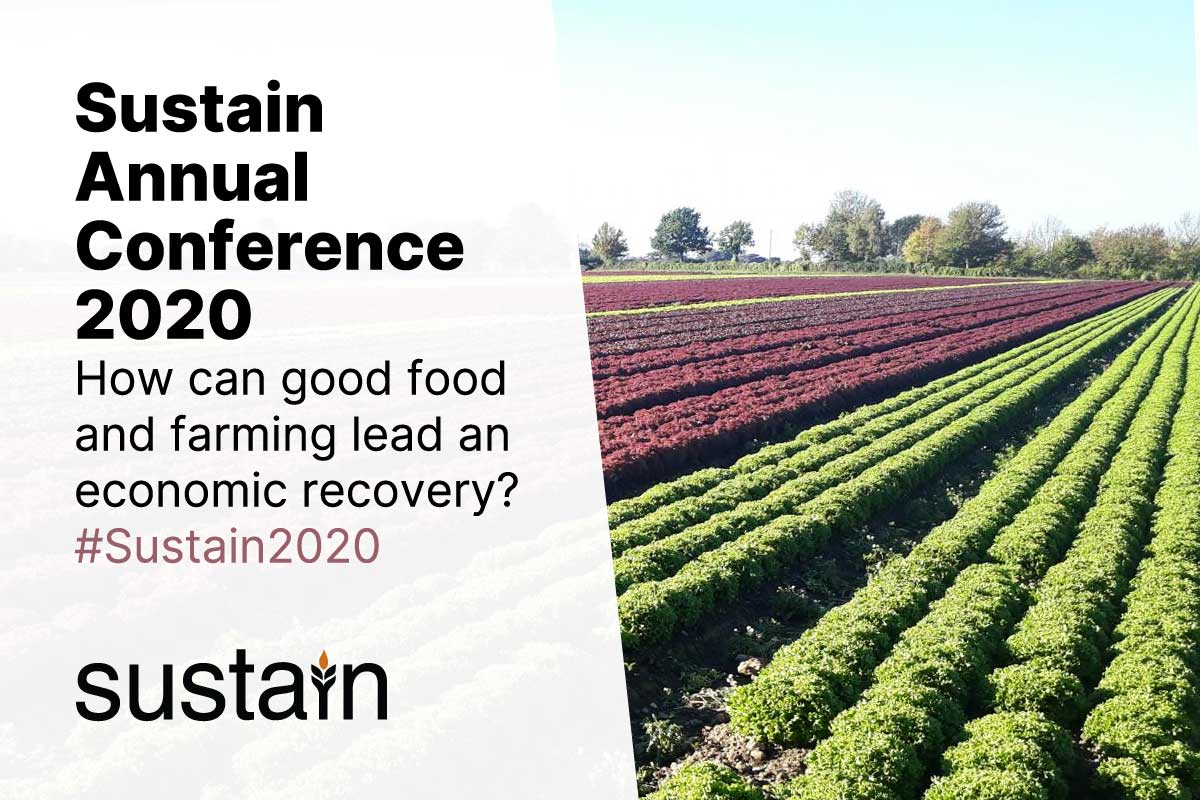 This online event will focus on putting food and farming at the heart of our economic recovery post COVID19. Food, farming, and fishing sectors have the potential to deliver more jobs and better livelihoods and are central components to the UK's environmental recovery plans.
Our annual conference will bring together farmers, food businesses, researchers, civil society groups and policy leaders from across these sectors, to share insights into how we can boost the economic recovery through sustainable food and farming.
Guest speakers include:
Book now
Confirmed speakers
Henry Dimbleby

Henry Dimbleby was given the role of lead non-executive board member of the Department for Environment, Food and Rural Affairs in March 2018. In June 2019 the Environment Secretary appointed Henry Dimbleby to lead the National Food Strategy.

Co-founder of the Leon restaurant chain and Sustainable Restaurant Association, he also co-authored The School Food Plan (2013), which set out actions to transform what children eat in schools and how they learn about food.

Victoria Prentis MP
Victoria has a lifelong interest in farming, having grown up on a farm in Aynho, near Banbury. For seventeen years she was a lawyer for the Treasury Solicitors' Department and ultimately headed the Government's Justice and Security team. Victoria Prentis has been the Member of Parliament for North Oxfordshire since May 2015. In February 2020, she became Parliamentary Under Secretary of State in the Department for Environment, Food and Rural Affairs.

Geetie Singh Watson MBE

Founder of organic pubs and inns, Geetie has led the charge of sustainable hospitality, banning plastic water bottles, packaged bar snacks and air-freighted food back in the 1990s. Geetie's fourth organic pub, The Bull Inn, Totnes, opened in November 2019.

In 2009, she was awarded an MBE for 'Services to the Organic Pub Trade', and has also been named Business Woman of the Year, Asian Woman of Achievement and Entrepreneur of the Year.

Carolyn Steel
Carolyn Steel is a leading thinker on food and cities. A London-based architect and academic, she is the author of Hungry City: How Food Shapes Our Lives (2008) and Sitopia: How Food Can Save the World (2020). Her concept of sitopia, or food-place (from the Greek sitos, food + topos, place) has gained international recognition across a broad range of fields in design, ecology, academia and the arts.
---
09/12/2020
Sustain
SHARE
---
Sustain: Sustain The alliance for better food and farming advocates food and agriculture policies and practices that enhance the health and welfare of people and animals, improve the working and living environment, enrich society and culture and promote equity.