Sustain agrees with the government's 2019 manifesto assertion that British farmers and fishermen should be able to profit by producing food and fish that are the envy of the world, and that the public sector should 'Buy British to support our farmers and reduce environmental costs'. Unfortunately, at the moment, the UK's procurement laws and procedures are not delivering on these aims.
The proposals in the Green Paper: Transforming Public Procurement could help address this, especially through better enforcement of public sector procurement standards, better transparency, and a shifting of the emphasis in awarding contracts towards public goods.
In the main, Sustain supports the ambitions of the Green Paper, but it is absolutely essential that they come with better definition and clarity. If the intention is to 'speed up and simplify' public procurement, this must come with clear standards for delivery, to ensure the highest standards and create a level playing field for service providers. Public procurement has the potential to create thousands of jobs for UK farmers and food producers and help deliver the government's climate and nature emergency commitments.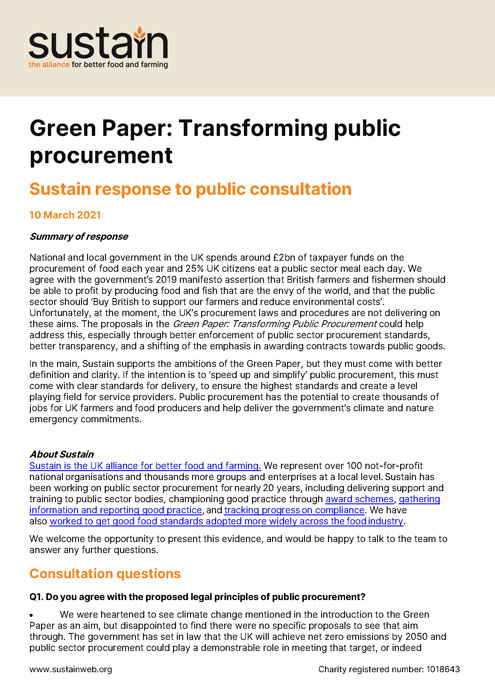 Green Paper: Transforming public procurement, Sustain response
16664 | 112Kb
Published 11 May 2021
Climate change and nature: Sustain has taken a keen interest in the rapidly accumulating evidence about the effect of food and farming on climate change and nature, as scientific evidence emerges that our food system is a very significant contributor to greenhouse gas emissions and biodiversity loss.