Sustaining small bakery businesses: Looking to the future in challenging times
A report by The Open University.
More than 90% of bakery businesses in the UK have 50 employees or fewer. The number of these businesses has increased over recent years, making them an important part of the enterprise economy. At the start of the Covid-19 pandemic, when demand for bread, cakes and pastries soared, small bakeries rose to the challenge. The queues that formed outside bakeries emphasised their importance to local communities.
Small bakeries face an uncertain future, however. These energy-intensive businesses face skyrocketing fuel bills, are also vulnerable to increases in the price of ingredients, and find it ever harder to recruit and retain skilled bakers. Cost of living pressures mean that the gap between production costs and what many people can afford to pay is widening.
This report is based on a survey of 202 small bakery business owners in the UK and other research. The study was conducted between May and July 2022 by The Open University, with support from the Real Bread Campaign and Craft Bakers Association.
Key findings
In 2021 there were 2,720 businesses making bread, fresh pastry goods and cakes in the UK.
Of these, 2,540 were small businesses (with 50 employees or fewer).
The total number was up from 1,874 in 2008 and 2,478 in 2019.
More than a third of small bakery businesses that participated in the study are less than five years old, with 17% having been founded since the start of 2020.
45% of participating bakeries over 25 years old use additives, while only 4% of those under 10 years old do.
Bakeries with a turnover below £500k are significantly more likely to make genuine sourdough bread than those with a higher turnover.
The top three threats identified by bakery owners are cost of ingredients, rising energy costs, and cost of living pressures on customers.
Recruitment and retention of skilled bakery employees is another major challenge.
Survey responses suggest lack of diversity in small bakery business ownership.
Contents
Executive summary
Introduction
Key findings
Crafting a business
Small bakeries on the rise in challenging times
Valuing bread
The 'big squeeze'
More bakers needed!
Bakeries open to all
Conclusion
To cite this report: Bell, E. (2022) Sustaining Small Bakery Businesses: Looking to the future in challenging times. Milton Keynes: The Open University. ISBN: 978-1-4730-3777-9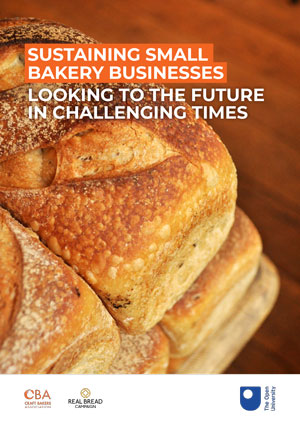 Sustaining small bakery businesses: Looking to the future in challenging times
22pp – 2022 | 975Kb
Published 8 Nov 2022
Real Bread Campaign: The Real Bread Campaign finds and shares ways to make bread better for us, better for our communities and better for the planet. Whether your interest is local food, community-focussed small enterprises, honest labelling, therapeutic baking, or simply tasty toast, everyone is invited to become a Campaign supporter.