Sustain and RSPB's policy brief makes the case for government investment in local food infrastructure.
The Case for Local Food shows that producers and customers in local food systems are motivated by environmental benefits and that production is associated with agroecological, nature-friendly methods.
Key findings and recommendations:
A 10% shift in the food retail market towards more sustainable local food systems could yield up to 200,000 more jobs, support a green economic recovery and restore nature.
A new Local Food Infrastructure Fund is needed by Government to provide strategic support for local, nature-friendly and agroecological food production.
This could make it easier for small, sustainable businesses to access £2bn of national and local food procurement contracts.
Every local authority area in the UK should be served by a food partnership by 2025.
A full version of the report is also available.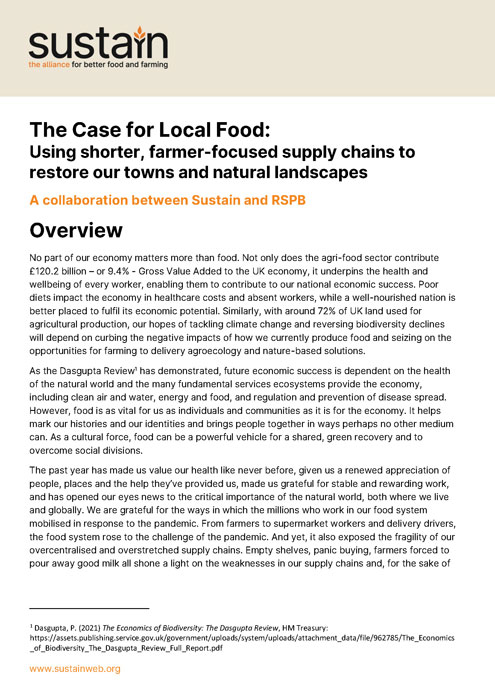 Policy Brief: The Case for Local Food
4pp - 2021 | 177Kb
Published 7 Jul 2021
Climate change and nature: Sustain has taken a keen interest in the rapidly accumulating evidence about the effect of food and farming on climate change and nature, as scientific evidence emerges that our food system is a very significant contributor to greenhouse gas emissions and biodiversity loss.