A wholegrain of truth? Industrial loaf names, claims and contents
A Real Bread Campaign investigation of 'wholegrain' loaves marketed by some of the UK's highest profile industrial loaf manufacturers found one loaf that declared a miserly 6% wholemeal flour.
The report also looks at the separate term 'wholemeal', highlighting the Campaign's concern that the practice of what it sees as 'diluting' wholemeal wheat flour with soya flour and highly refined gluten powder in 'wholemeal' loaves is rife amongst industrial loaf manufacturers.
---
Report contents
Summary
Findings
Recommendations
Introduction
What this report does not do
Wholemeal wheat goodness
Why this matters
The law
The Bread and Flour Regulations 1998
Further protection
When is flour not flour?
Wholegrain
Floury language
Unwrapped loaf law leaving shoppers exposed
The Law: a crumb of history
Our investigation
Sources
Industry and regulators
Our concerns
Organisations
Conclusion and recommendations
Our findings
Our proposals
Getting better all the time…
Look for The Loaf Mark!
Appendix 1: The loaves
Appendix 2: Company responses
Appendix 3: Trading standards office responses
References
Find out more about related issues and how to join the Campaign at www.realbreadcampaign.org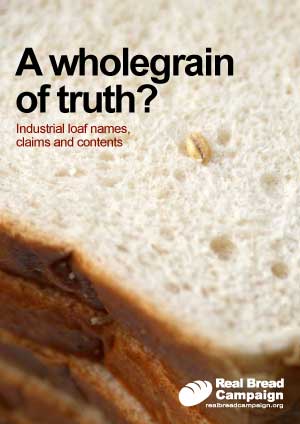 A wholegrain of truth? Industrial loaf names, claims and contents
39pp - 2013 | 1469Kb
Published 27 Feb 2013
Real Bread Campaign: The Real Bread Campaign finds and shares ways to make bread better for us, better for our communities and better for the planet. Whether your interest is local food, community-focussed small enterprises, honest labelling, therapeutic baking, or simply tasty toast, everyone is invited to become a Campaign supporter.