Rye breadcrumb chocolate treats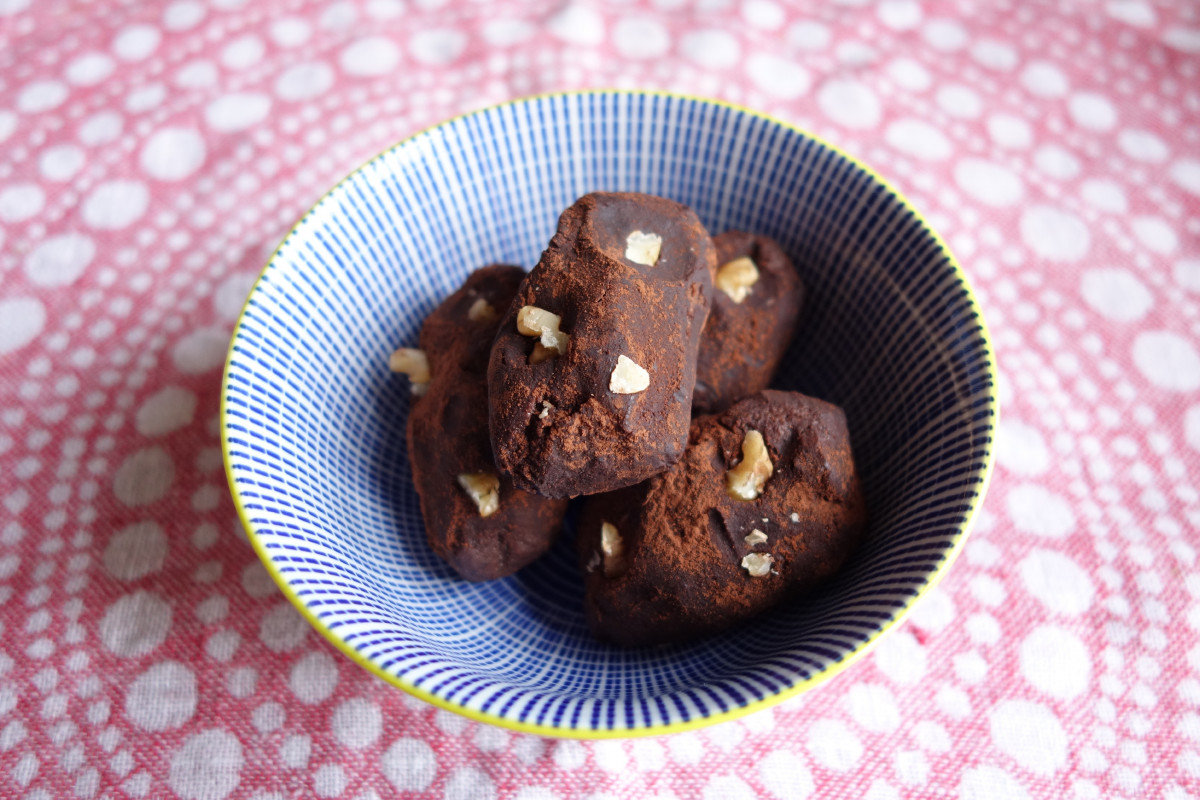 Photo: Chris Young / realbreadcampaign.org CC-BY-SA 4.0
These boozy truffles are an old Soviet-era recipe, with pieces of walnut as sprouting eyes and a dirtying with cocoa powder - hence the name kartoshka, which is Russian for potato.
These little 'spuds' are lighter than more traditional chocolate truffles, which tend to be heavy on butter. Rye adds depth of flavour, as do any caraway seeds in the bread you use. Rustic has never been this chic.
Ingredients
Makes 18-20 x 35g truffles
215g butter, softened
100g icing sugar
85g dark chocolate, melted
3tbsp cocoa powder, plus extra for dusting
3tbsp brandy
2tsp vanilla extract
200g stale rye breadcrumbs
3-5 walnut halves
Method
Heat the oven to 110°C. Slice the crusts off the bread, cut into small chunks, scatter them on an oven tray and put in the oven to dry out for a good 30-45 minutes. If using fresh bread, dry for longer. Leave to cool.
Reduce the chunks to very fine crumbs using a blender or food processor. For extra finesse much needed in this recipe, you can grind again in a coffee or a spice grinder.
Mix the butter and icing sugar together until smooth. Add in the cocoa and melted chocolate and mix in fully, then add the brandy, vanilla extract and breadcrumbs and mix until combined. Cover the bowl and refrigerate for 15-30 minutes.
Spread a few tablespoons of cocoa powder on a flat plate or tray. Take a good teaspoon of the truffle mixture (measure 35g if you'd like to be precise) and form into the shape of a small new potato. Roll each one in cocoa powder and continue until all the mixture is used up.
Arrange the truffles on a tray, plate or container and refrigerate for at least half hour to firm up again.
To finish the 'potatoes', cut up pieces of walnuts into tiny (3-4 mm) chunks and insert 3-5 pieces into each truffle as eyes.
These truffles will keep well in the fridge for at least three days. To enjoy them at their best, take them out of the fridge 15-20 minutes before serving.
Cook's tip
You can experiment with using different breads for the crumbs. We find that Karaway's Lithuanian Scalded Rye works really well, but any good quality (even white) Real Bread will do the job.
---
Recipe text © Rosehip + Rye (Katrina Kollegaeva and Karina Baldry), published here as part of the #RyeLove season, 2-15 November 2020.
Reproduction prohibited without written permission of the copyright holder.
---
Social sharing
If you make this, please share your photo(s) with the world on social media using #RealBread and other relevant hashtags, linking back to this recipe. Better still if we can see you in the photo, too: #WeAreRealBread!
Please don't forget to tag us, and the recipe's author. You can find us on:
Published 27 Oct 2020
Real Bread Campaign: The Real Bread Campaign finds and shares ways to make bread better for us, better for our communities and better for the planet. Whether your interest is local food, community-focussed small enterprises, honest labelling, therapeutic baking, or simply tasty toast, everyone is invited to become a Campaign supporter.
Support our charity
Your donation will help support the spread of baking skills and access to real bread.