Golden and autumnal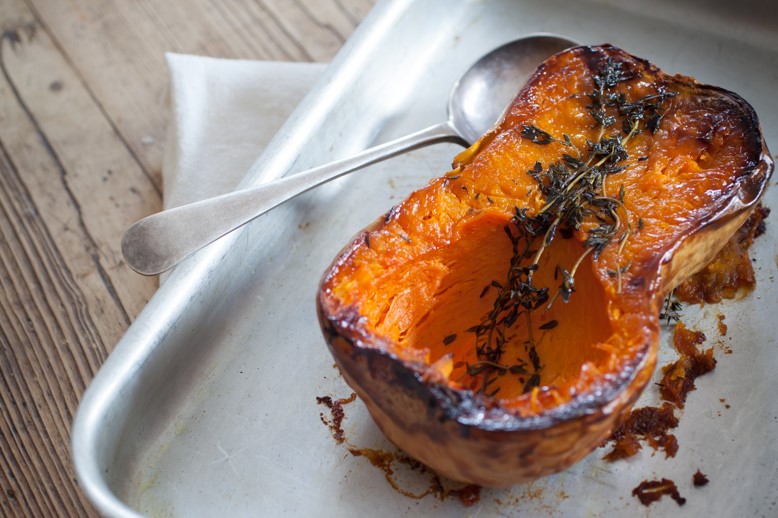 Photo © Victoria Harley
Michael believes that "the pumpkin or squash needs to be a firm-fleshed variety, rather than one of the big, woolly type best suited to Hallowe'en lanterns."
That said, if you have any of the latter kicking around, please do give this a go to join the #PumpkinRescue!
Ingredients
Pre-ferment
5g/1 tsp white sourdough starter
100g/3½oz/¾ cup minus ½ tbsp white bread flour
15g/1¾ tbsp wholemeal/wholewheat bread flour
115g/4oz/½ cup water, at room temperature
Pumpkin
1 small pumpkin or squash
vegetable oil, for brushing and greasing
salt flakes
thyme sprigs
Dough
310g/11oz/1¼ cups plus 1 tbsp water, at room temperature
450g/1lb/about 3¼ cups white bread flour
30g/1oz/scant 3½ tbsp wholemeal/wholewheat bread flour
12g/2 tsp fine/table salt
100g/3½oz/¾ cup shelled pumpkin seeds, lightly toasted
Method
Mix the starter, both flours and the water for the pre-ferment together thoroughly, cover and leave at room temperature for 16–18 hours (typically overnight).
Heat the oven to 180°C/160°C fan/350°F/gas 4. Cut the pumpkin in half, scoop out the seeds and rub the flesh with oil and salt. Place the thyme stalks into the cavities of the pumpkin, put them cut-side down onto a greased baking sheet and roast for 1–2 hours, or until the pumpkin flesh is soft and has some caramelization. Leave to cool completely, then scoop the pumpkin flesh out in large chunks, reserving 200g/7oz of it for this recipe and discarding the skin (any spare pumpkin can be frozen for another time, or used in another recipe).
Next day, thoroughly mix the pre-ferment with the water and both flours for the dough. Cover and leave to rest for 30–60 minutes. Add the salt and knead for 2–4 minutes, then add the pumpkin flesh and seeds, scrunching them into the dough with wetted hands. Cover and leave to prove for 1 hour.
Turn the dough out onto the work surface and give it a single fold, return it to the bowl, cover and prove for a further hour, or until the dough is light, bubbling and doubled in size.
Turn the dough onto the work surface, divide it into two equal-size pieces and shape into balls. Flour two proving baskets and place the dough in them, seam-side up. Cover and leave to prove in the refrigerator overnight, taking them out 1–2 hours before baking.
Heat the oven to 250°C/230°C fan/480°F/gas 9+, or as high as it will go, with a baking stone or baking sheet in place. Turn the loaves out onto a floured peel one at a time, then slide them onto the baking stone. Bake for 15 minutes, then turn the oven down to 200°C/180°C fan/400°F/gas 6, and continue to bake for another 30–35 minutes.
Baker's tip
Michael suggests Crown Prince winter squash, "because of the nutty flavour and robust flesh. Adding some pumpkin seeds gives extra texture, for the perfect loaf."
About the baker
Michael and his wife Helen started The Island Bakers on the Isle of Wight in 2010 after Michael fell in love with making sourdough bread. Originally chefs, Michael and Helen found that they were not alone in wanting a supplier of Real Bread to complement the food they were serving. He says that this pumpkin bread is their most popular loaf throughout the autumn.
---
Taken from Slow Dough: Real Bread by Chris Young, published by Nourish Books. Hardback, £20. Commissioned photography © Victoria Harley.
Reproduction prohibited without written agreement of the copyright holder.
---
Social sharing
If you make this, please share your photo(s) with the world on social media using #RealBread and other relevant hashtags, linking back to this recipe. Better still if we can see you in the photo, too: #WeAreRealBread!
Please don't forget to tag us, and the recipe's author. You can find us on:
Published 24 Oct 2019
Real Bread Campaign: The Real Bread Campaign finds and shares ways to make bread better for us, better for our communities and better for the planet. Whether your interest is local food, community-focussed small enterprises, honest labelling, therapeutic baking, or simply tasty toast, everyone is invited to become a Campaign supporter.
Support our charity
Your donation will help support the spread of baking skills and access to real bread.