Dark sourdough bread with linseeds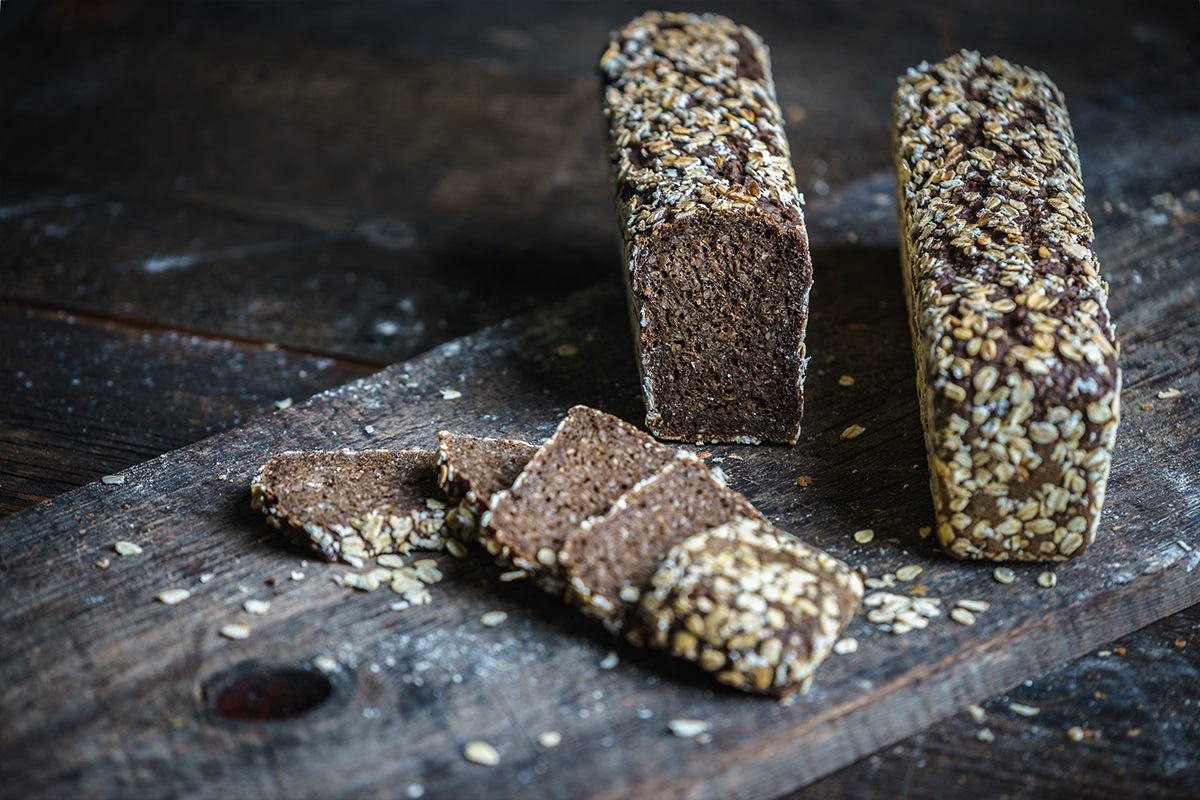 Photo © Karaway Bakery
In 2018, Karaway Bakery won a Great Taste Awards star using this recipe. They say it takes time and hard work "but the reward is a rye loaf with a deep, mellow flavour and a melt-in-your mouth texture. It is unlike anything you'll find in the supermarket or even your usual artisan bakery."
Note that you will need to begin making your starter about five days before you plan to make the dough.
Ingredients
Makes one small loaf
Rye starter
570g Dark (wholemeal) rye flour
430g Water
Half an onion, grated
NB You will need much more flour and water if refreshing every three hours – see method below.
Main dough
81g Cracked rye grains
81g Linseeds
166g Dark (wholemeal) rye flour
150g Rye starter (from the above)
10g Black treacle
8g Rye malt syrup
7g Salt
Oats - enough to roll the dough in
Method
Making the starter takes around five days. Mix the grated onion, 57g of the rye flour and 43g of the water. You need to refresh it every day for five days with rye flour and water at the ratio of 57/43 - ie 57g of flour and 43g of water each time. Ideally you should do this every three hours (it helps if you have a new born baby or are a bad sleeper) but if you are not keen on losing out on sleep, you can cut this down to one refreshment in the morning and one in the evening.
As you only use some of the starter for this loaf, you can pop the rest in the fridge to save it for the next time. You will only have to 'feed' it a couple more times to get it ready!
Soak the cracked rye grains and linseeds in hot water for about an hour (pour enough water to cover the surface).
Mix and knead 150g of the starter with the dark rye flour, rye malt, black treacle, salt and the soaked grains. Leave it to ferment at room temperature for up to two hours. Note that because the dough uses course rye flour it will be denser and will not rise as much as a typical wheat loaf.
Time to get creative! Shape the dough as you wish. You can either form a long shape as we do at Karaway, or make a more classic loaf shape.
Grease a 1L bread tin, roll the dough in oats and place it in the tin. Prove in a prover or a warm place (slightly above room temperature) for about an hour to an hour and a half.
Bake for one hour at 190°C.
Baker's tip
"Enjoy it spread with salted butter or topped with hummus and roasted veg. We also love it as a side to a soup or a salad to make the meal into something more substantial. Given its high in fibre it's sure to keep the hunger pangs at bay until the next meal!"
---
Recipe text © Karaway Bakery, published here as part of the #RyeLove season, 2-15 November 2020.
Reproduction prohibited without written permission of the copyright holder.
---
Social sharing
If you make this, please share your photo(s) with the world on social media using #RealBread and other relevant hashtags, linking back to this recipe. Better still if we can see you in the photo, too: #WeAreRealBread!
Please don't forget to tag us, and the recipe's author. You can find us on:
Published 9 Nov 2020
Real Bread Campaign: The Real Bread Campaign finds and shares ways to make bread better for us, better for our communities and better for the planet. Whether your interest is local food, community-focussed small enterprises, honest labelling, therapeutic baking, or simply tasty toast, everyone is invited to become a Campaign supporter.
Support our charity
Your donation will help support the spread of baking skills and access to real bread.