Scott Hayward mixes a drop of the black stuff with a bit of blue.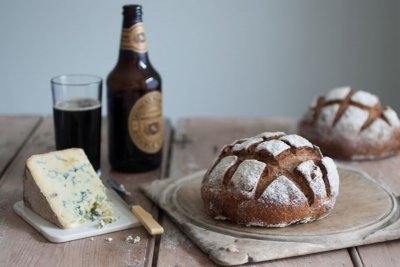 Stout, stilton and walnut bread. Copyright: Victoria Harley
Historically, stout was a dark beer made from well-roasted barley malt, with a higher alcohol content than other types of porter. Today, though the colour remains the same, it's usually lower in alcohol. This makes it a good, flavoursome alternative to water when bread making, particularly when teamed with other sophisticated flavours.
Ingredients
Makes 2 small loaves
350g/12oz/1½ cups stout or porter
5g/1 tsp fresh yeast
365g/12¾oz/about 2½ cups white bread flour
305g/10¾oz/2 cups plus 2 tbsp wholemeal/wholewheat bread flour
10g/2 tsp fine/table salt
10g/1 tsp black treacle/molasses
75g/2½oz/¾ cup walnuts, toasted and chopped
75g/2½oz/¾ cup stilton cheese, cut into 1cm/½in cubes
Method
1. Mix the stout and yeast together until dissolved, then add the other ingredients, except the walnuts and cheese, and mix thoroughly.
2. Knead the dough until smooth and stretchy, cover and leave to relax at room temperature for 10 minutes.
3. Press the dough out gently to form a rectangle, scatter the cheese and nuts over it, roll the dough up and knead until mixed in, trying not to mash the cheese up too much. Cover the dough and leave to prove at room temperature for three hours.
4. Divide the dough into two equal-size pieces and shape into balls. Cover and leave to relax for 10 minutes.
5. Reshape the balls, dust with flour, cover and leave to prove at room temperature for an hour, either seam-side down on a floured work surface or seam-side up in floured proving baskets.
6. Heat the oven to 220°C/200°C fan/425°F/gas 7, with a large baking stone or baking sheet in place. Transfer the loaves to a floured peel, seam-side down. Slash the top of each loaf, then slide them gently onto the baking stone. Bake for 30–40 minutes until golden brown.
Baker's tip
As this is a Real Bread recipe, you'll be unsurprised we suggest the stout you use is real ale with complexity and depth of flavour, rather than some fizzy, mass-produced number.
Sippet
Stilton is a blue-veined cheese made in the English counties of Nottinghamshire, Derbyshire and Leicestershire. Due to its legally-protected status, it cannot be made in the Cambridgeshire village where it first came to fame and gained its name.
About the baker
Scott Hayward was born in London and worked as a chef for many years and when the chance to become a baker at Olivia's Bakery & Café in Darlington, he dived right in and took over as head baker in 2011. Olivia's is a social enterprise that offers training placements to disadvantaged young people, helping them to improve self-confidence and contribute positively to their local community. At the time of original publication (2016) Scott ran the wholesale part of the business, promoting Real Bread to northeast England's finest restaurants and hotels.
---
Recipe text © Scott Hayward.
Taken from Slow Dough: Real Bread by Chris Young, published by Nourish Books.
Reproduction prohibited without written agreement of the copyright holder.
---
Social sharing
If you make this, please share your photo(s) with the world on social media using #RealBread and other relevant hashtags, linking back to this recipe. Better still if we can see you in the photo, too: #WeAreRealBread!
Please don't forget to tag us, and the recipe's author. You can find us on:
Published 17 Mar 2022
Real Bread Campaign: The Real Bread Campaign finds and shares ways to make bread better for us, better for our communities and better for the planet. Whether your interest is local food, community-focussed small enterprises, honest labelling, therapeutic baking, or simply tasty toast, everyone is invited to become a Campaign supporter.
Support our charity
Your donation will help support the spread of baking skills and access to real bread.