A variation on the classic Italian bread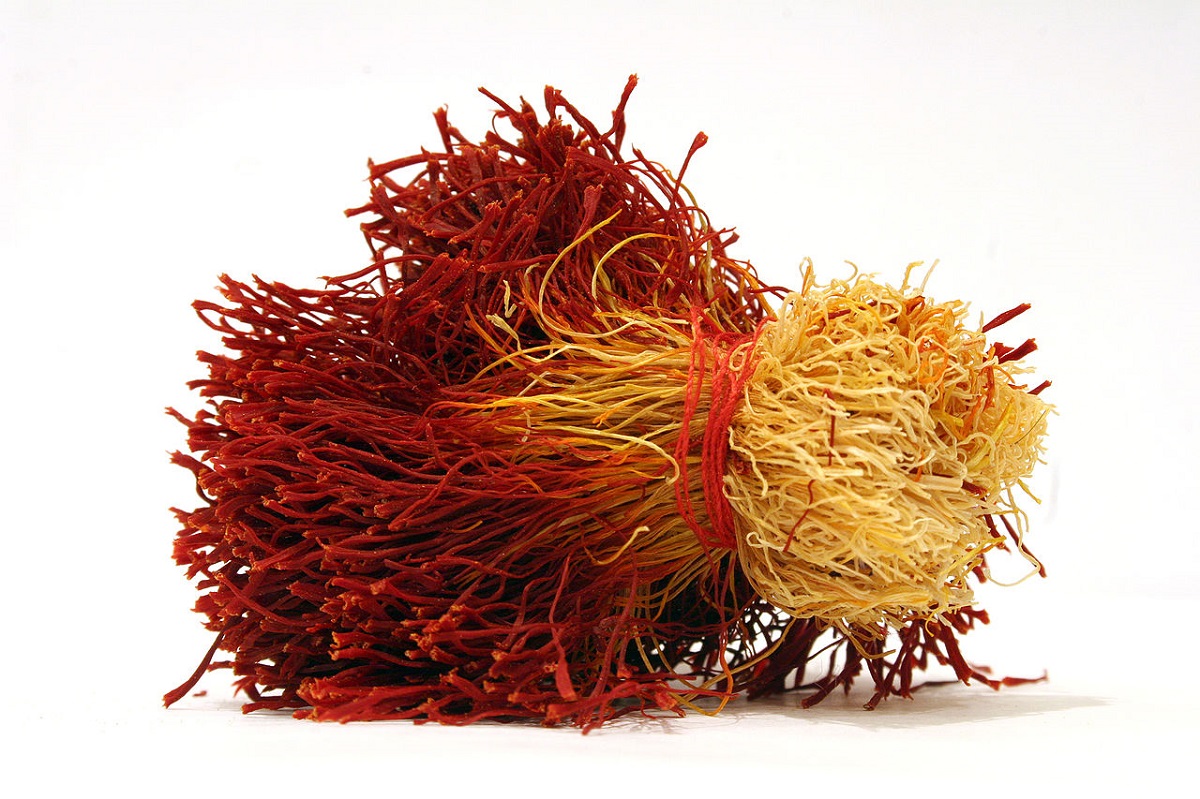 Saffron strands by Safa Daneshvar CC BY-SA 3.0
Tim is a former head chef at River Cottage. He says….
"I stole this recipe wholesale from my good friend Robin Rea at Rusty Pig in Ottery St Mary, Devon. I've tweaked it a little to make it mine, but Robin still deserves credit for giving me the idea. This is a great variation on the classic Italian bread. You have to use a LOT of oil…. no, really."
Ingredients
450g organic strong white flour
75g organic fine semolina
10g salt
350ml water
10g organic fast-action yeast (or 3g fresh)*
10 strands good saffron
Flaky sea salt, rosemary and a lot of really good olive oil
* For a longer, slower rise, use less yeast and/or colder proving temperature. See Real Bread Campaign notes on fast-action vs. fresh vs. dried active yeast [ed.]
Method
Soak the saffron in the water, add the yeast and leave for at least an hour.
Mix the flour with the semolina, add the salt, then add the yeasty water and work into a soft and lightly-sticky dough.
Allow the dough to rise once for two to three hours dependent on temperature, so that it takes on a buoyant, elastic texture, then carefully transfer it to a non-stick baking surface. Lightly oil your hands and shape the dough into an oval shape around two inches deep, using a circular shaping motion to ensure all its edges are tucked under. Now oil the dough well and cover lightly with a damp towel for another short prove.
When the dough has puffed up almost to the point of collapse, preheat the oven until it's fiercely hot, about 220°C
Add a little more oil and gently tease the dough outwards using your fingertips to create deep indentations all the way through the loaf as you stretch the dough. Imagine you have an elastic band holding all your fingers together and you need to push them apart – that's the motion to use. Push the sprigs of rosemary into these deep indentations to stop it burning in the fierce heat of the oven.
Oil the dough yet again (yes, really), sprinkle with sea salt and chopped rosemary, then leave to stand for just another few minutes before baking without steam for about 21 minutes until it's cooked. The saffron imparts a deep burnished gold colour to the dough, so the crust will go darker than a standard focaccia when it's properly cooked.
---
Recipe © www.timmaddams.com
Reproduction prohibited without written permission of the copyright holder.
---
Social sharing
If you make this, please share your photo(s) with the world on social media using #RealBread and other relevant hashtags, linking back to this recipe. Better still if we can see you in the photo, too: #WeAreRealBread!
Please don't forget to tag us, and the recipe's author. You can find us on:
Published 25 Mar 2019
Real Bread Campaign: The Real Bread Campaign finds and shares ways to make bread better for us, better for our communities and better for the planet. Whether your interest is local food, community-focussed small enterprises, honest labelling, therapeutic baking, or simply tasty toast, everyone is invited to become a Campaign supporter.
Support our charity
Your donation will help support the spread of baking skills and access to real bread.