Cheese on cheese? Yes, please!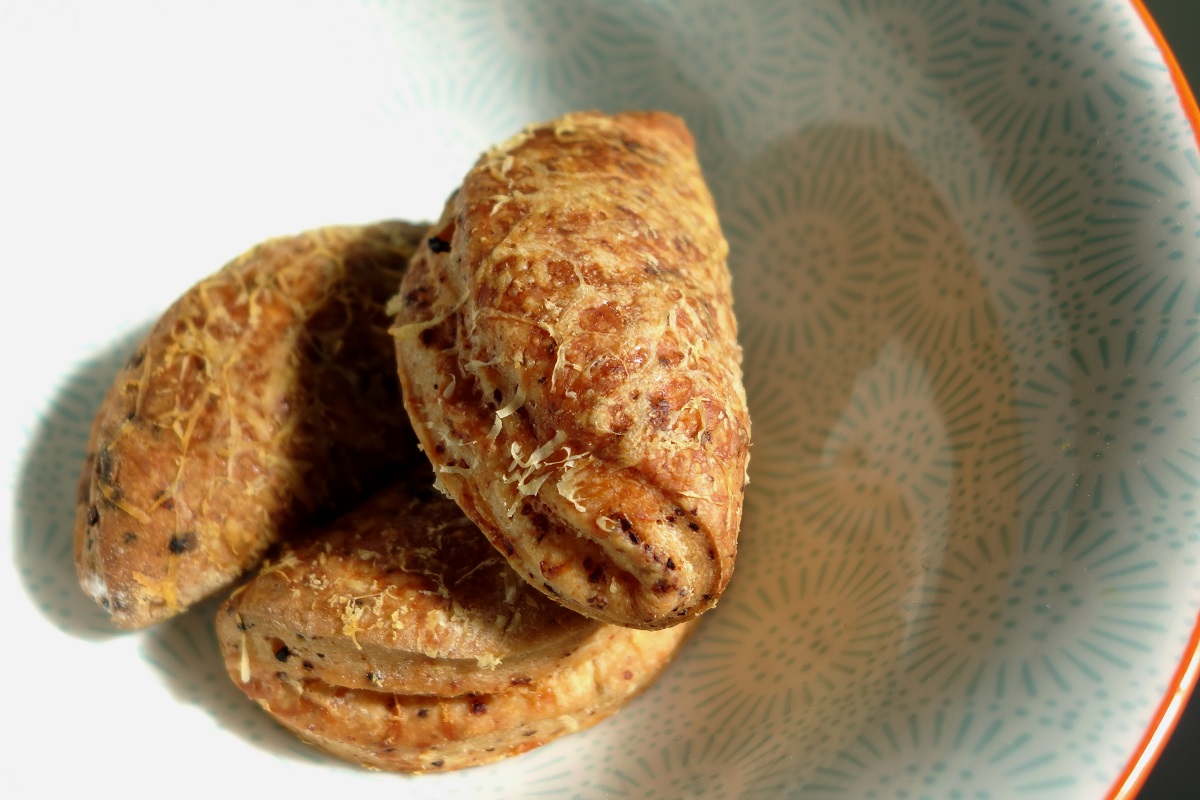 Photo: Chris Young / realbreadcampaign.org CC-BY-SA 4.0
Using some sort of curds or fresh cheese in savoury and sweet breads and pastries is common across eastern Europe.
The initial inspiration for my take came from Olia Hercules' version of the Ukrainian Berlins'ke pechyvo in her book Mamushka. Mine are leavened with yeast, rather than baking powder and are filled and finished with cheese instead of sugar.
This recipe was published in June 2020 as part of the Real Bread Campaign's #LockdownLoafers initiative.
Ingredients
250g Cottage cheese
160g Salted butter, softened
10g Fresh (or 3.5g fast acting) yeast*
250g Plain flour, sifted
100g Parmesan or other hard cheese (use more, or less, if you like)
*Read the label and avoid those that contain any additives.
Method
Beat together the cottage cheese, butter and yeast 'till they fluffy like you wish your laundry was,' as Raisa Stone suggests in her recipe for Ukrainian cream cheese cookies. Fold in the flour and mix until the dough comes together. Don't work it any more than the dough forms or you'll develop the gluten and the end product will be chewy.
Put the dough in a covered container and put in the fridge for a retarded proof of five hours or more – eg you could do this in the morning to bake in the evening, or in the evening to bake the next morning. Don't worry that the dough doesn't rise much.
Heat the oven to 180-200°C and line baking tray with baking paper/parchment.
Dust the work surface and rolling pin with flour and roll the dough out to about 5mm thick. Cut into discs using a biscuit/cookie cutter or something else circular - eg a glass or container. Collect the offcuts together and roll out again to cut more discs. If the dough starts to get sticky or oily while you are working with it, put in the fridge for 20-30 minutes.
Finley grate parmesan over each dough disc, fold it in half and then grate more over the top of the resulting semi-circle.
Place the dough quarters a few centimetres apart from each other on the lined baking tray and bake for about half an hour, until puffed up, golden and with a cheesy crust.
Transfer to a wire rack and cool before eating.
Substitutions
For a sweet version closer to Berlins'ke pechyvo, instead of using parmesan, mix together 100g caster sugar and 1tsp ground cinnamon on a plate. Brush one side of each disc with water and lightly press it into the sugar. Fold the disc in half, with the sugar on the inside. Coat one side of the folded dough in the same way and fold in half again, this time with the sugar on the outside. The result is a frosted top and caramelised underside.
In answer any other 'can I…' questions about swapping or adding ingredients, adjusting times, weights and temperature, the answer is yes, you can. Every tweak you make leads to different results. Seek out those different recipes or experiment for yourself and, if you come up with a bread you love, please share it and your tips on social media!
---
Recipe © Chris Young / www.realbreadcampaign.org
Reproduction prohibited without written permission of the copyright holder.
---
Social sharing
If you make this, please share your photo(s) with the world on social media using #RealBread and other relevant hashtags, linking back to this recipe. Better still if we can see you in the photo, too: #WeAreRealBread!
Please don't forget to tag us, and the recipe's author. You can find us on:
Published 8 Jun 2020
Real Bread Campaign: The Real Bread Campaign finds and shares ways to make bread better for us, better for our communities and better for the planet. Whether your interest is local food, community-focussed small enterprises, honest labelling, therapeutic baking, or simply tasty toast, everyone is invited to become a Campaign supporter.
Support our charity
Your donation will help support the spread of baking skills and access to real bread.