This Italian-style salad is a great way of using up any leftover Real Bread, particularly sourdough.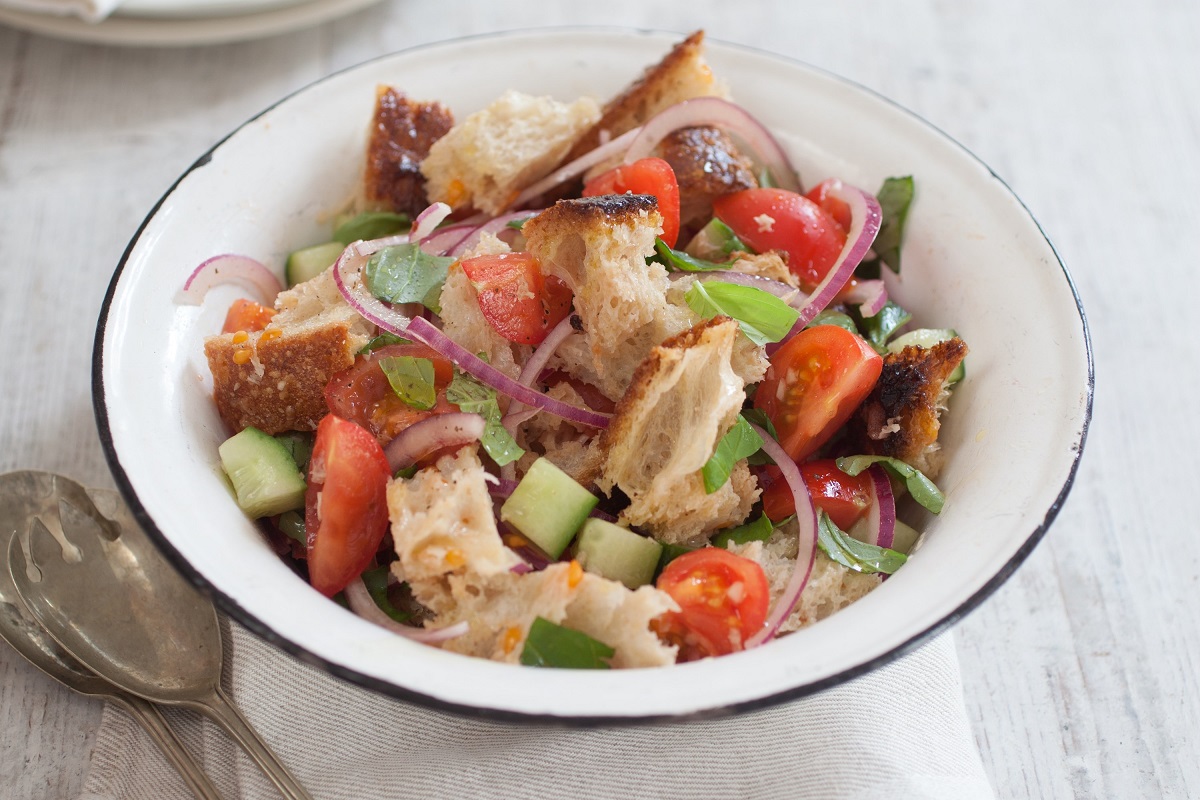 Photo © Victoria Harley
Stale bread is great for taking up all of the summery flavours and adding a chewy texture. There's no one 'authentic' recipe for panzanella, and this recipe is about using up leftovers, rather than with being prescriptive about amounts or ingredients. Just try to make sure the tomatoes you use are really good sun-ripened ones, not tasteless ones from a supermarket.
Ingredients
Serves 2-4
4–6 thick slices of stale sourdough or other Real Bread
80ml/2½fl oz/⅓ cup extra virgin olive oil, plus extra if needed
2 tbsp red wine vinegar
1 cucumber, diced
1 red onion, finely sliced
6 ripe vine tomatoes, peeled and roughly chopped, plus extra if needed
3 garlic cloves, finely chopped
1 handful of torn basil leaves sea salt and freshly ground black pepper
Method
Tear the bread, crusts on, into pieces the size of unshelled walnuts, then pile them up in a large serving bowl.
Add all of the other ingredients and mix together thoroughly – your hands are great tools for this job. Season with salt and pepper.
Leave the salad to stand for at least 30 minutes before serving, so the chunks of Real Bread can soak up all of the juices and flavours. If it looks a bit dry, you can add more tomatoes or olive oil.
Sippet
Depending who you believe, the name might come from a Tuscan dialect word for 'little swamp' or simply standard Italian for bread (pane) and little basket (zanella).
About the baker
Liz Wilson took Jane Mason's Virtuous Bread microbakery course in July 2013 and graduated as a Bread Angel. She then spent the following year volunteering in bakeries and cooking schools around London. In April 2014, Liz set up business as Ma Baker, baking loaves for sale
and teaching Real Bread skills at her home in Fulham, London. In September that year, Liz won two silver medals at the Tiptree World Bread Awards.
---
Taken from Slow Dough: Real Bread by Chris Young, published by Nourish Books. Hardback, £20. Commissioned photography Victoria Harley.
Reproduction prohibited without written agreement of the copyright holder.
---
Social sharing
If you make this, please share your photo(s) with the world on social media using #RealBread and other relevant hashtags, linking back to this recipe. Better still if we can see you in the photo, too: #WeAreRealBread!
Please don't forget to tag us, and the recipe's author. You can find us on:
Published 26 Jun 2019
Real Bread Campaign: The Real Bread Campaign finds and shares ways to make bread better for us, better for our communities and better for the planet. Whether your interest is local food, community-focussed small enterprises, honest labelling, therapeutic baking, or simply tasty toast, everyone is invited to become a Campaign supporter.
Support our charity
Your donation will help support the spread of baking skills and access to real bread.