This sourdough-leavened loaf replaces some of the flour with crushed wheat biscuits.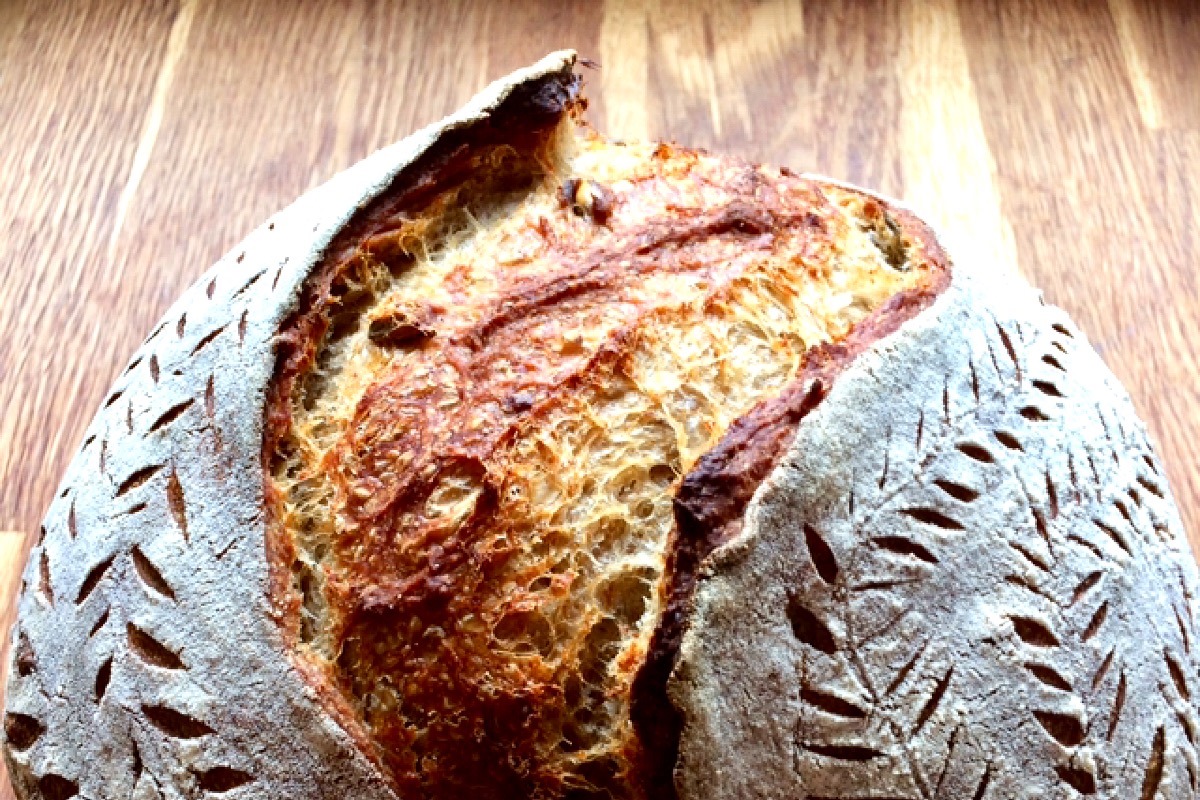 Photo © Alison Travis
Alison says this loaf is "tried and tested, with a malty crust and crumb. Once the cereal has been crushed or whizzed up in a food processor, I treat it like wholemeal flour."
This recipe was published in April 2020 as part of the Real Bread Campaign's #LockdownLoafers initiative.
Ingredients
210g Strong white flour
120g Sourdough starter (wheat or rye, 1:1 flour to water)
225g Water
100g Breakfast wheat biscuits, crushed*
1tsp Salt
*The crunchy, wholewheat breakfast cereal that you pour milk on, not what Americans call biscuits, or the sugary bars that some manufacturers try to convince us could somehow serve as the first meal of the day.
Method
Alison has given suggested timings. Depending on your room temperature and vigour of your starter, you might find yours dough proves more or less slowly and you can, of course, start at a different time.
9pm: Mix together the flour, sourdough starter and water. Leave in a covered bowl overnight at room temperature.
9am: The next morning the mixture should look bubbly and lively. Add the crushed breakfast biscuits, mix and leave for 30 minutes. Add the salt and roughly mix into the dough with your fingers. Leave for another 30 minutes, then stretch and fold the dough four times in the bowl. Repeat the stretching and folding around three or four more times, at approximately 30 minute intervals.
Leave the dough to prove in the covered bowl for another couple of hours or so until well risen and roughly double in size.
Mid-afternoon: Turn onto a lightly floured surface and gently pre-shape the dough, trying to disperse any big bubbles evenly. Rest the dough for 20 minutes, shape it and place into a floured banetton or bowl. Cover and place in the fridge overnight.
9am: Next morning, place a lidded casserole dish / oven-proof pot into the oven and heat to 240°C.
Turn the chilled dough out onto baking parchment and score the dough. Carefully place parchment and dough into the heated pot. Replace the lid, slide back into the oven and bake 40 minutes. If you'd like your bread a little darker, remove the lid or place the bread directly onto the oven shelf, and continue baking for a further 5-10 minutes.
Remove the bread from the pot/oven and place on a wire rack to cool.
---
Recipe © Alison Travis / @blisswoo @my_peggy_sue
Reproduction prohibited without written permission of the copyright holder.
---
Social sharing
If you make this, please share your photo(s) with the world on social media using #RealBread and other relevant hashtags, linking back to this recipe. Better still if we can see you in the photo, too: #WeAreRealBread!
Please don't forget to tag us, and the recipe's author. You can find us on:
---
Published 4 Apr 2020
Real Bread Campaign: The Real Bread Campaign finds and shares ways to make bread better for us, better for our communities and better for the planet. Whether your interest is local food, community-focussed small enterprises, honest labelling, therapeutic baking, or simply tasty toast, everyone is invited to become a Campaign supporter.
Support our charity
Your donation will help support the spread of baking skills and access to real bread.