Avid home baker Robert Milne reminisces about a near lifelong obsession with Real Bread.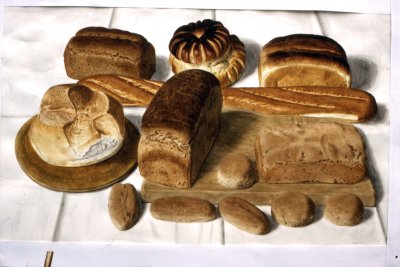 Baker's Dozen. Copyright: Robert Milne
'BREAD - THE STAFF OF LIFE'. I read this phrase every day as a child growing up in the 1950s and '60s, as it was carved around the edge of our bread board.
My mother died when I was 16 and Dad was often out at mealtimes as he had to work awkward shifts, so I started shopping and cooking for myself. Perhaps inspired by the bread board, I thought I would have a go at making my own.
Holland & Barrett had recently opened a shop in town, which sold Allinson's wholemeal flour. If my memory is correct, it was described as 'compost-grown' - there was no organic certification then.* I sometimes used rye flour, which didn't rise so well but the flavour was good. I liked the challenge of making this basic and, to my mind, essential food, which I continued to do until I left school.
I went to art college, followed by several years working on archaeological digs. One was in Trondheim, Norway. The first thing to do was find a good bakery. The woman serving said: "How do you eat that awful white sliced bread in England?" Oh dear, we're famous for that? The bakery had a good choice of bread. I chose one called ankerstokk – a descriptive name, if you know what the wooden crossbar of an old anchor looks like. It was made from a mix of wheat and rye flour and baked in a long tin. Heavy, moist and delicious; it nourished me against the weather in Trondheim, where we had snow showers in June!
On the rise again
I started making bread again when I settled in rural Herefordshire and got married, then my wife took over the baking. We made a garden which for the next 20 years provided all the vegetables we needed, as well as most of the fruit. There was a farmer nearby, called Morgan Morgan, who ran a very 'tidy' (a general complimentary word in that area) traditional mixed farm. He had a few Guernsey cows, made butter from the cream and fed the skimmed milk to pigs and hens. We bought butter and eggs from him.
He also grew 'organic' wheat, though he didn't seem to realise it - he had just never switched to chemical fertilisers or pesticides! Someone had to stand on the ancient combine harvester filling hessian sacks with grain. When we decided to start making our own flour, we bought wheat from the farm and a cast-iron hand mill. The mill was not well made, in my view. The grooves in the milling plates were not sufficiently deep, and then not sufficiently milled across the ridges to give a sharp, right-angled edge all the way along each side of the ridges. Consequently it was very hard work.
Then we discovered we could have a sack of organic flour delivered from Pimhill Farm in Shropshire for less than any wheat we could buy. They could also deliver sacks of organic porridge oats. Guess what we did! Sadly, this excellent service stopped after a couple of years because too many customers claimed that sacks were arriving damaged and they wanted refunds or replacements.
Another form of bread artistry
For those 20 years in quiet rural Herefordshire, I scratched a living from drawing and painting, mostly old buildings and landscapes. Sometime in the '80s I painted a large still life of 13 different breads; the title was Baker's Dozen. There was one homemade loaf and the rest were bought from small bakeries in Ludlow, Shrewsbury and Hereford. The result was a delightful (to my eye) narrow palette of earth colours, well, bread colours – the lightly tanned sides and the darker, crusty tops. Actually, the dark colours are an indication of the presence of acrylamide, so perhaps something not so healthy.*
Making bread is like gardening: it doesn't matter how many years you do it, it's still just as enjoyable and there's always more to learn. I enjoy every little stage of bread-making and recently I bought a Mockmill to produce my own flour. The last lot of grain I bought was 57 kg of einkorn, emmer, spelt and rye from Gilchesters in Northumberland.
I like to bake early, when no one else is around and all is quiet, except for Radio 4, just audible: the World Service, the shipping forecast, Farming Today, Tweet of the day… This is the best part of bread making: repeatedly squeezing and folding the dough and putting it in the tins. I get into a flow and forget everything else, even the Parkinson's disease, in spite of the pain in my back from standing. Making bread provides a sense of continuing normality and achievement. A perk is scoffing a few raisins that fall out of the dough. Oh yes, I also include broken walnuts. Luxury!
I sieve some flour onto the dough to prevent sticking to the baking tray I put over the tins when they are in the oven. Weighed down by a stoneware mortar, this keeps the moisture in. I set the oven at 50°C for half an hour for the final proof before turning up the heat. I've never seen the point of heating the oven before putting things in, it just results in a lot of heat escaping when you open the door. I bake the bread at 120°C (above which acrylamide starts to form) for about an hour, then turn the oven off and wait 15 minutes before opening the door. My crusts are pale and the first thick slice with butter is bliss!
*The Soil Association introduced their organic certification scheme in 1973.
**We have included notes for bakers on acrylamide reduction in our Knead to Know…more handbook [ed.]
---
Originally published in True Loaf magazine issue 54, April 2023.
YOUR words in print
We can help you tell your story, share your knowledge, air your views! Or maybe you'd like to write about someone else who's involved in the rise of Real Bread. For details, click here.
Published 2 Nov 2023
Real Bread Campaign: The Real Bread Campaign finds and shares ways to make bread better for us, better for our communities and better for the planet. Whether your interest is local food, community-focussed small enterprises, honest labelling, therapeutic baking, or simply tasty toast, everyone is invited to become a Campaign supporter.
Support our charity
Your donation will help support the spread of baking skills and access to real bread.