From Mozambique to Kent to lockdown launch and beyond, Leo Maxlhaieie shares his story so far.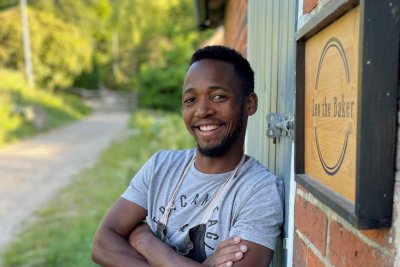 Leo the Baker. Copyright: Leo Maxlhaieie
I set up and run Leo the Baker to make Real Bread and other baked goods with the finest quality ingredients accessible to people in my local community of Sevenoaks in Kent.
My passion for baking was born during my childhood in Mozambique. From the age of about 11, my job was to go and buy pao (fresh bread rolls) for my family's breakfast. At 6am each and every day, I set off on the 40-minute round trip to the local padaria. Flip flops on my feet, I loved those walks through my community over the soft sand. The smell of fresh bread lured me all the way.
There was often a queue at the bakery. I was a small boy and it was a struggle to reach my coins high enough in the air above the busy counter for the baker to see me and take my order for des pães - ten bread rolls. The padaria ran a good business, though on a few occasions I recall getting too much change back as they were too busy to count correctly.
The walk back, with my plastic bag full to the brim of warm rolls, was always a pleasure. Sometimes I would stop to watch people playing football on the community pitch. Other times I was in a rush to get back home and eat. That buttered bread was always the centrepiece of our breakfast, always enjoyed with sugary black tea, sometimes with powdered milk stirred in. The texture of the bread and that taste combination was never a disappointment.
Becoming our local baker
Fast forward 10 years and I met my now wife, Amy, while she was volunteering in Mozambique. By 2016 I arrived in the UK to start our new married life together. There are so many things I love about the UK, but I found supermarket loaves to be bitterly disappointing. I began attempting to recreate that soft, doughy bread from my homeland for our family to enjoy. Soon after, my signature organic white loaf was born.
At the beginning of January 2021, during the second UK lockdown, I started sharing my Mozambican-inspired Real Bread with my neighbours. The news (and aroma) travelled fast and I quickly became inundated with requests and orders! Before I knew it, I was waking up at 3am every day to mix dough and bake Real Bread in our home oven, before delivering the still-warm loaves on my way to my day job.
Nine months later, in September 2021, I quit my job to become a full-time, self-employed baker! I had added organic French-style baguettes to the menu, which quickly became popular, and was in the process of perfecting my sourdough skills. With the help of a crowdfunding campaign and some amazing local businesses, I was able to purchase a RackMaster RM2020 oven and move into a small commercial space.
Local support and demand, for which I'm eternally grateful, has continued to push me and the bakery forward. I have moved into a larger commercial space, located in the grounds of the beautiful Riverhill Himalayan Gardens in Sevenoaks. I now have two Rackmaster ovens, large fridges and dough mixers. I now order my flour from Doves Farm by the pallet load instead of in 1.5kg bags.
Leo the Baker now supplies signature Mozambican-inspired white loaves, country sourdoughs, French-style baguettes and cinnamon buns to a number of local cafés and restaurants. Once you have tasted them, there is no going back! I continue to offer my doorstep delivery service to local households and recently held my first successful market stall pop up - more of these to come.
Baking a difference
Behind the scenes, I'm working to perfect some new products, including sourdough pizza dough for delivery and home baking, as well as what will surely be the best sausage rolls in Sevenoaks! Amy and I are founders of a charity called the Born Positive Trust, which supports vulnerable children in Mozambique. As soon as it's financially viable, our plan is to start donating a percentage of the bakery's profits to the charity so that our Real Bread can help to make a difference to the next generation there.
I have come to realise that I was incredibly lucky to grow up eating organic, locally-produced food that was mostly harvested, cooked or baked and eaten on the same day. I believe that everybody deserves to have access to healthy food options and be informed about what is inside the food they're eating. More specifically, it is my mission to provide people in my local community with Real Bread and other delicious baked items.
The journey continues to take me by surprise and fulfil me in so many ways - all from me sharing a few loaves with neighbours on my street during lockdown!
Not all Real Bread is White
Leo is on the panel of Black owners of Real Bread businesses for a FREE, open-to-all webinar on 7 November 2022, talking and answering questions about setting up, running or working in a Real Bread bakery / microbakery.

Read full details and book now
---
Originally published in True Loaf magazine issue 52, during Black History Month, October 2022
Published 6 Oct 2022
Real Bread Campaign: The Real Bread Campaign finds and shares ways to make bread better for us, better for our communities and better for the planet. Whether your interest is local food, community-focussed small enterprises, honest labelling, therapeutic baking, or simply tasty toast, everyone is invited to become a Campaign supporter.
Support our charity
Your donation will help support the spread of baking skills and access to real bread.