Carolyn Batcheler says that she's fortunate to have Louise Williams as her local Real Bread baker.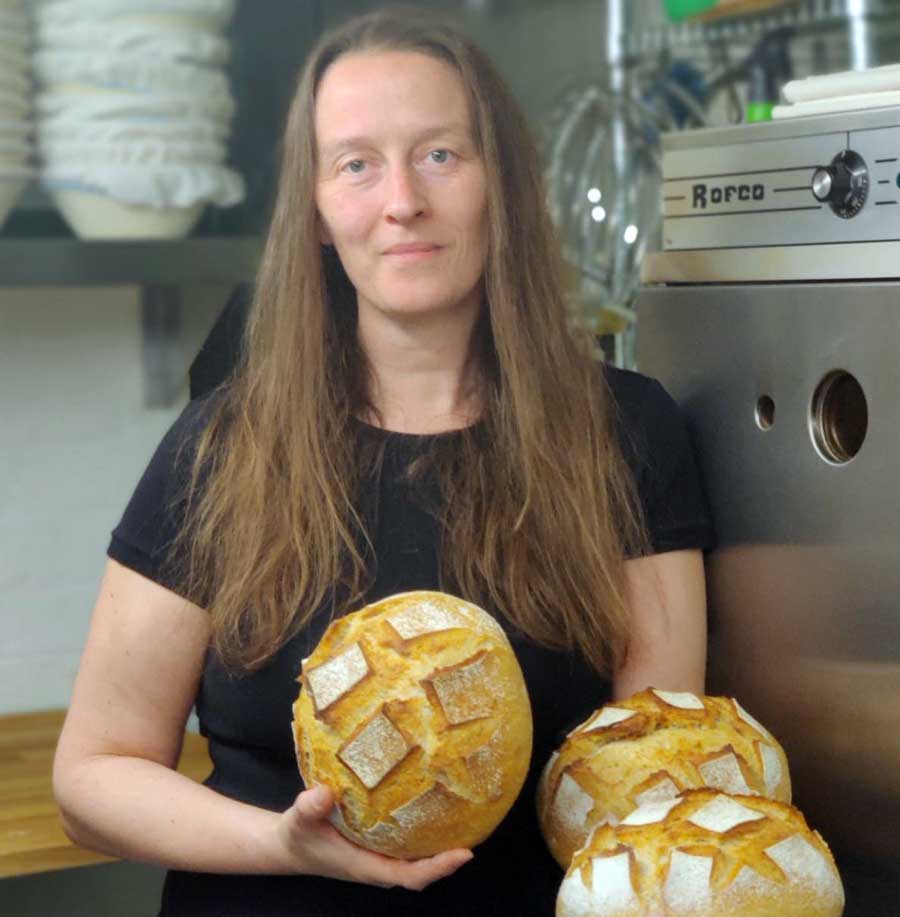 Louise Williams © Carolyn Batcheler
Louise lives in Heaton Chapel, a suburban area of Stockport in Greater Manchester. She started her BakerLou business in October 2018, initially baking 10 to 12 loaves each bake day, all shaped by hand in her basement microbakery. She now makes between 30 and 100 loaves a day, which rose as high as 170 during lockdown.
Like me, most of Louise's customers live within a two-mile radius of her home. She gets much needed help from her teenaged sons Joseph and Daniel. They help with bagging up orders, serving customers at the front door and scaling dough at busy times. Whoever answers the door, I'm greeted by name with a smile.
A baker's tale
Keen to be a baker since she was young, at 16 Louise approached her local bakery to become an apprentice. She was told that girls worked in the shop, not as bakers. Putting her baking ambitions on hold, Louise went on to work in a hospital kitchen and at festivals. Two children later, she again applied to be a baker, this time in a supermarket. They offered her a job as a packer.
Having kept her eyes on the prize, 14 years later Louise set up her own bakery. She started baking in a Rofco B40 oven. As her business expanded, she bought a pair of Compacta Pico Plus deck ovens from local manufacturer Tom Chandley. "Buying different ovens was a gamble that has worked! It took me a while to get used to baking in the Pico but once I got it right, I love them. I still bake in the Rofco alongside as they both have their strengths." When she needed a new mixer, Louise spoke to Patrick and team at online supplier Bakery Bits about what would meet her needs and she chose a Sunmix in a beautiful blue.
Wanting to keep things local, Louise originally approached a nearby mill for flour but was told they wouldn't supply half pallets to her door. After a lot of research she settled instead on getting her flour from a mill in Essex. Despite the distance, Louise says that she has a wonderful relationship with the mill and that they provided technical advice and other support. By extraordinary coincidence for me, my cousin (also called Louise) is a farmer in Essex and supplies wheat to the mill.
Word of mouth
The business has grown by the best way possible: through word of mouth. Louise traces most of her trade back to personal recommendations. She has developed a strong social media presence, which is fabulous for letting current and potential customers know about new products and seasonal promotions. Figures of 628 customers on WhatsApp and over 1000 followers on Instagram speak for themselves.
I found Louise's bread by happy coincidence. A broken leg meant I couldn't travel far and I was shopping in the local Feed General Store, which she supplied. It was there I brought my first BakerLou country loaf, which remains a personal favourite. I also look forward to her seasonal specials, like her wonderful wild garlic sourdough or Easter bread with fruits and spices.
A customer's tale
When not bread making or caring for her family, Louise is to be found sat with a mug of coffee and a Turkish delight or another sweet treat, reading an old baking book. Even on days she isn't making bread for sale, Louise will often be doing test bakes and posting photos on Instagram and WhatsApp to a dedicated band of testers. If I'm lucky I get to test a new product. It's lovely to have my opinion listened to. One of my recent favourites was Louise's interpretation of a recipe for jam buns, which she found in the 1899 edition of John Blandy's bakers' guide, that are bit like a cross between a bun and a doughnut, with a little bit of scone thrown in.
When we talked about her favourite bread to make, she replied: "any slow loaf. Just simple dough, made with time. No magic, just a well fermented loaf that tastes good." I asked her if there is a celebrity or historical figure she would really like to bake for and she laughed. "I'm not bothered about celebrity or history, I only want to bake for my customers. They love my bread and that makes me happy." She talked of the customers who report suffering bloating after eating factory loaves but not after eating her Real Bread, saying it brings her genuine pleasure.
I asked Louise what she wanted for the future and she replied: "I'm very happy where I am - doughtopia. Every day is an adventure, something new to learn, recipes to test bake and life adventures to be had." As a customer, I'm excited to stick around. It's a joy to support a local, family business. Getting bread direct from Louise means it's always fresh and tasty and I can walk to collect it! In my opinion, no other bread matches hers. Along with my firm favourites, there is always something new to try. I'm definitely a Real Bread convert and happy to be a customer of BakerLou!
Want to become a microbaker like Lou?
Knead to Know...more, the 10th anniversary edition of the Real Bread Campaign's unique microbakery business handbook, is out now.
Originally published in True Loaf magazine issue 48, October 2021
Published 9 Nov 2021
Real Bread Campaign: The Real Bread Campaign finds and shares ways to make bread better for us, better for our communities and better for the planet. Whether your interest is local food, community-focussed small enterprises, honest labelling, therapeutic baking, or simply tasty toast, everyone is invited to become a Campaign supporter.
Support our charity
Your donation will help support the spread of baking skills and access to real bread.