In 2012 Mark Webb went back to the classroom for their Real Bread Day.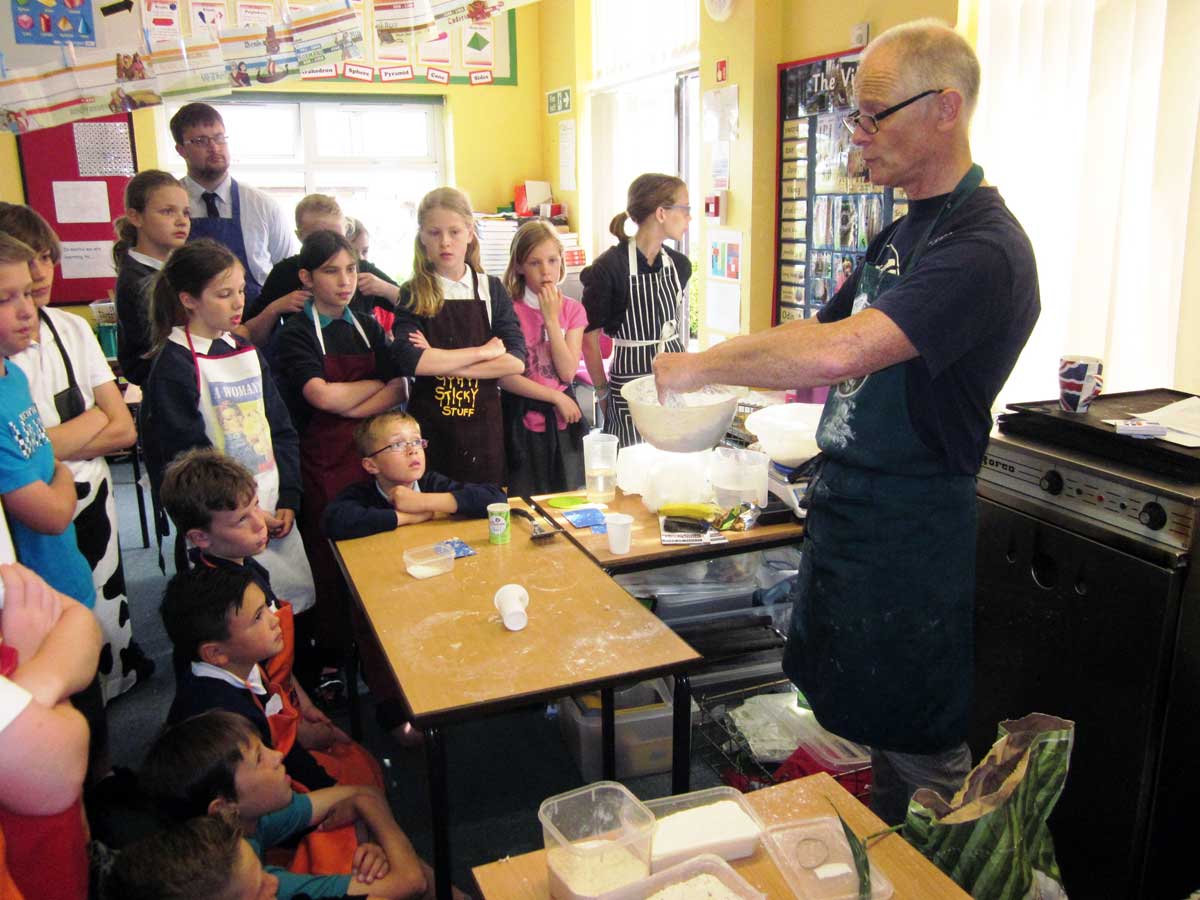 Photo © Mark Webb
Half way through the Real Bread Day at the primary school in our village of Over, a little lad asked: "do you do this for a job?"
Magical day
About three months previously, the head of Years 5 and 6 contacted us to ask if we would teach the children about wheat, bread, flour and baking. Both our children had been to the school so we were keen to help. Then he added "there'll be ninety of them." NINETY?!!
We set to thinking how we could possibly teach that many kids in one day. We decided it couldn't be done. Then that it could. Then it couldn't. Then…
It was a magical day; exhilarating; exhausting. We started by telling all ninety of them about our microbakery, passing around the different types of Real Bread we make and asking them to think how different it was to loaves we'd bought from the supermarket.
Amazing
"Yeaaauukkkk!!!" the kids shouted as we showed them our sourdough starter but they so enjoyed getting their hands sticky. They were amazed at the stretchiness of the dough; observed the changed quality of the dough after the salt was added and took great delight in creating gluten windows.
They went off with their teachers to make plans for their own bakeries and create labels for their breads, which we thought was a great way to teach about labelling and ingredients.
Then, thirty at a time, we showed the children different ways to shape the dough for plaits, cobs and tin loaves. After the second prove we baked their loaves in our trusty Rofco oven that we'd taken with us.
Fantastic
They all went home with fantastic loaves of Real Bread and kids have come up just to tell us how many they've baked since. "Eating the bread was the best part though because it was delicious. It was so good me and my dad made it at home," said one.
Oh, and after we told that first little lad that yes, we did do this for a living, he marched back to his kneading saying "wow! I didn't know work could be such fun!".
Mark Webb and Caroline Newman ran Orb microbakery in the village of Over in Cambridgeshire from 2013 to 2019.
See also
---
Originally published in True Loaf magazine issue 12, July 2012
Published 15 Mar 2021
Real Bread Campaign: The Real Bread Campaign finds and shares ways to make bread better for us, better for our communities and better for the planet. Whether your interest is local food, community-focussed small enterprises, honest labelling, therapeutic baking, or simply tasty toast, everyone is invited to become a Campaign supporter.
Support our charity
Your donation will help support the spread of baking skills and access to real bread.