Veg Patch Kitchen founder Kath Corfield spoke to some fellow bakery school owners about moving online during the pandemic.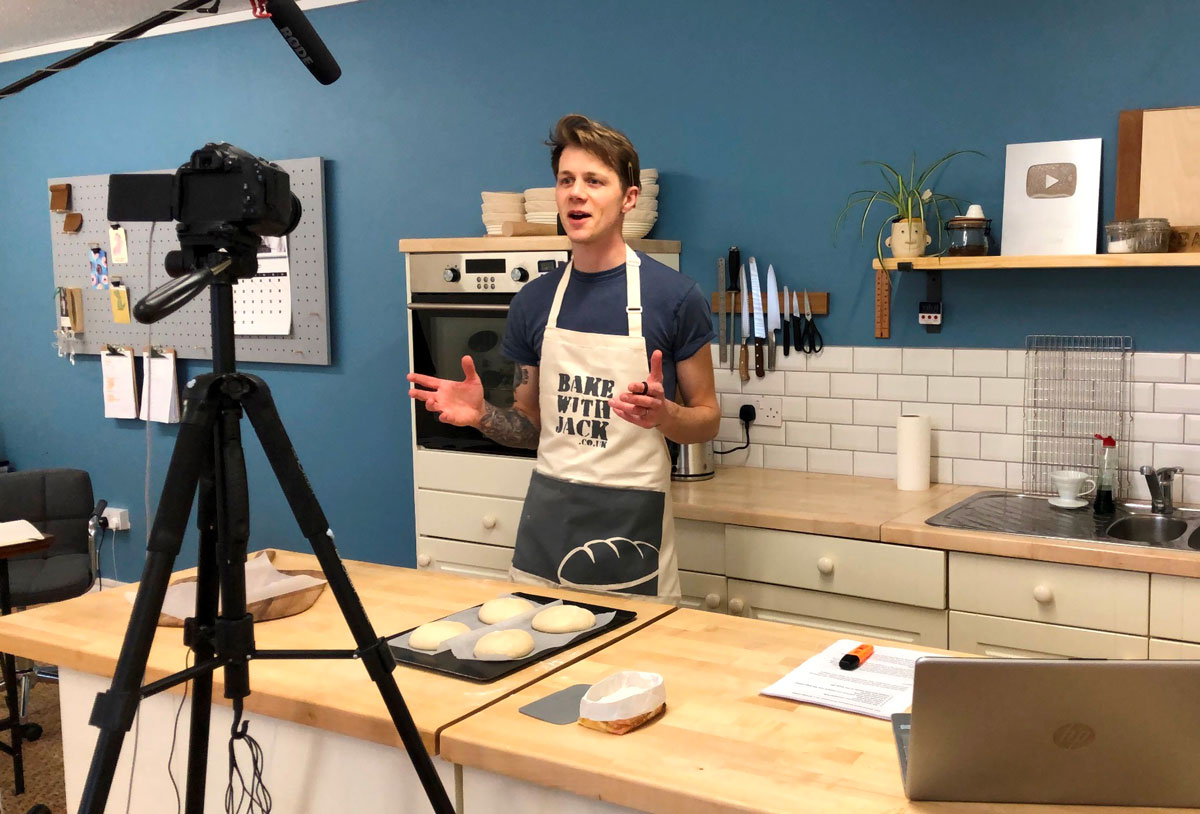 Jack Sturgess © Bake With Jack
I set out to discover how some of my fellow Real Bread bakery teachers have got through the strangest year in our lives. Could we continue to work? How could we diversify and become resilient whilst the world went mad learning how to make bread?
Liz Wilson, aka Ma Baker, has run a successful cookery school and microbakery in London since 2015. When the pandemic hit she pivoted to becoming a full-time baker, growing from 60 customers to 450 in a very short space of time. She worked harder than she ever has before, roping her husband in to help. "It meant I really had to organise my systems, which now means it is all so much easier. It also meant that we had an income, otherwise we wouldn't have, so I just felt very lucky that I had the skills to do that," she told me. When the dust settled Liz started to offer live online lessons, keeping them small so that she could still have that all important rapport.
One to one sessions
Real Bread Campaign ambassador Danielle Ellis of Severn Bites transitioned immediately to live online lessons, offering people who had booked onto a face-to-face class the option of a Zoom lesson instead. For Danielle, the key was one-to-one sessions, rather than trying to compete with the swathe of free online lessons being offered. To promote her classes, she used her newsletter mailing list and invested in Google Adwords. This strategy was successful and she has been teaching bread making, and how to use a Rofco oven, to a worldwide audience. She says "Demand has fluctuated as we have gone in and out of lockdowns, but it is still strong. I can imagine offering a blend of sessions going forward, in person and online."
Campaign ambassador Jack Sturgess was already successfully integrating an online presence with his popular, in-person Bake With Jack courses. Even before the pandemic he had a successful YouTube channel with 60,000 subscribers. The huge surge in interest in making bread quickly pushed this number up to nearly 170,000. Juggling his business with homeschooling, Jack found himself making videos and packing orders late into the night to keep up with huge demand for bread making equipment in his online shop. Jack made a conscious decision not to monetise his YouTube channel, wanting instead to offer his bread making knowledge without the interference of adverts. Since March 2020, his income has been from shop sales, supplemented by donations from all over the world in thanks for his helpful videos.
Wider audience
For my business, Veg Patch Kitchen Cookery SchooI, making the switch from face-to-face to live online lessons proved difficult due to our less than world class rural Internet connection. With our family of four all working or schooling from home, our Internet bandwidth was really under pressure. I decided to invest in the necessary equipment to turn the cookery school into a studio and researched platforms to deliver pre-recorded courses through my website. Marketing is my Achilles heel and this was magnified by my change to providing courses online. Over the past six years my business has been largely built on word-of-mouth recommendations in my local area. The pandemic has forced me to get uncomfortable and start to market myself to a wider audience. I have improved my website, set up an online shop, become more regular with sending out newsletters, and started a YouTube channel and a Facebook group to improve my reach. These were all things that had been on my to-do list but kept getting put off.
Delivering classes online, whether live or pre-recorded, demands not only different technical skills but also a new way of teaching. When teaching people to make bread you rely on your senses to see, taste, smell and touch the dough and the baked bread. As Danielle pointed out "It is sometimes a challenge to teach a technique where you'd normally help the person to manipulate the dough, but there is always a way round it."
Future resilience
It's not only our businesses that have had to adapt. Jack summed it all up when he told me "I truly understand just how powerful making bread can be, and how much I need it in my life. For a while I was feeling down and couldn't see a way to get back the enthusiasm for life I once had. Then I realised I hadn't made bread in so long as I was busy with all the other things that needed doing. I did my best to take small steps back to making bread and as soon as I did I realised it was just what I needed. It's my hope that this is how others feel when they discover it for the first time." Making bread and teaching others how to make bread can make even the most difficult things seem a bit better.
We are all looking forward to welcoming people back into our kitchens and getting back to some sense of normality. We will also continue to make use of the online tools and the new skills that we have all developed over this past year and hopefully our businesses will be more resilient to future shocks as a result.
---
Liz Wilson's online top tips
Get your technology up to scratch
Give a full list of ingredients and kit well ahead of class
Allow opportunities for Q & A
Keep students on mute when teaching
---
@mabakerbakes
@breadbakerdani
@bakewithjack
@vegpatchkitchen
Find details of these, and many more, places to learn Real Bread skills on the Real Bread Map.
See also
---
Originally published in True Loaf magazine issue 46, April 2021
Published 23 Jun 2021
Real Bread Campaign: The Real Bread Campaign finds and shares ways to make bread better for us, better for our communities and better for the planet. Whether your interest is local food, community-focussed small enterprises, honest labelling, therapeutic baking, or simply tasty toast, everyone is invited to become a Campaign supporter.
Support our charity
Your donation will help support the spread of baking skills and access to real bread.