Jennifer Burgos hits the un-mute button to tell us about moving her family's baking school online.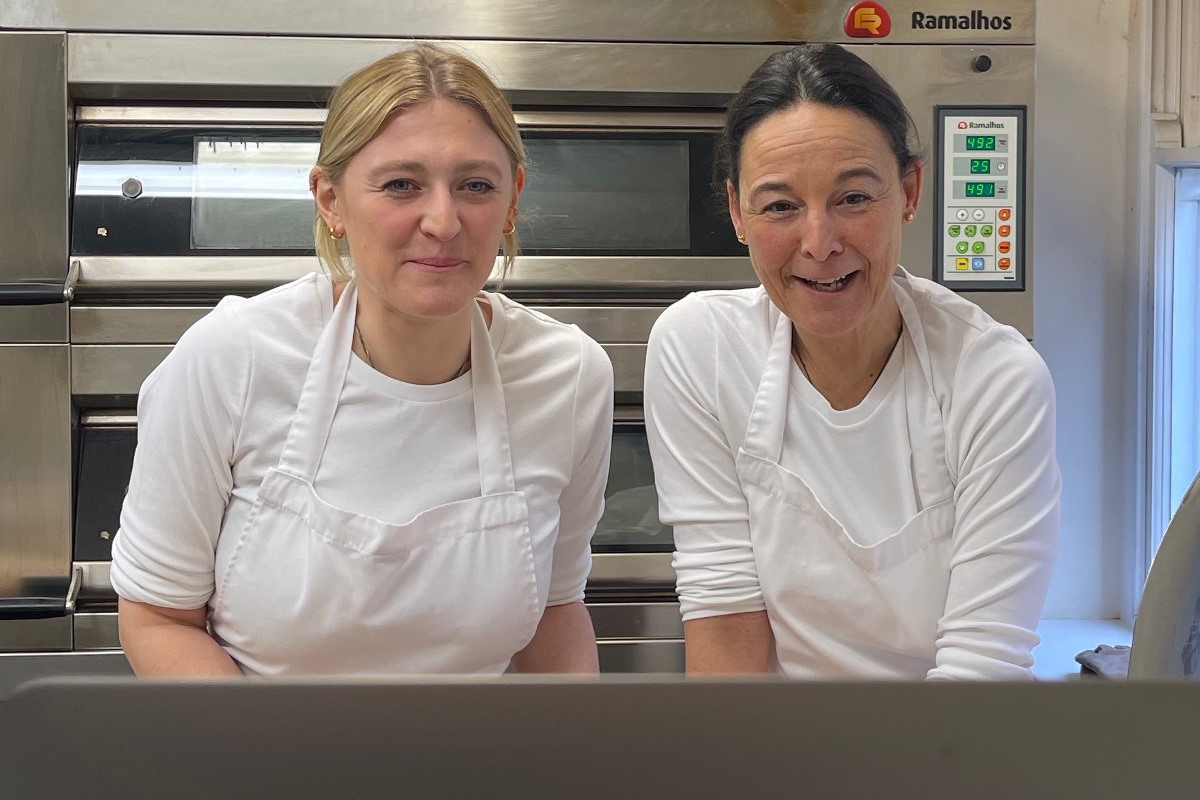 Isla Burgos-Watkinson and Jennifer Burgos © Thomas Haitsma
As the name suggests, Dough & Daughters is a family affair. From the first lesson in our Danish grandmother's kitchen in Copenhagen, to my daughters - Ellie and Isla – and I running classes via Zoom, we are a family who love baking bread. We never tire of the magical process of what flour, water, yeast and salt can do. We all feel baking is fascinating and that dough is alive: it grows, you can bend it, shape it, fold it and even plait it.
One of the Danish principles around baking is the importance of using locally-produced ingredients. Living in the Brecon Beacons in Wales, we are so lucky to be able to buy stone-ground, wholemeal flour milled by Talgarth Mill from locally-grown wheat and rye.
Gathering pace
For many years I was simply a home baker. Turning up to primary school fairs and dinner parties with delicious bread sticks, or fresh focaccia, was a great feeling. Yet, what I loved most of all was giving friends tips and helping them to grow their skills and interest in bread making.
Things gathered pace in 2018 when we took the plunge to create Dough & Daughters and started giving lessons to spread a bit of Danish hygge. Our aim is to help everyone feel they have the skillset, confidence and passion for baking, hence our mantra 'own your dough'. This thinking was very much inspired by the 'show the dough who's boss' of past Real Bread Campaign ambassador Richard Bertinet, a great baker and wonderful teacher.
At the start of 2020, our courses at Humble by Nature on Kate Humble's farm, and at The Bakers' Table at Talgarth Mill, were fully booked. Then Covid came along, sabotaged everyone's plans and everything came to a grinding halt. Our next step came almost naturally. Everything else, from schooling to business meetings, was being transferred online, so we thought: why not baking classes as well?
Whether it is Danish baking, a cinnamon bun masterclass, basic bread baking, or an olive oil filled Italian bread class you are after, we've got it! If we haven't, we offer bespoke courses tailored for private, business or corporate experiences. We're currently creating an online wellness day called Barre, Bread and Balance in collaboration with a barre teacher and a yoga instructor.
Adjusting
Ahead of each class, we send participants a prep document that includes a full list of ingredients, Zoom etiquette and order of the day, plus a dough scraper. Being on screen can be tough and we get that, so, we've built 'de-Zoom' breaks into the classes. These give people have a chance to collect their thoughts, grab a cup of tea and get ready for the next step. Our teaching doesn't stop at the end of the class. Our students are always able to email or send us a message to ask questions or get troubleshooting help
Looking back at the situation a few months down the road, we freely admit we didn't see all of the advantages Zoom could offer. Firstly, even when people can't be together physically, they can made bread together online. A group of friends or family members can 'attend' the same class from wherever they are in the world. Secondly, as people are baking in their own kitchens, they don't have that feeling of 'being on show' so can feel more comfortable and, most importantly, it increases their confidence. The end result is that everyone enjoys it, learns more and we think they're likely to bake more often. We want people to feel the Dough & Daughters family passion and spirit even long after the class.
Judging from the messages and repeat bookings we get, the sessions are a great success. For example, after I had finished writing this, I received the following message from a student in a class a few days before: "Thank you so much again - you were both amazing and I loved it! Great teachers - such an awesome team! My dad and I thoroughly enjoyed it and the baked goods didn't last very long at all - they were delicious! My grandparents especially loved the focaccia! We learnt so much"
Our hope is for a future where online classes and face -to-face classes can co-exist giving more people the chance to discover the magic of yeast, flour, salt and water and to own their own dough.
@doughanddaughters
See also
Published 5 May 2021
Real Bread Campaign: The Real Bread Campaign finds and shares ways to make bread better for us, better for our communities and better for the planet. Whether your interest is local food, community-focussed small enterprises, honest labelling, therapeutic baking, or simply tasty toast, everyone is invited to become a Campaign supporter.
Support our charity
Your donation will help support the spread of baking skills and access to real bread.