Sustainability of an essential ingredient: People
Tying in with the Baking a Better Career event, we invited baker Cindy Zurias onto our soapbox.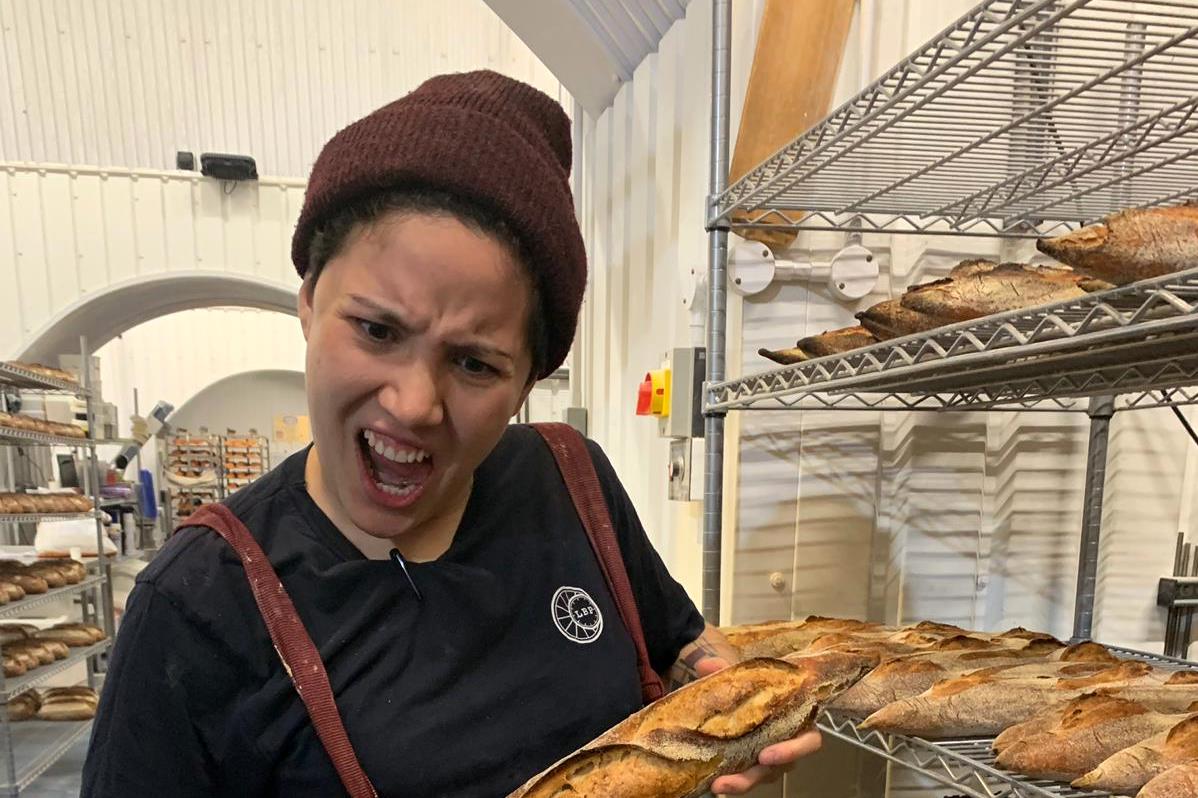 I was born in Venezuela and started my career in high-end restaurants. Then, in 2018, I quit the kitchen and threw myself into the world of artisanal sourdough bread making. Some might say I was mad jumping off the Michelin-starred restaurant ladder having got so far up it, but actually I would've become mad if I'd stayed. It was a great decision.
Out of the frying pan…
Michelin-starred chefs and their crews have been touted in the media as rock stars. If by rock stars they mean a bunch of abusive, egocentric addicts, who cook pretentious, pedantic food, then yes - that was often my personal experience. In that environment, in an attempt to stop the abuse the abused sometimes become the abusers. This attitude is unfortunately celebrated in that sector.
I endured years of 17-hour shifts, with three hours' sleep a night in between. Fuelled by a diet of too many coffees and fags (meal times and other breaks were a myth) shamefully I found myself becoming a bully to survive. One morning I woke up and realised that I wasn't the person those restaurants were trying to brew and decided to leave.
Flawed system
Fast forward to 2020, by which time I had worked my way across the Atlantic and up to being head baker in a fairly large artisan bakery in London. While my experience in bakeries has been better than in restaurant kitchens, an area that often still seems to be left to last, or forgotten altogether, is the wellbeing of bakers. We can forget that sustainability also means taking as much care of ourselves and each other as we do our bread, levain, flour or grains.
After 12 or more hours of a physically, psychologically and emotionally challenging shift you get home to poor living conditions - bakers who live in London know what I mean. Some days you really don't feel like doing much after work, but then you can't really afford to do much anyway. Your job becomes everything, perhaps even costing relationships.
This is a problem that can affect everyone from the owner to the porter. Employees blame employers. Meanwhile employers complain that staff members keep leaving, meaning they keep having to invest time and resources, recruiting, advertising jobs, and training. Does that sound familiar to you? It's a vicious circle, a flawed system we have stubbornly been trying to endure.
It doesn't have to be self-destructive
A system, though, is created and maintained by people and we can all play our part in changing it. You can do things to change your own bad working habits. Passion is not a synonym for self-destruction, working yourself up until you don't have anything in life other than your job. Building boundaries is the foundation of a balanced, healthy life. Reminding yourself of the other things you are and that you love so you won't burn out, working to live, not living to work. That's what I mean by wellbeing.
When we realise and treat ourselves with compassion, and creating space for our other loves in life, is when things start falling into place. We are not machines. It took me ages and a lot of meditation and books to reach this conclusion. There it is - I've saved you years of therapy!
To bakery owners and managers I say: It's not about the hours we put in; it's about the quality of those hours and the understanding of our people and resources to help them perform the best. Efficiency is about how to sustain and deliver the greatest productivity with the least wasted effort or expense.
When it felt in 2020 as if zombies were about to become reality, I took the first lockdown as an opportunity to rethink and rebuild better at the bakery where I was head baker. I persuaded the owners to let me change production schedules, eliminate night shifts, reduce working hours, increase salaries and more. The results? Not only happier bakers working harder and (I think) making better bread but also improved margins and increased profits.
Baking a Better Career
An interview I did for True Loaf magazine started a conversation with Chris at the Real Bread Campaign that led to an online event called Baking a Better Career. We've gathered just a few of the bakers and owners around the world who have made sustainable choices part of their bakeries' souls.
Motivated in part by terrible management examples, Ryan, Mel, Laura and I take different approaches. We're not telling anyone they're doing something wrong or how to run their business. We're simply sharing things we've done to create more and better jobs, reduce staff turnover and sustain profitable businesses that could work for others. Patience, effective training, planning, investing in the right equipment…We'd also like to hear and help share what has worked for you.
Women bakers surfacing
My next project was inspired in part by meeting passionate bakers from around the world who are making sustainable choices, including taking into account the human factor. Chatting about them and the brilliant work they are doing, my flatmate said: "have you realised the majority of them are women?" No, I hadn't! Then it hit me - Women bakers and their outstanding work have not generated the noise they deserve. It's a big shame and a loss that more people don't know about them.
We are so lucky to have people like Dawn Woodward at Evelyn's Crackers in Toronto, Canada; Mel Darbyshire at Grand Central Bakery in Portland and Seattle, USA; Emily Talked at Small World Bakery, Langhorne Creek, South Australia; Blair Marvin at Elmore Mountain Bread in Vermont, USA; and Kim Bell at Small Food Bakery in Nottingham, England to mention a few. Have you heard of them? No? Surprise, surprise! Women bakers have been underwater.
A second driver is that I've been undermined so many times, with people assuming the person in charge was the bearded white man – not that I have anything against men. Or beards. First, I tried ignoring it, then I tried to justify it: 'it was just one-off' or perhaps 'the lack of wrinkles on my face' an advantage of my mixed heritage. Sharing my stories with female colleagues, however, it's clear that it's not just me - the story repeats regardless of age, ethnicity or where you're from.
I decided that it was time to connect with and celebrate these inspiring people by founding the Women Bakers Project. Working together we can prevent the loss of our knowledge, ideas, strategies and success. We can talk about our challenges and victories and let the world know about us. In the present climate, I'm here to share with you all. Many minds could help to produce a genuine difference and a more promising future. If you want to find our more or have ideas to share, don't hesitate to get in touch with me. Let's talk!
---
Cindy is speaking at Baking a Better Career on Tuesday 2 February 2021, 3-5pm (GMT) alongside Laura Bullock (Seven Hills Bakery, Sheffield, England), Mel Darbyshire (Grand Central Bakery, Seattle and Portland, USA) and Ryan Morgan (Sixteen Bricks, Cincinnati, USA).
Find out more and book your free place.
---
SHARE