In True Loaf 35, we asked Campaign supporters how they've benefitted from our work. Desiree Kongerod recalls a workshop we organised back in our first year.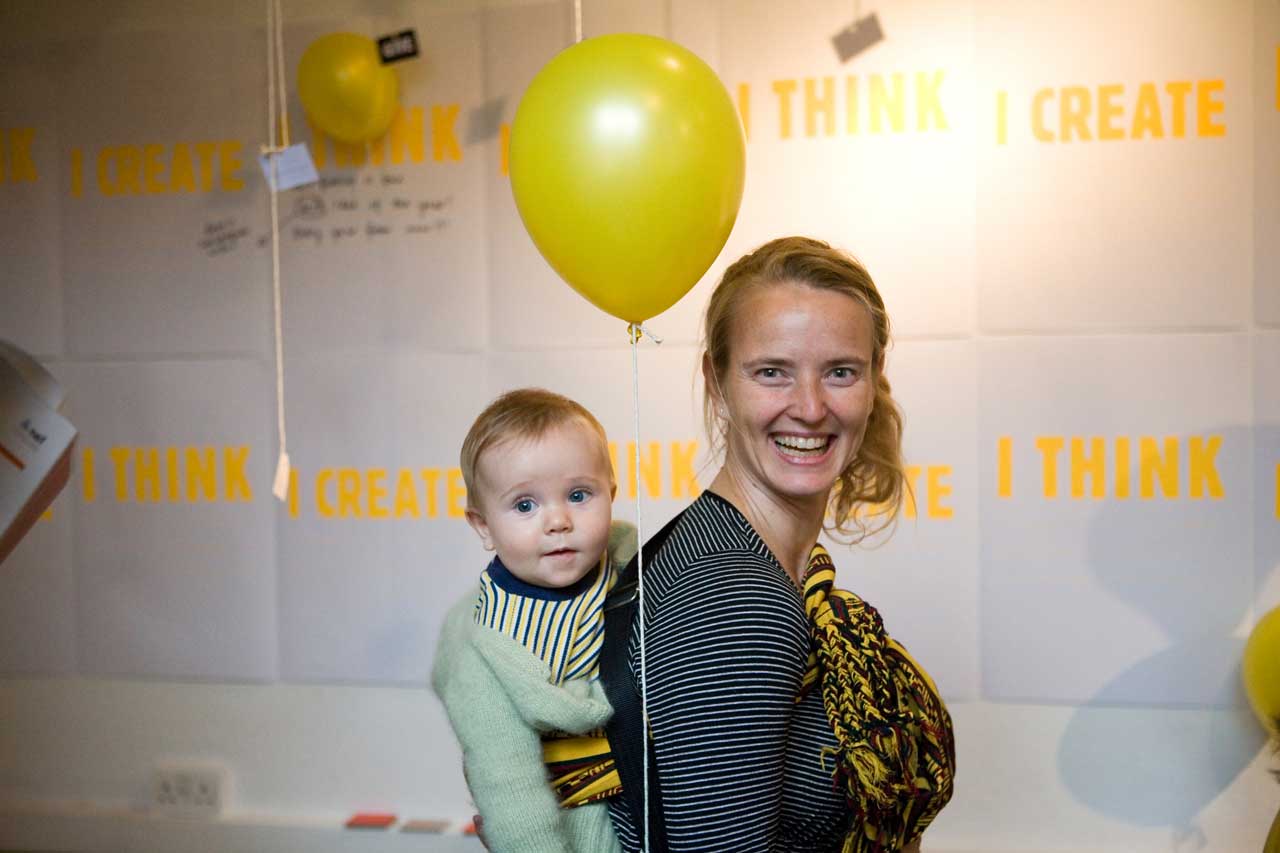 Photo: Desiree and Aksel at the festival in 2009 © timmitchellphotography.co.uk
I remember a very cold morning walking London's South Bank towards the Tate Modern with Aksel, my baby, on my back. We were off to an event that I figured we would both enjoy.
Aksel was around or eight months old at the time and my brain was still frazzled with lack of sleep and the new world of having a child. To be honest, I therefore cannot remember that much about the event, apart from a great talk about natural beehive-keeping, but I do remember getting myself signed onto a bread making workshop that I thought would be perfect for Aksel and me.
Home baked
We did enjoy ourselves, lots of flour was spread around and lovely banter between Aksel, me and the others on the workshop. We ended up with a dough that was ready to rise and would then go into the makeshift ovens for collection later. But when Aksel and I went back to pick up our bread, the dough was still not in the oven as it just did not get warm enough, so we brought the dough home and put it in our own oven.
"Since that day, bread making has been part of our lives"
Since that day, bread making has been part of our lives. I now have a sourdough starter that is around seven years old, which I started here in our house and enjoy baking all sorts of bread, and so does my son, who soon will be nine years old. And of course, my husband loves eating the fresh bread!
So, thank you, Real Bread Campaign, we brought a lovely thing back that day from probably one of your first workshops and it has changed our lives.
---
Chris Young's memory of the day
We'd been invited by the New Economics Foundation to arrange hands-on bread workshops for their 'Bigger Picture: Festival of Interdependence' event at OXO Tower Wharf by the Thames. I roped in Paul Barker of Cinnamon Square in Rickmansworth to be our expert tutor for the day and he did a great job.
Until I read Desiree's story all these years later, I'd forgotten how poor the oven that had been hired for us was. It did a good job on the croissants Paul made at the start of the day, but then everything else took forever and still turned out pale. It's great to read that at least two of the few dozen would-be bakers who came along that day are still at it…despite the oven.
We would love to share the story of how YOU have benefited from the Campaign's work, particularly if you run a bakery or have gone on to help others. Please drop a couple of lines to: realbread@sustainweb.org
---
Originally published in True Loaf magazine issue 36, July 2018.
Published 27 Jan 2020
Real Bread Campaign: The Real Bread Campaign finds and shares ways to make bread better for us, better for our communities and better for the planet. Whether your interest is local food, community-focussed small enterprises, honest labelling, therapeutic baking, or simply tasty toast, everyone is invited to become a Campaign supporter.
Support our charity
Your donation will help support the spread of baking skills and access to real bread.