Is that freshly-baked, traditional, artisan, farmhouse loaf even what we'd call bread at all, asks Chris Young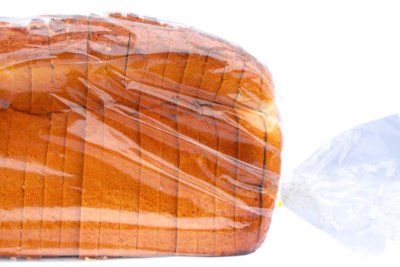 A loaf by any other name. Credit: Chris Young | Real Bread Campaign
You see a sign that says 'freshly baked, traditional, artisan, farmhouse bread made by craft bakers using the finest ingredients.' Sounds good, doesn't it?
The trouble is that none of these terms has a legal definition and so each is, technically, meaningless.
There's little to nothing to stop a retailer advertising an unwrapped loaf as such, even if it was in fact made a long time ago on a production line far, far away. That factory potentially employed nobody with much, if any, grasp of the craft of Real Bread making, let alone the advanced experience and skills of a true artisan. Was the main one of 'the finest ingredients' actually low-grade, roller milled flour? As for the cocktail of added enzymes, emulsifiers, preservatives and other additives that might have been used - would the average shopper consider them to be 'traditional' or 'the finest', too?
That loaf could then have been lightly baked and then chilled or frozen for storage, before being sent to a retailer to be finished off by an in-store loaf tanning salon as and when required. And the farmhouse? Well maybe the industrial loaf fabrication unit was built on the rubble of one.
Questions
The important question is: Where is the protection for the shopper from being misled? Equally, where is the protection for the small, independent, local Real Bread bakers who are skilled artisans, whose bakeries do produce loaves that genuinely meet such a description?
Do we as a nation really think it's right that these hubs for local communities, which help to create more jobs-per-loaf than plant bakeries, and make invaluable contributions to local economies and keeping high streets alive, should be left susceptible to shoppers making unfair like-for-like comparisons?
What's in a name?
Let's have a brief look at some of the terms that need legal definitions and what the requirements for each might be. We're not setting them in stone here, simply opening up a debate that we invite all bakers, trade organisations, politicians and loaf lovers to join.
Fresh / freshly baked
…or the half-baked truth of a 'loaf tanning salon'? France has pointed the way forward on this one. The Décret n°93-1074 du 13 septembre 1993 pris pour l'application de la loi du 1er août 1905 en ce qui concerne certaines catégories de pains (aka Décret du pain) requires that to be called pain maison, a loaf must have been made from start to finish in the place it is sold.
Traditional / natural / finest ingredients
An industrial loaf might bear some vague, visual resemblance to those of yesteryear, and admittedly is likely to have used the time-honoured flour, water, yeast and salt as its starting point. Even so, none of these terms protects you from the loaf being laced with all sorts of things your grandmother would recognise, let alone be able to pronounce. In fact, they offer you no guarantee of anything at all.
No preservatives
This is a good thing, right? Well, yes and no. We believe not having artificial preservatives is indeed a good thing. The problem is, when slapped across loaf packaging or used in other marketing, the phrase tends to be the linguistic equivalent of sleight of hand: look at the big friendly letters on the front of the loaf and buy it! (Don't flip the loaf and discover the list of other additives on the back in somewhat smaller print…)

Perhaps the law should require that a list of any additives it does contain is printed directly below such a claim in equally big, friendly letters.

(Oh and don't forbget that salt is a natural preservative...)
Artisan
In relation to food, the Oxford English Dictionary definition of artisan is 'a worker in a skilled trade, especially one that involves making things by hand', or a product 'made in a traditional or non-mechanised way using high-quality ingredients.'

Does this not suggest that in order to earn the distinguished title 'artisan', and be justified in marketing loaves as artisan or artisanal breads, a baker must build up a wide range of baking skills to a high level? Surely this level could only be attained through training and experience over time, rather than relying on the crutch of additives?
Craft
Is every craft baker an artisan baker or vice versa, and what is either, anyway? What qualifies someone to claim the title master baker? So that customers know what they're buying into, and each baker can wear the appropriate badge of his or her profession with pride, we all need to know where we stand.
Farmhouse
This is another empty promise, meaning nothing much. Perhaps it might be a tin loaf that's been slashed and dusted with flour, but then again it might not be. Basically the word is just another arrow in the marketer's quiver used to help create a sepia-tinted link in the shopper's mind to a method of production and an imagined set of values.

And this is all before I even get to the word 'bread' itself.

Which I have now…
Bread
As a Campaign, we've felt obliged to prefix bread with the qualifier 'real' when referring to the genuine article.

But isn't this the wrong way around? Shouldn't we be standing up for the unadulterated original to have the exclusive legal right to bear the noble name of bread? Shouldn't the law put the onus on those who sully their loaves with chemical cocktails to find an alternative name for their products?
A plea
This has been just a quick glance at just some of the language of loaf, and how words can be used to lull people into a false sense of security.
Until our Honest Crust Act demand for a change in loaf labelling and marketing law is met, please help preserve the word bread from being tainted by unjustified association, and refer to other products without it. Let's have no more talk of 'cotton wool bread', 'duck bread', or 'supermarket bread'. Instead, call things exactly whatever they are, be they industrial loaves, factory loaves, supermarket loaves, or simply pap.
---
Originally published in True Loaf magazine issue 21, October 2014
See also
Published 14 Feb 2022
Real Bread Campaign: The Real Bread Campaign finds and shares ways to make bread better for us, better for our communities and better for the planet. Whether your interest is local food, community-focussed small enterprises, honest labelling, therapeutic baking, or simply tasty toast, everyone is invited to become a Campaign supporter.
Support our charity
Your donation will help support the spread of baking skills and access to real bread.